BOZEMAN — When Jill Ayers glanced at the state bracket for the first time, the Manhattan Christian coach quickly noted a potential second round matchup. Simms was also seeded on the Eagles' side of the bracket.
Both teams won first round matches Thursday at the state Class C tournament, and it set up a rematch from the season-opening Choteau Invitational.
The Tigers (20-4), led by hard-hitting senior Lissy Willekes, posted a 25-16, 21-25, 25-16, 27-25 victory. Willekes tallied a match-high 25 kills to lead Simms into Friday's undefeated semifinal against Belt.
"They're a really good team. We met them in Choteau in August and when we saw them in the bracket for state we weren't surprised that they were there. They're a good team this year," said Ayers. "We put up a fight, which you can never complain about. I'd rather go down like that."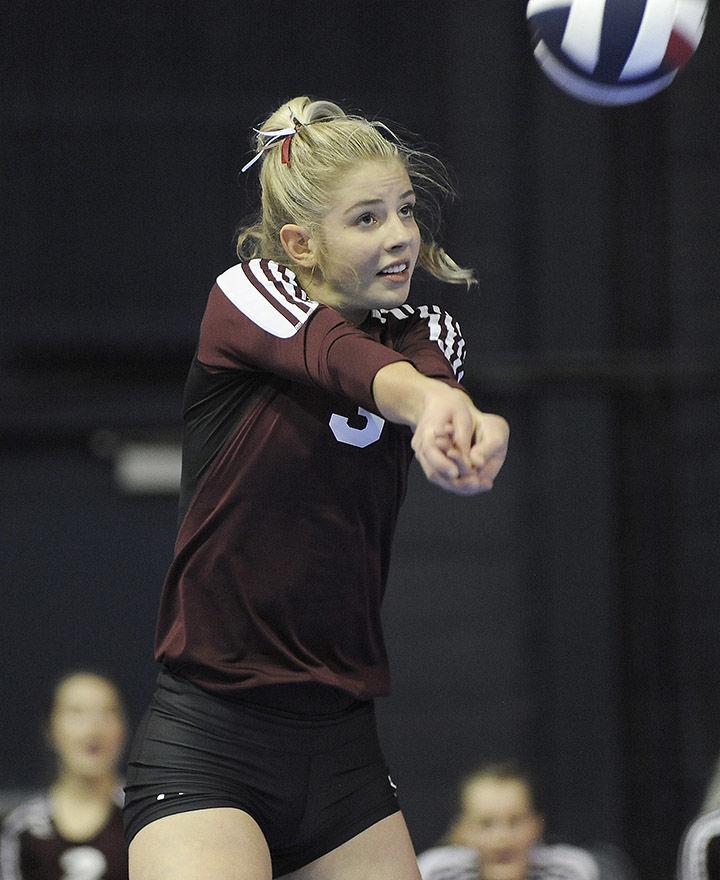 The Eagles, who outlasted Plentywood in a five-set thriller to begin the tournament, dropped into the loser-out bracket. They'll need to win twice on Friday to reach the consolation match starting with a loser-out match at 4 p.m.
"I have taken the long road back so many times that it's nothing new," said Ayers. "So we'll try it again."
Christian (20-5) dug itself an 8-1 hole in the first set and trailed by as many as 11 before losing. The team struggled to establish a block and was often out of position defensively.
The Eagles rarely saw the kind of hitters that Simms possesses in District 11C, and Ayers noted it took her team the entire first set to get adjusted.
"That's tough when you don't have the year to work on it. So we moved our blocks way in and just talked to them about getting better reads," she said. "They came back and they made it a match. I'm proud of them for that."
The Eagles nearly extended the contest to a fifth set after rallying to take a 23-22 lead on a push by Kellie Van Kirk in Game 4. But Willekes capped the set on back-to-back kills after it had been knotted it at 25.
Kellie Van Kirk led Christian with 14 kills, while younger sister Kiersten Van Kirk had three aces.
Despite cruising to victory in the first set in its tournament opener against Plentywood, Christian displayed plenty of jitters Thursday morning.
The Eagles were plagued by passing and hitting errors, as well as miscommunications throughout the match, but managed to hold on for a 25-11, 17-25, 26-24, 21-15, 15-9 victory.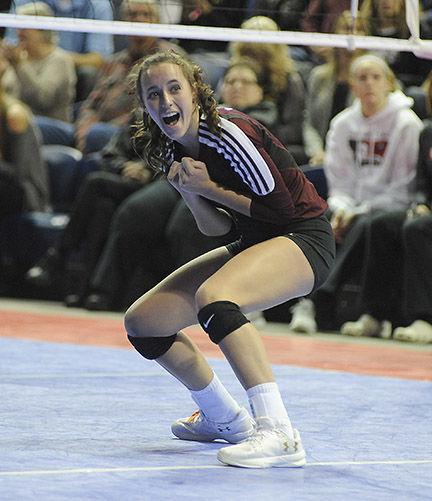 "There's only one of my players (senior Alexa VanDyken) that's ever been here before and she was just a freshman alternate that never saw the floor," said Ayers. "We tried to talk to them about the floor and the atmosphere, the size, the noise and the different court … it's just a volleyball court, but still there were a little star struck when we got here."
Christian shot out to a 9-1 lead en route to easily winning the first set. But a mistake-prone Plentywood squad settled into match from there and controlled the second game.
"Obviously Plentywood probably had some jitters," said Ayers. "So first one you win and second they come back and you start to second guess yourself and they hit the panic button way too soon. This team is famous for that."
The Eagles blew a 22-16 lead in the third set, but held on to win on an ace by Kellie VanKirk. Then they bounced back from a loss in the fourth game to pull away with an 8-1 run in the fifth after the set was knotted at 5-all.
Eliana Kuperous led Christian with 11 kills, while Kellie VanKirk had 15 digs and all seven of the team's aces.
Manhattan Christian def. Plentywood 25-11, 17-25, 26-24, 21-25, 15-9.
PLENTYWOOD (18-9) – Kills: 39 (Liv Wangerin 17). Digs: 70 (Mikayla Stevens 17, Wangerin 12). Blocks: 4 (Brenna Osksa 4). Aces: 5 (Bryn Fawcett 2, Donn Longan 2). Assists: 30 (Osksa 14).
MANHATTAN CHRISTIAN (20-4) – Kills: 34 (Eliana Kuperus 11). Digs: 57 (Kellie Van Kirk 15). Blocks: 16 (Alexa VanDyken 2.5). Aces: 7 (Ke. Van Kirk 7). Assists: 31 (Taylor DeVries 15, Kiersten Van Kirk 15).
Simms def. Manhattan Christian 25-16, 21-25, 25-16, 27-25.
SIMMS (20-4) – Kills: 49 (Lissy Willekes 25). Digs: 18 (Madi Cicon 6). Blocks: 3 (Madison Wiegand 2). Aces: 7 (Janessa Willekes 4). Assists: 48 (Maddie Bloom 42).
MANHATTAN CHRISTIAN (20-5) – Kills: 38 (Kellie Van Kirk 14). Digs: 69 (Maddie Liudahl 19). Blocks: 5 (Kelsey Heidema 5). Aces: 10 (Kiersten Van Kirk 3). Assists: 33 (Taylor DeVries 17).