MANHATTAN — After receiving the second half kickoff, Isaac Richardson made a couple of quick moves to elude a handful of defenders and then was off to the races. Once he crossed the 20 on the other side of the field, the Manhattan senior raised his right arm pointed his index finger to the sky.
The 91-yard touchdown scamper was the second of two scores in the contest for Richardson as the Tigers stretched a commanding lead to 38 points en route to a 52-7 non-conference rout of Missoula Loyola Friday night.
The Tigers (3-0) scored on six of seven first half possessions, and none of those drives lasted more than six plays in what was an explosive quick strike performance.
"I think our offense has gotten better every week. We're three, four, five weeks in now and they've just improved every week," Manhattan coach Chris Grabowska said. "Last week wasn't an exception, they got better again. They're just clicking right now and I just think they're gonna keep getting better."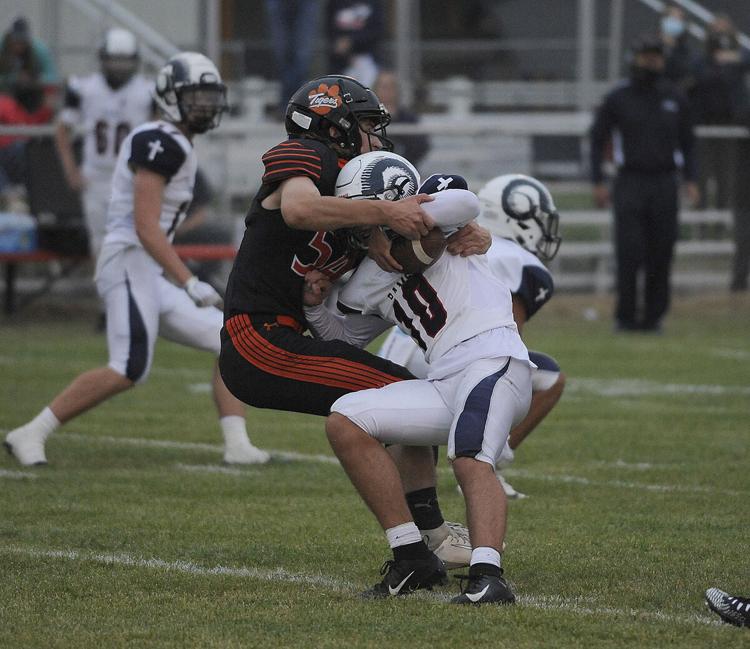 Manhattan scored on its first six possessions and was driving late in the first half before a pair of high snaps resulted in big losses that snuffed out the final drive. Prior to that, Loyola had no answer defensively.
Caden Holgate, a first-year starting quarterback, continued his progression by completing 7 of 9 passes for 179 yards and three touchdowns. The senior also scored on a 2-yard run.
After converting a fourth-and-one with a quarterback sneak on Manhattan's first drive, Holgate tossed a 42-yard pass to Corban Johnson on the next play to ignite the scoring.
"Caden I think just read the field well tonight. He's getting better at that every week, too, being a first year quarterback," Grabowska said. "I thought he did a very good job of reading the field. He just saw guys slip behind the coverage there, he was able to see it and get the ball to them."
Holgate threw a 43-yard TD pass to Michael Swan early in the second quarter, and then capped the scoring on the final play of the third quarter with a 30-yard connection to Toby Veltkamp.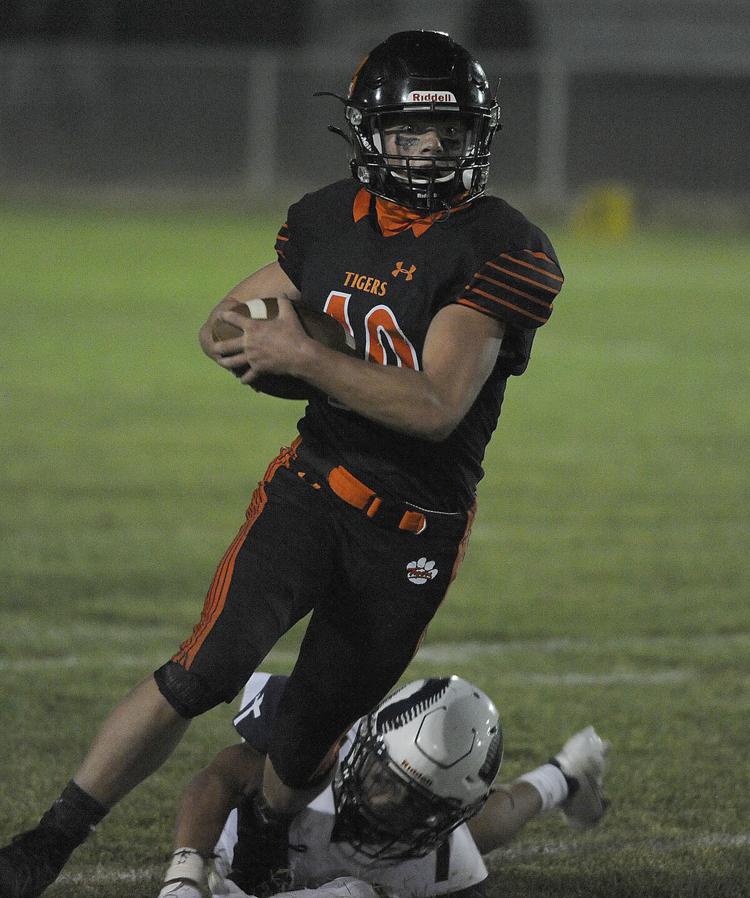 It was the third consecutive game in which Holgate tossed three touchdown passes, but it was the ground game that powered the Tigers on this night. Veltkamp scored on runs of 24 and 27 yards in the first half, while Richardson added a 32-yard scamper in the third quarter.
Richardson finished with 120 yards rushing on 15 attempts, while Veltkamp added 80 yards on just four carries.
"I think they're really good at avoiding contact on the first defender. They always get yards after contact," said Grabowska. "Plus, they got some good team speed to go as well. They're good athletes and they're starting to see the field right now. I was glad to see the run game get going tonight."
Meanwhile, Loyola gained just one first down in the contest, punted eight times, and quarterback Keenan Russell was picked off in the second quarter. The team's lone score was on an 89-yard kickoff return by Nolan Iverson.
It was dominant performance by the Tigers made even more impressive by the fact that they did not commit a penalty. That was in stark contrast to the 12 times they were flagged in the season opener two weeks ago in Florence.
"We preach no mental mistakes and that's kind of what penalties are. Guys did a good job of doing that tonight," said Grabowska. "No mental mistakes, they knew their assignments, and they executed well. Just played a good and mentally physically tough game tonight."
Manhattan is back in action Sept. 25 hosting Whitehall in a conference game.
"It was a great win for our boys, but I said we got to enjoy this win for 48 hours and just continue to get better next week," said Grabowska. "Because we got Whitehall next week and they're going to be pretty tough."
Manhattan 52, Missoula Loyola 7
Loyola        0    7    0   0  -   7
Manhattan                 13  26  13  0  -  52
Man - Corban Johnson 42 pass from Caden Holgate (Drew Demming kick)
Man - Toby Veltkamp 24 run (kick failed)
Man - Holgate 2 run (pass failed)
ML - Nolan Iverson 89 kickoff return (Jace Kruer kick)
Man - Michael Swan 453 pass from Holgate (kick failed)
Man - Veltkamp 27 run (Veltkamp pass from Holgate)
Man - Isaac Richardson 32 run (run failed)
Man - Richardson 91 kickoff return (pass failed)
Man - Veltkamp 30 pass from Holgate (Demming kick)