MANHATTAN — With just 48 hours to go before kickoff Saturday afternoon, the anticipation continues to grow in Manhattan.
For the first time in program history Manhattan's football team has reached the state championship game. The Tigers will host Eureka in a clash of unbeaten teams in Class B, and the community continues to buzz with enthusiasm.
"It's been very exciting. But the unique thing is every day that goes by this week the anticipation kind of grows with the reality of playing for the state championship, and hosting it gets more and more exciting," Manhattan Athletic Director Pat Lynch said. "The players are staying status-quo as far as practices and that kind of the thing. But the rest of the kids in school, and teachers, you can sense it each day growing and growing. It's pretty neat."
Manhattan (11-0) upset defending state champion Fairfield in the semifinals to advance to the final, and hosts a high-powered offense. The Lions averaged 43.6 points per game during the regular season and have increased that 55.3 in their three postseason victories.
"The main focus is just not giving up big plays. Got to eliminate big plays and eliminate mistakes and just play sound defense," sixth-year Manhattan coach Chris Grabowska said. "We've been playing well all year, but definitely this will be our biggest test yet."
Eureka (11-0), which won state titles in 2016 and 2017, is led by versatile quarterback Hank Dunn. The 5-foot-11 senior has thrown for more than 1,800 yards and 23 touchdowns, while rushing for another 817 and 11 scores.
The Lions also boast Chet McCully, a 5-foot-11 senior, who has averaged 10.3 yards per carry en route to rushing for 1,690 yards and 22 touchdowns.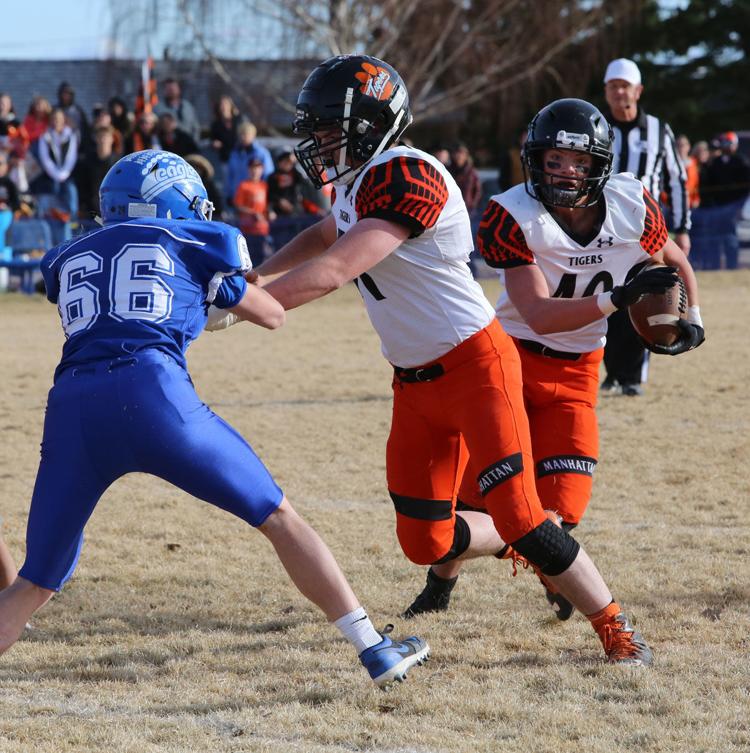 "They're a well balanced offense. They've got a good running back and they got a couple good fast receivers, and obviously a really good quarterback," said Grabowska. "We've got to be ready for them to do anything, so we're ready for the run and the pass. It's going to be a challenge, but it's a challenge we're excited to take."
The Tigers have relied on their defense throughout the season, and after allowing just 9.5 points per game during the regular season that number has dropped to 8.6 in the playoffs.
The defensive unit limited a powerful Fairfield offense to 19 points in the semifinals, and Grabowska likes his team's chances if they can limit big plays.
"Our motto the whole playoffs has just been big players make plays in big games. That's kind of been our motto on the defensive side of the ball," said Grabowska. "They've just stepped up and made big plays when they need to and they play a sound defense."
Senior quarterback Lane Veltkamp has led the team offensively — he had a hand in all four of the Tigers' touchdowns against Fairfield — and Manhattan boasts plenty of talented skill players in receivers Gabriel Delgatty and Kyle Hotvedt, and running backs Garrit Weeda and Toby Veltkamp.
They've each played a key role on both sides of the ball during the Tigers' postseason run, and Manhattan has shined in the trenches as well.
Still, Grabowska admitted that earlier in the week it hadn't really sunk in yet that they'd reached the state championship game.
"But, it really feels like we're just preparing for another game," he added. "I think that's a good mindset to have going into this game because it is a big deal for the community. We've talked a lot about the fanfare is for the community because they have never had anything like this before. But, end of the week, we have a job to do and that's to get ready for Eureka."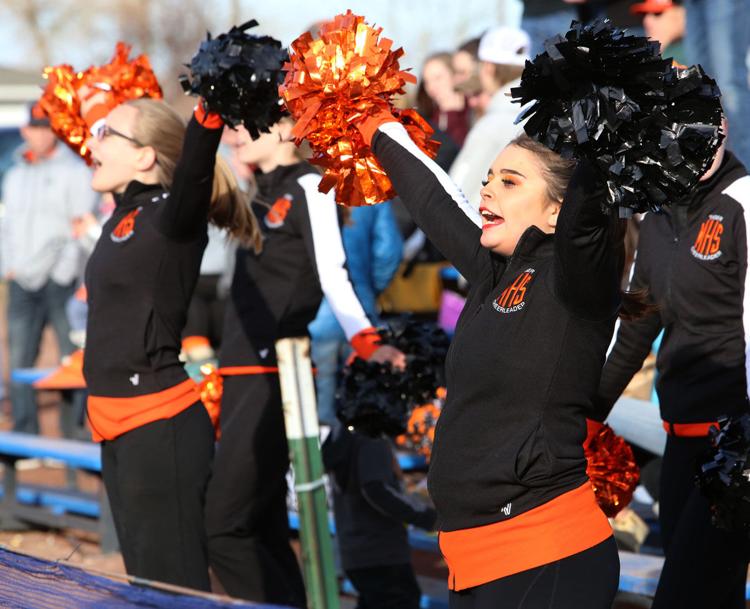 With big crowd expected to attend the game, the school has been busy preparing to accommodate fans. Lynch isn't quite sure about the numbers with Montana State University hosting Montana in the team's 119th rivalry game Saturday in Bozeman.
"We don't know to be honest with you," he said. "We're prepared for upwards of three or four thousand, and that might be high. But we don't know because of the Bobcat-Grizzly game of course."
Regardless, Lynch noted extra seating would be provided along the home and visitor sidelines as well as in each endzone.
"We've brought in multiple sets of bleachers in the last two days and we're getting them in place now. We feel we can handle whatever we get as far as total spectators," Lynch said. "But yeah, but we've brought in a boatload of portable bleachers from around the valley."
The school also plans to provide additional parking in land across from the high school and adjacent to the high school parking lot.
Presale tickets for the game began Wednesday and continues Thursday and Friday from 8-4 p.m. in the high school office.
A pep rally for the team is scheduled for Friday at 2 p.m., and Lynch noted community members are welcome to attend as well.
Kick off for the championship game is 1 p.m. Saturday.