MANHATTAN — Erika Davis knew she wanted to stay within the borders of Montana to continue her volleyball career. But it took a while for right opportunity to present itself.
The Manhattan senior looked at the volleyball programs at the University of Montana-Western, Montana Tech and Montana State University. But following a recruiting trip in October to Rocky Mountain College, Davis found the right fit.
She verbally committed to play for the Battlin' Bears in November and made it official Wednesday by signing a letter of intent to join the Frontier Conference program.
"It's a good school. The classes are small, so you can have more one on one time with the teachers," said Davis. "And the volleyball program is one of the best in the state."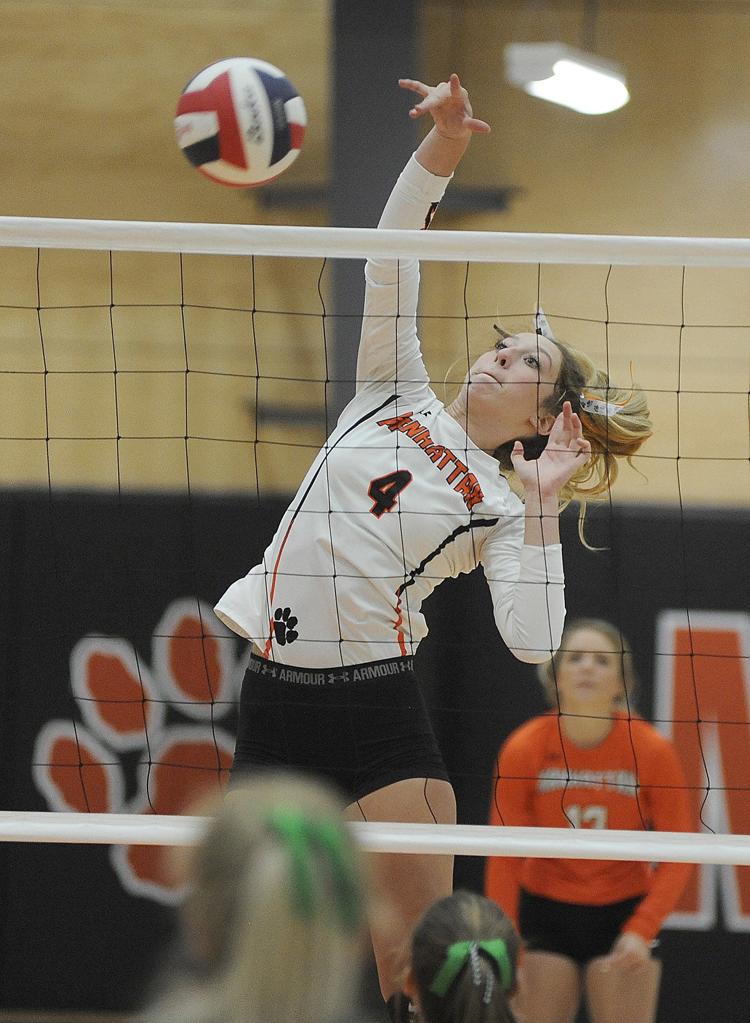 Rocky's second-year coach, Yang Yang, attended the signing and noted Davis is among nine incoming freshmen, including six from Montana. Bozeman's Emma Fox also recently signed.
Rocky heavily recruited instate talent under former head coach Laurie Kelly, and Yang has continued that trend.
"It's just so nice to get kids from Montana," Yang said. "They're willing to work and they want to put in more time. They work so hard for all that they do."
Yang guided Rocky to a 19-12 record (8-4 Frontier Conference) this past season as the team reached the semifinals of the Frontier Conference Tournament.
Davis was primarily a middle hitter for Manhattan and earned All-State honors this past season in helping the team reach the Southern B Divisional during an 12-11 campaign.
Davis finished the season with 282 kills (which ranked third in District 5B), 112 digs, 67 blocks and 29 aces. She  finished second in kills for the Tigers — sophomore Olivia Westervelt had 303 — en route to also earning first team all-conference honors.
"She will be a great asset to the Rocky Mountain program," Manhattan head coach Charli Chapman said. "It's also super exciting for our program. She is raising the bar for our players who want to play college volleyball. It's an exciting day for Erika, her family and Manhattan volleyball."
Davis is undecided on a major and not sure of what position she'll play for the Battlin' Bears. She also admitted to not knowing much about the program.
"I don't know a lot about it, but I really like her (coach Yang). I feel like we'll get a long well," Davis said. "I went over there and met some of the girls and they're all really nice."