Everything has been different this year due to the coronavirus pandemic, including the state tournament.
For the first time since 2003, Montana State University will not host the all-class state tournament in Brick Breeden Fieldhouse. Class AA has opted to go with a playoff format, while A, B and C are holding tournaments in remote locations.
Class C will be held in Malta, which is a nearly five hour drive from the Gallatin Valley. Thus, it'll be a different feel for Manhattan Christian's veterans who are making a third consecutive trip to the state tournament.
But first-year Eagles head coach Hannah Van Dyk doesn't believe the small gym feel will adversely affect her team.
"I always think state (at MSU) is a hard gym to play in because it's open, there's games going on everywhere. The court is a lot different, not what we're used to," she said. "So I think that transition is harder for those new kids coming in."
After hosting the district and divisional tournaments for each of the past four years, and then making the short trip to Bozeman for state the past two, the biggest adjustment for the Eagles will be sleeping in a hotel and trying to find things to do during the day in Malta while waiting to play matches.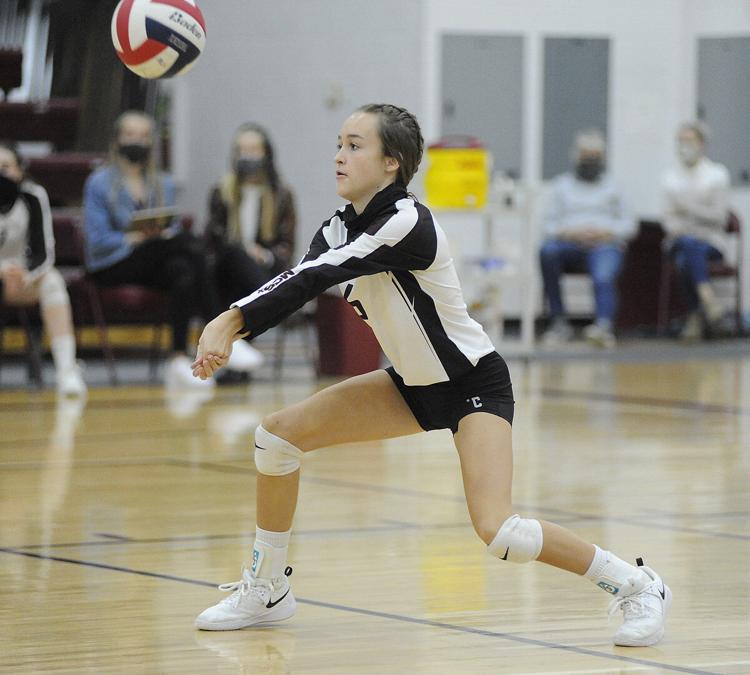 Van Dyk had already begun seeking out activities such as visiting the local museum or traveling to the Fort Peck Dam, which is about 90 minutes from Malta.
Once on the court, the defending champions are again among the favorites. Christian takes a perfect 24-0 record into state and has drawn Fairview in a first round match.
While the Eagles haven't faced a lot of top-tier competition, and have swept 21 of their opponents, Van Dyk noted the team has stepped up in big matches.
"We've had the Fort Benton game, we've had the Charlo game, Choteau game and that game against Gardiner. We've had games where we've had to work really hard," she said. "We're just going to have so many of those and I think these girls are going to rise to the challenge."
Only Choteau, which qualified for the State B tournament, has pushed Christian to five sets. Fort Benton and Charlo each lost in four.
Fort Benton is also on the same side of the bracket as the Eagles, while last year's state runner up, Bridger, is on the lower half. Melstone, Plentywood and Simms have also qualified for state.
"I'm hoping we come out strong, but again when we're coming from a conference where we have easy wins thrown in there you don't know exactly how we're going to respond. But I think we'll respond well because we've had a little bit more closer games and put a little bit more pressure on them," said Van Dyk. "But I'm excited to see what we can do against some really good competition."
Editor's note: Charlo hosts Lone Peak Monday in a challenge match. The winner will be the final team to qualify for the state tournament.
State C Tournament
(at Malta High School, Malta)
Thursday, Nov. 12 schedule
Fort Benton vs. Melstone, 10 a.m.
Manhattan Christian vs. Fairview, noon
Bridger vs. Simms, 2 p.m.
Plentywood vs. Charlo/Lone Peak, 4 p.m.
Quarterfinal match, 6 p.m.
Quarterfinal match, 8 p.m.