With many of the higher mountain trails I'd like to explore still covered with several feet of snow, I've been seeking other options at lower elevation. That's how I discovered a natural wonder in Sweet Grass County.
So recently, on a beautiful sunny spring day, I packed a lunch and headed east on I-90 to Big Timber. About 90 minutes later I had arrived at the parking lot for Natural Bridge & Falls.
The Boulder River, which is tributary of the Yellowstone River and flows down from the Absaroka Mountains, feeds the waterfall. The area is comprised of limestone formations and there were a handful of rock climbers tackling the terrain when I arrived. But the primary draw for visitors is the waterfall.
The site was named "The Natural Bridge" thanks to a small limestone formation that crossed the Boulder River upstream. It collapsed in 1988.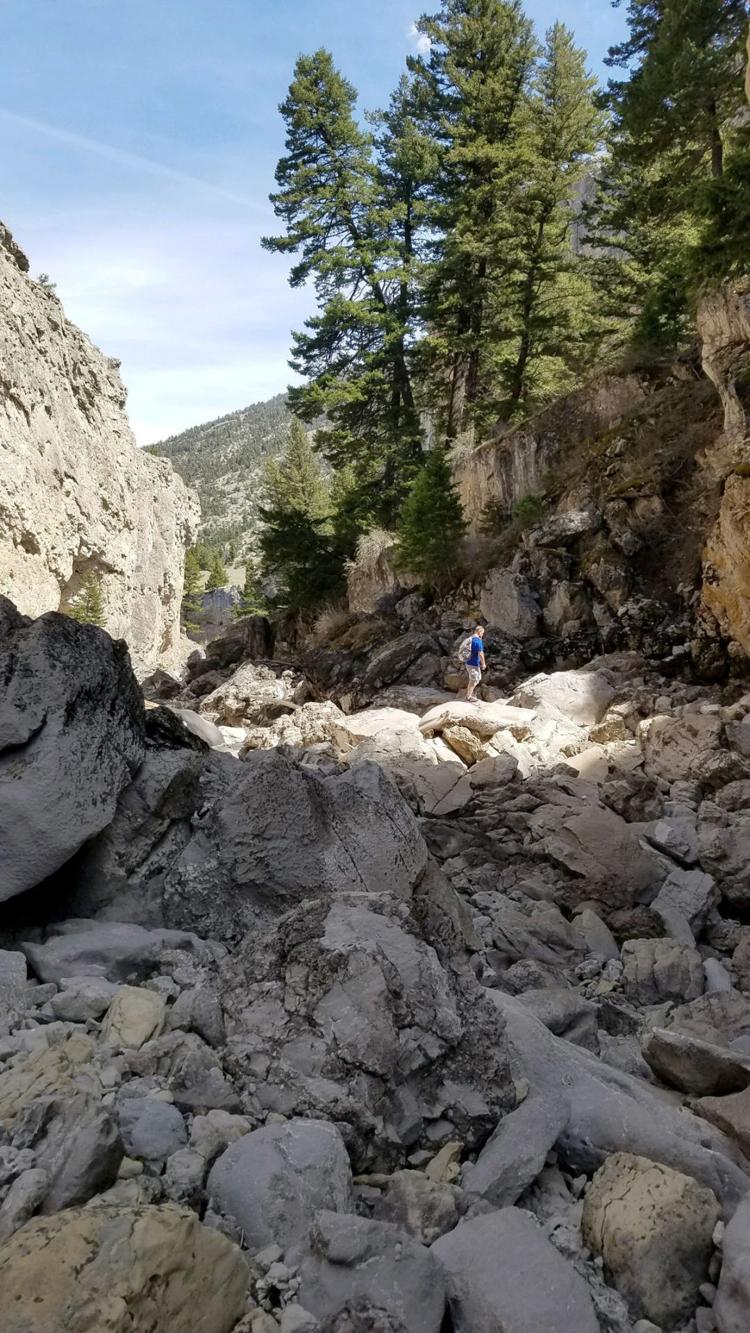 However, a new natural bridge is in the process of forming as water flows through the rock formation into a pool of water below. From there, the water disappears into an underground channel before reemerging about a quarter of a mile down the canyon.
"During periods of low water, the entire Main Boulder River travels underground as it descends through solution channels and resurfaces below the falls," read a sign at one the seven handicap accessible overlooks. "During periods of high water, the river also cascades over a 100-foot waterfall to the pool below."
During my visit it was a period of low water. While it would have been fun to witness the waterfall at high water, the lack of water allows visitors to take a closer look by walking down a steep switchback trail to the pool.
It provides another opportunity to snap photos from below as well as a chance to explore the dry river bed.
"If you look downstream into the canyon during low water, the river appears to have dried up," a sign read. "The water is actually flowing underground inside many long solution channels in the limestone. The river surfaces in this area only when there is too much water volume for the underground channels to accommodate."
The area is also known for fly fishing, flush plant life, and birds (sparrows, swallows, ravens) that call the surrounding rock formations home.
How to get there: From Belgrade drive east on I-90 to Big Timber. From there take Highway 298 south toward the town of McLeod. The parking area is about 3 miles south of McLeod on the left side before the paved road turns to gravel.
— Dan Chesnet is the sports editor of the Belgrade News. He may be reached at dchesnet@belgrade-news.com.