THREE FORKS — With a more patient plate approach, Duwayne Scott was confident good things would happen for his team Friday at Imerys Field. The veteran coach was pleased with the result.
Gallatin Valley capitalized on 13 walks and tallied nine hits against four pitchers en route to defeating Butte 12-2 in a second round game at the Southern A District Tournament.
"We're starting to learn. Our young guys are starting to get better at-bats and I think that's going to be key," said Scott. "Our older guys are always pretty good with their ABs, but our younger guys are starting to understand what they need to do to drive pitching out, and really sit on balls and wait for their pitch."
Gallatin Valley (29-23), which is the defending tournament champion, advanced to the undefeated semifinal at 2 p.m. Saturday. The Outlaws will play top-seeded Belgrade, which beat Bozeman 10-2 Friday.
"Belgrade's a really good team and we're both were we're at for a reason," said Scott. "Hopefully we can be patient. I'm sure we'll see Coby (Richards), so hopefully we have some quality at-bats against him tomorrow."
Butte had won three of the team's four regular season meetings, including a sweep of the Outlaws on July 17. Rylan Richards tossed a 5-hitter in the opener of that doubleheader, but threw more than 100 pitches in the rematch after entering the contest in the first inning.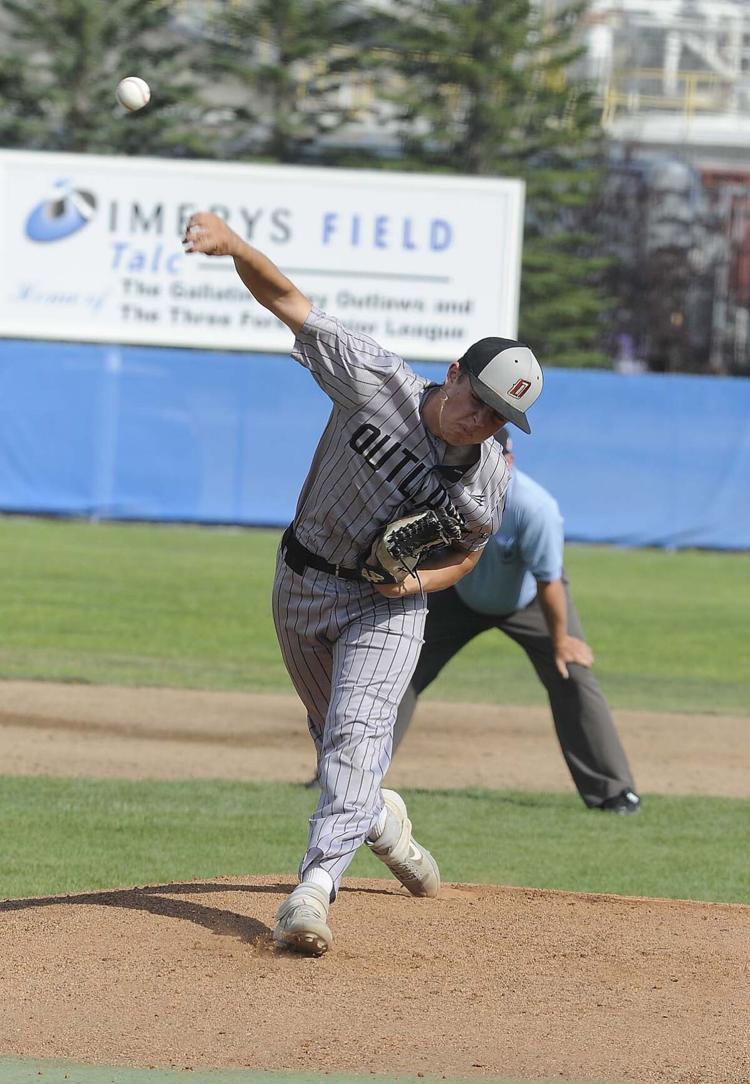 Gallatin Valley scored twice in the top of the first and then added another in the second for a 3-0 lead. In the third, Brody Ayers, Patrick Dietz and Austin Devers each drew walks, and then Trevor Doud singled to left-center to drive in a pair of runs to stretch the lead to 5-0.
"I thought we were more patient. I thought we were able to drive his (Richards) pitch count up. We laid off some tough pitches," said Scott. "Our guys made good adjustments from the last time we saw him."
An RBI-single by Ayers drove in Cyrus Richardson for a 6-0 lead in the fourth. While the Miners got a run back in the bottom half of the frame, Gallatin Valley broke the contest open in the sixth.
Eyston Lakkala relieved Richards on the mound trailing 7-1 and then walked three consecutive batters — twice with the bases loaded. His short outing ended on the next at-bat when Brady Jones doubled down the left field line to knock in two more runs for an 11-1 lead.
"I kind of was hoping we could do that when we got into their bullpen a little it. We had some good at-bats and we took some pretty close pitches in some of those counts," said Scott. "We were patient."
Isaac Richardson and Josh Wisecarver each finished with two hits for the Outlaws, and Doud and Jones each hit doubles and combined for five RBIs.
Friday's results
Dillon 13, Anaconda 3, loser-out
Helena 11, Livingston 5, loser-out
Belgrade 10, Bozeman 2
Gallatin Valley 12, Butte 2
Boxscore
Gallatin Valley 12, Butte 2
Gallatin Valley          212 106  -  12  8  0
Butte                         000 101  -   2   5  2
Bo Hays and Cyrus Richardson. Ryan Burt, Rylan Richards (1), Eyston Lakkala (6), Ethan Edwards (6) and n/a.
GALLATIN VALLEY (29-23) - Brady jones 1-4 (2B), Josh Wisecarver 2-5, Hays 1-4, C. Richardson 0-1, Brody Ayers 1-1, Isaac Richardson 2-4, Patrick Dietz 0-1, Austin Devers 0-2, Trevor Doud 1-3.
BUTTE (27-15) - Richards 2-2 (2B), Eagan Lester 0-3, Ryan Wahl 1-3 (3B), Aiden Lee 1-3, Eric Hart 0-3, Kian O'Neill 0-3, Kenley Leary 1-1 (3B), Coyt Stajcar 0-2, Evan Star 0-2.