THREE FORKS — Bo Hays broke out of a slump in a big way Thursday at Imerys Field.
The Gallatin Valley left fielder sparked a big rally with a two-run triple in the fifth inning, and then later hit a sacrifice fly to center to drive in the game-winning run. Led by his effort, the Outlaws rallied from a five-run deficit to defeat Helena, 7-6 in extra innings, in the first round of the Southern A District Tournament.
"He's been struggling. So it was nice to see him do that," longtime Gallatin Valley coach Duwayne Scott said. "Hopefully it will keep him going the rest of the tournament and the rest of the year."
Gallatin Valley (28-23), the defending tournament champion, advanced to the second round and will play Butte at 5 p.m. Friday. The Miners (27-14) beat Livingston 11-1 in five innings Thursday.
Butte won 3 of 4 during the regular season, including a sweep of the Outlaws July 18 at Imerys Field.
"Hopefully tomorrow we can throw strikes and make plays," said Scott. "I'm sure we're going to see (Rylan) Richards would be my guess. He pitched really well against us a couple weeks ago, so my guess is that's probably who we'll see."
Helena (22-23) batted around in the fourth en route to scoring five runs, and then added another in the fifth to stretch the lead to 6-1.
"Obviously they put up a few runs early and we battled back," he said. "Our kids showed a little bit of heart and came up with some big hits."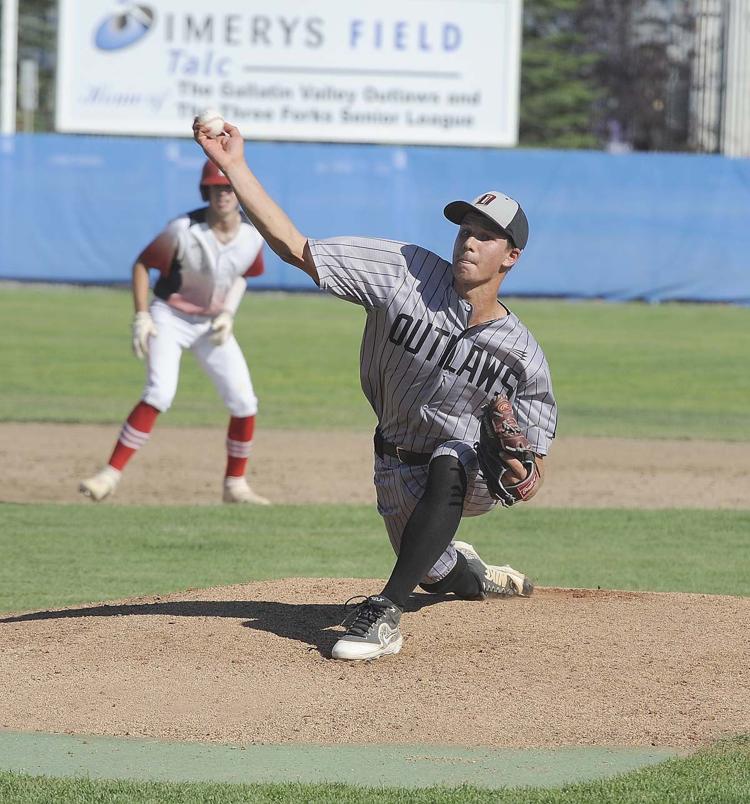 Hays lit the fuse, and then he scored a short time later on sacrifice fly by Cyrus Richardson to trim the deficit to 6-4. That's where the score stood entering the last half of the seventh.
Hays led off the frame with a double before moving to third on a ground out. He then scored when pitch runner Wyatt Barney managed to break up a double play with an aggressive slide into second. That forced an errant throw to first, which allowed Isaac Richardson to advance to second.
"The big thing right there was Wyatt Barney's slide," Scott noted. "Wyatt Barney getting into second base and busting his tail to get there, and put pressure on those guys and having them throw that ball away, is what won us that game."
On the next at-bat, Patrick Dietz hit grounder up the middle and Helena second baseman Cade Coate made a diving play to keep it in the infield. But Richardson managed to sprint around the bases en route to scoring the game-tying run.
Helena stranded runners on second and third in the eighth, and then Trevor Doud was hit by a pitch to lead off the bottom half of the frame. He stole second and then advanced to third on a single by Josh Wisecarver before scoring the winning run on Hays' sacrifice fly.
Wisecarver finished 3 for 5 at the plate, while Cyrus Richardson and Hays were each 2 for 3. Austin Devers and Mayson Shively each pitched two innings of relief, combining to allow just one hit and striking out five.
"Austin came in and shut the door when Caleb (Kamerman) was struggling," said Scott, "and Mayson came in and did his normal work that he's done for us all year long."
Thursday's results
Bozeman 10, Dillon 0
Belgrade 13, Anaconda 2
Butte 11, Livingston 1
Gallatin Valley 7, Helena 6
Boxscore
Gallatin Valley 7, Helena 6
Helena                    000 510 00  -  6  6  2
Gallatin Valley       100 030 21  -  7  9  3
Mike Hurlbert, Will Lyng (6) and Greyson Ahmann. Caleb Kamerman, Austin Devers (5), Mayson Shively (7) and Cyrus Richardson.
HELENA (22-23) - Quinn Belcher 0-2, Eric Cockhill 1-4, Hunter Bratcher 1-4, Judson Seliskar 1-3, Tycen Mooney 0-3, Hurlbert 1-2, Lyng 0-0, Cade Coate 1-4, Ahmann 0-3, Payton Tavary 1-4.
GALLATIN VALLEY (28-23) - Brady Jones 1-5, Josh Wisecarver 3-5, Bo Hays 2-3 (2B, 3B), C. Richardson 2-3 (2B), Brody Ayers 0-1, Isaac Richardson 0-3, Patrick Dietz 1-4, Brandon Beedie 0-3, Trevor Doud 0-3.