POLSON — Erin Elgas had a tough time controlling her emotions Saturday at the Polson Softball Complex.
Yes, the Belgrade senior and her teammates has just won their third consecutive state championship. But it was also a bittersweet moment for the standout pitcher.
"I've been playing with these girls since we were 8 years old, so it's the last time we're all going to be on the field together," Elgas, fighting back tears, said. "To go out on top is one of the best feelings ever."
Belgrade capped a perfect 23-0 campaign by beating Hamilton 10-3 in the undefeated semifinal and then routing Polson 11-1 in five innings in the state Class A championship game.
Elgas wasn't as quite dominant as in Friday's 19 strike out performance against Frenchtown in a quarterfinal victory, but allowed just three hits in the title game to finish the season with a perfect 17-0 record in the circle.
"She tied the record for the most strike outs in a state tournament," first-year Belgrade coach Andrea Folkman noted. "I've never seen a more dominant pitcher."
Elgas had plenty of help Saturday, too. Kamie Gorrell, Ellie Milesnick and Olivia Cook each hit a home run against Hamilton, and then Cook added a two-run blast during in the championship game to highlight a seven-run second inning.
"Our confidence was definitely through the roof at that point," Cook, who finished with nine homers on the season, said of the dinger against Polson. "I wouldn't say that we thought we had it or that we had it in the bag, but our confidence was definitely there and that's what kept game moving at the pace we had it at."
While Polson (17-6) managed to scratch a run across in the fourth, any hope of a comeback was snatched away by Madi Kreiger in the fifth. The 6-foot-2 senior made the defensive play of the tournament, leaping at the fence in left field to rob Kallie Finkbeiner of a home run.
"I'm never going to forget her catching (that ball)," said Folkman. "Highway robbery home run."
After making the catch, Belgrade's fanbase, as well as players and coaches, erupted in celebration. Kreiger enjoyed it as well, but took the attention in stride.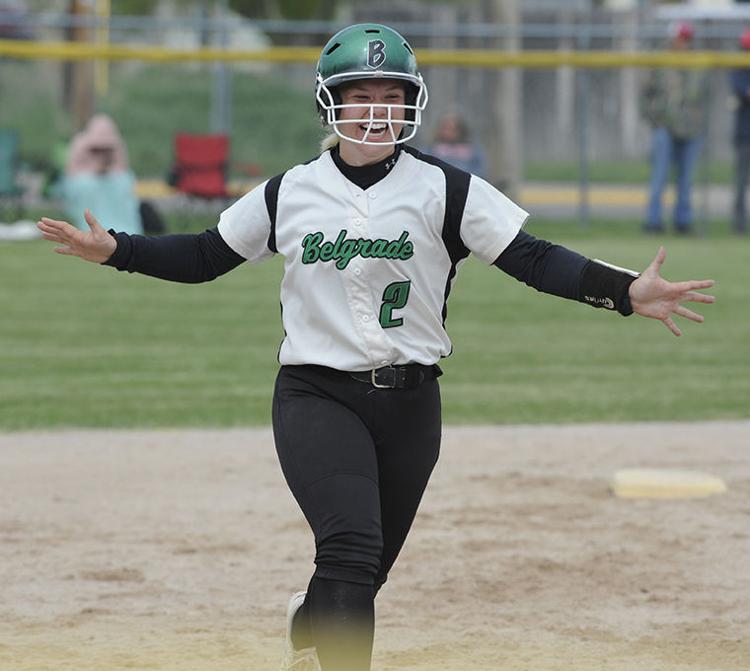 "It's kind of funny because before the game even started I was like, 'It would be sweet to rob a homer.' And then it happened," she said. "I don't know, I just felt it."
Kreiger, who was 2 for 3 at the plate, added an RBI-single in the fifth to stretch the lead to 9-1. Cook knocked in another on a blooper to right field and then Lanie Morgan won it on a walk-off single.
The Panthers tallied 13 hits in the contest — four players had two — and Morgan belted a double.
Hugs, tears and photos followed, and then realization of what had been accomplished began to come into focus. Not only were the Panthers state champions for a third time, but they finished unbeaten in their final season in Class A before moving up to AA in next year.
"Belgrade hasn't done that before," Elgas said of the perfect season. "So to do that and finish A and go out on top this last year, senior year, that's an incredible feeling."
Belgrade built a 3-0 lead through three innings in the semifinal and then increased it to 4-0 when Gorrell hit her first career home run. Cook added a solo shot in the fifth to stretch the lead to 6-1, and then Milesnick led off the sixth with another solo homer to answer a pair of runs by the Broncs for a 7-3 lead.
That early lead proved pivotal and then the Panthers put the contest away in the sixth with four more runs.
"It's kind of nice getting a run on the board just for some breathing room, and then knowing that since one person hit off of the pitcher then we all can," said Cook. "So it's kind of nice doing that."
Elgas struck out eight and scattered five hits in the circle, while Cook and Hazel Eaton each had a pair of hits at the plate.
Saturday's scores
Polson 7, Frenchtown 6, fourth
Belgrade 10, Hamilton 3, semifinal
Polson 6, Hamilton 6, third
Belgrade 11, Polson 1, champ
Boxscores
Belgrade 10, Hamilton 3
Hamilton                  000 012 0  -  3  5  3
Belgrade          021 124 x  -  10  10  2
Jorden Taggart, Maria Gutierrez (5) and Hayley Frey. Erin Elgas and Ellie Milesnick. W – Elgas (16-0). L – Taggert.
HAMILTON (18-5) – Sophia Doyle 0-4, Abby Johnson 0-3, Mikayin Brickley 0-3, Taggart 0-4, Maggie Ringer 1-3, Chantele Sisson 1-3, Haley Frey 1-3, Olivia Zependa 0-2, Phoebe Howard 2-3, Katelyn Shephard 0-0.
BELGRADE (22-0) – Kenna Thomas 1-3 (2B), Maddisen Tomasetti 0-3, Kaleigh Bauerle 1-1 (2B), Madi Kreiger 2-4 (2 2B), Olivia Cook 2-4 (2B, HR), Hazel Eaton 2-3, Lanie Morgan 0-2, Shaylis Osler 0-1, Haylee Curry 0-2, Sheridan Smith 0-0, Ellie Milesnick 1-3 (HR), Kamie Gorrell 1-3 (HR).
Belgrade 11, Polson 1
Polson     000 10  -  1  3  3
Belgrade 070 04  -  11  13  2
Lauren Vergeront, Katelyne Druyvestein (3) and Kaylanna Desjarlais. Erin Elgas and Haylee Curry. W – Elgas (17-0). L – Vergeront.
POLSON (21-6) – Josie Caye 0-2, Desjarlais 0-3, Page Noyes 0-2, Lexy Orien 1-2, Savanna Carpenter 0-2, Vergeront 0-1, Druyverstein 1-1, Kobbey Smith 0-2, Lisa Costilla 0-2, Kallie Finkbeiner 1-2.
BELGRADE (23-0) – Kenna Thomas 2-2, Kaleigh Bauerle 0-1, Maddisen Thomasetti 1-1, Sheridan Smith 0-1, Madi Kreiger 2-3, Olivia Cook 2-4 (HR), Lanie Morgan 2-3 (2B), Hazel Eaton 2-3, Ellie Milesnick 0-2, Curry 1-3, Kamie Gorrell 1-3.