They're still chipping off some rust following a two-week break, but first-year coach Brit Murphy liked what she saw Thursday night in the Belgrade Special Events Center.
Belgrade was very competitive in a three-set conference loss to Billings West, and led nearly the entire third set before the Bears rallied to win. It was in stark contrast to the team's match in September when West cruised to a sweep.
"Compared to the first time that we played West, that was a different team that showed up today," said Murphy. "They really wanted it and they brought a lot of fire."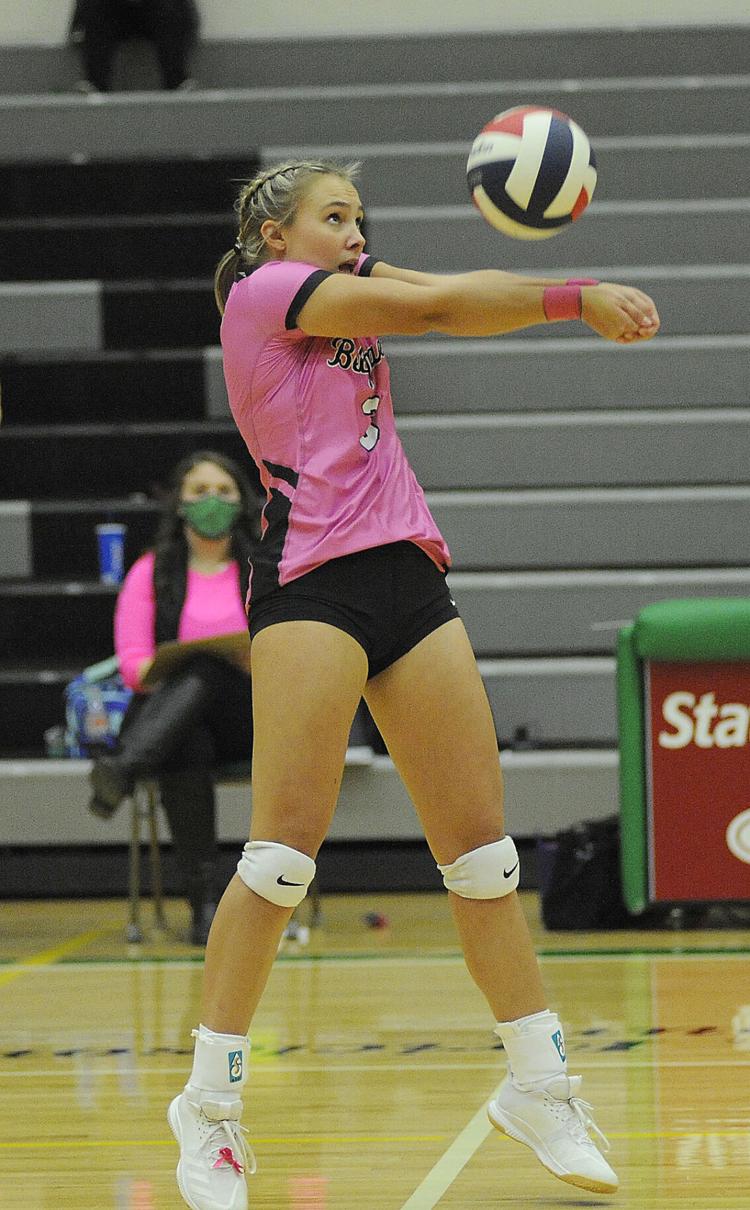 Led by Kaitlin and Kourtney Grossman, a pair of outside hitters, West posted a 25-17, 25-20, 25-22 Eastern AA victory. The duo combined for 30 of the Bears' 40 kills in the contest with well placed and hard hit attacks.
The Panthers (1-8) had a tough time containing the sisters defensively.
"They were, A, hitting over our block. But, B, our blockers weren't closing on them, so they were able to just shoot the gap between our blockers and put the ball down," said Murphy. "Our defense was doing a really good job. We made some changes this week so that we could cover some more (of the) floor and it definitely showed. They did a really good job tonight, but they were just killing was some of those hard driven balls."
Haylee Haarr, a 5-foot-11 opposite, capped the first set with back-to-back kills for the Bears. Then West pulled away late in the second set after Kamie Gorrell scored on a kill to draw the Panthers within two, 20-18.
Belgrade jumped out to a 5-1 lead in the third set and maintained a four to five-point lead for much of the game. But West rallied to tie the set at 20 and 21 before capitalizing on three Panthers' errors to secure the win.
Closing out sets after building a lead is something Belgrade has struggled with, and Murphy noted the team will continue to work on that moving forward.
"I think it's really easy as soon as you lose a couple of points to lose the fire. You feel like you're doing something wrong," she said. "And so that's been something they've been working on in practice. I'll have them be down by seven points and they have to come back to win, so I think that's something that we're going to continue to work on is just having that mental game be as strong as it can be when they start getting behind like that."
Outside hitter Tayler Thomas led the Panthers with six kills and nine digs, while Delanee Hicks dished out 12 assists and Tycelee Bowler had 11 digs.
Belgrade travels to Bozeman Tuesday, and then will have four matches remaining in the regular season before the AA playoffs begin.
Murphy feels the team is starting to regain their footing following two weeks of quarantine due to a Covid-19 outbreak at the school.
"They're starting to settle back in a little bit, but I think that it's just hard to take that much time off and then we have a couple of girls that had already taken time off because they were quarantined," she said. "And so I think they're all just kind of getting the flow again and coming together again."
Billings West def. Belgrade 25-17, 25-20, 25-22.
BILLINGS WEST (6-3) - Kills: 40 (Kaitlin Grossman 16, Kourtney Grossman 14). Digs: 43 (Ko. Grossman 10). Blocks: 1 (Alysa Keller 1). Aces: 5 (Addie Allen 2, Ko. Grossman 2). Assists: 18 (Allen 13).
BELGRADE (1-8) - Kills: 16 (Tayler Thomas 6). Digs: 40 (Tycelee Bowler 11, Thomas 9). Blocks: 4 (Gracey Carter 1, Thomas 1). Aces: 3 (3 with 1). Assists: 14 (Delanee Hicks 12).