Like many coaches around the country, Joey Roberts is simply trying to retain his sanity. There are no balls to throw, bats to swing or bases to run, so Belgrade's first-year head softball coach has been forced to find other ways to pass time this spring during the COVID-19 outbreak.
Roberts has taking up running again and pursued his other passion, fishing. But his thoughts are never far from the diamond, and like everyone else, he feels a little lost.
"Right now there's not much we can really do," Roberts said. "We're just sitting around waiting and it's a helpless feeling because you want to coach and you want to be there for the team."
Roberts served as an assistant coach the past three years as Belgrade won three consecutive Class A championships. Now, following the departure of Andrea Folkman, he's at the helm and leading the Panthers into a new era.
Belgrade moved up to AA following its highly successful run in A, which included an unbeaten season a year ago, and was expected to hit the ground running in the state's highest classification.
Then, without warning, the season was indefinitely suspended after just five days of practice by the Montana High School Association.
"There was a lot of excitement about the season and through the first five days of practice things went, I thought, extremely well. The coaching staff and I were really pleased with what we saw and the buy-in from the girls," said Roberts. "Having it come to and end like that, just so abruptly, it's tough."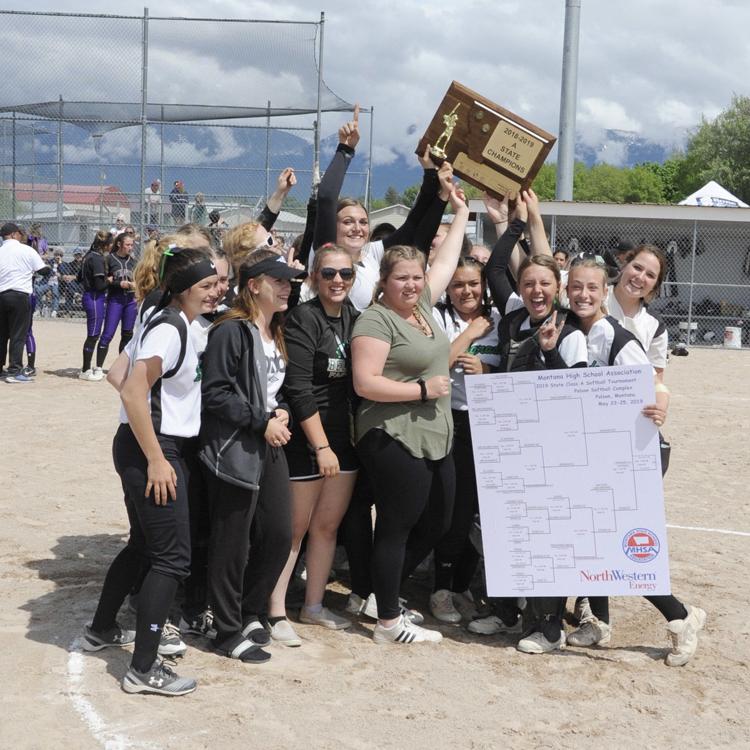 The coaching staff kept 29 players following try-outs, including 11 freshmen and a pair of seniors. Hazel Eaton and Eli Milesnick have been a part off all three championship runs and are expected to be key contributors should the season resume.
"Hazel and Eli have just been outstanding program kids. They've bought in and since Day 1 they've been extremely dedicated, worked hard and they've been a part of all three state championships since their freshman year," said Roberts. "I know this is a big year for them — it's tough, I feel terrible for them."
It's been three weeks since the team has practiced and players are limited as to what they can do at home during the shelter-in-place ordered by Montana Gov. Steve Bullock.
Roberts, who teaches at Ridge View Elementary, has maintained contact with players regularly and noted it's been a difficult transition for everyone as they adjust to online school.
"They're stuck at home, having to adjust to online school, they don't have softball, and they can't hang out with their friends," said Roberts. "I know it's pretty hard on quite a few of them, so I'm just trying to be as supportive as I can and just let them know that I'm here to help them."
The MHSA Executive Board is scheduled to meet April 13 to reevaluate spring activities. However, it seems likely that the suspension will continue as Gov. Bullock has already announced plans to extend the shelter-in-place order to April 24.
With just five weeks remaining in the season after the 24th, the window for competition is quickly closing. Thus, Roberts is bracing himself for the possibility that the season could be canceled.
"Obviously I'm trying to be hopeful, I'm trying to stay optimistic about that. Kind of I'm hoping for the best, kind of preparing for the worst," he said. "In preparing for not having a season I think we're really going to have to rely heavily on summer softball, assuming we even get that season, for our girls to kind of salvage something of the season going into next year."
Belgrade's program has been among the elite in the state, competing in the state championship game in seven of the past 10 years. If there is no season, Roberts noted it would affect his underclassman the most.
"The thing is though, everyone is in the same boat across the board in the entire state," he said. "But to me it's extremely detrimental to our freshmen and our sophomores. I think those are crucial years."
Southwest Montana Youth Fastpitch canceled its rec season April 3, and that includes the Belgrade Girls Softball Association. That, too, will impact the high school team.
"That trickle down effect into the 12, 13 and 14's going forward for our program could potentially be costly," said Roberts. "Thankfully we have a great relationship with BGSA and the club. They've been outstanding and we work together really well."
While worst-case scenarios are on everyone's mind, Roberts remains hopeful that softball will be played. Until then, he'll be busy tying flies in anticipation of his next fishing trip.