For those who were patient enough to wait for the final match Tuesday night, the best was saved for last.
The 120-pound match featured Billings Skyview's Hunter Ketchem, a defending state champion, against Belgrade's Mason Gutenberger, a freshman.
The much anticipated showdown didn't make it out of the first period.
Gutenberger pinned Ketchem with eight seconds remaining in the opening period to cap the Panthers' 48-27 dual victory in the Belgrade Special Events Center. It was an impressive win considering that Ketchem went 31-0 a year ago en route to winning the Class AA 103-pound championship.
"Mason, he's wrestled Ketchem before. Might not have been in high school, maybe a year or two years ago, and never lost," first-year Belgrade coach Bryce Weatherston noted. "Mason's getting better every day."
Gutenberger was among seven Panthers who notched pins in the team's home debut. The others were Colton Gutenberger (113), Blake Eatman (126), Carter Schmidt (132), Logan Linn (170), Xaden Cunningham (205), and Raiden Kline (285).
It was the first victory of the season for the Panthers, who lost a pair of duals Friday in Great Falls. Great Falls CMR won the final match of the season-opening dual to win 37-36, while top-ranked Great Falls, the defending AA champion, posted a 50-24 victory later in the day.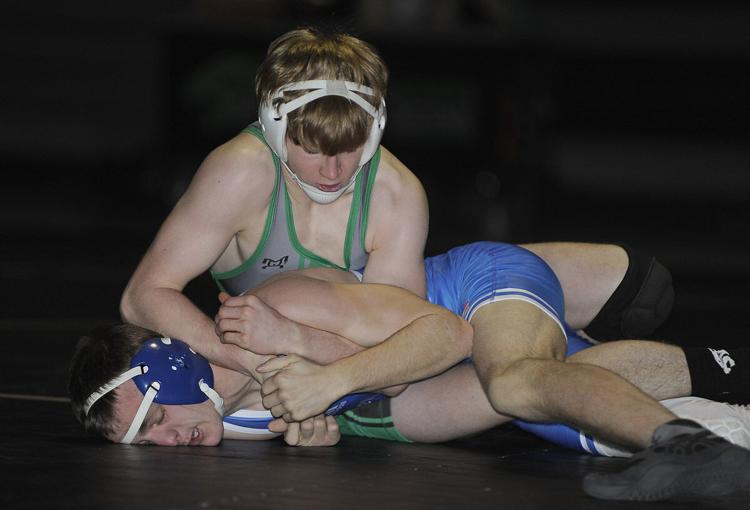 "Last weekend we had a heartbreaking loss. We came ready to win the dual, few things didn't go our way and we lose by a point in the very last match," said Weatherston. "Dueled the number one team in the state, which was Great Falls High, and we had four pins off the bat and then we lose every match following that."
Those losses didn't sit well with Weatherston, who is a former three-time state champions for the Panthers.
"I told them, myself, there's nothing more I hate than losing. It's something I lose sleep about. It's something that killed me all week," Weatherston said. "I was frustrated because these guys have been busting their butts, so they used that as motivation."
Eatman got things started against Skyview with a first period pin of Gavin O'Connor, and then Schmidt posted a third period pin of Talen Barrington after building a commanding 10-1 lead. Schmidt was last year's state runner up at 113, and improved to 3-0 on the season along with the Gutenbergers.
Belgrade eventually took a 30-27 dual lead when Kline pinned Cash Fallon in the second period, and then won by forfeit at 103. The Gutenbergers slammed the door shut from there with first period pins.
The buzz afterwards was about Mason Gutenberger's victory, and Weatherston noted he's put in the work and is pushed every day in the wrestling room by teammates Oden Currier, Schmidt and older brother Colton.
Weatherston also credited his five assistant coaches for the team's competitive performance thus far.
"Our coaching staff's top-notch. It doesn't start with me," he said. "These guys have been training these guys up for years. What you're seeing right now, it looks like a big difference from last year, but this is was all in the making. I was just fortunate enough to be in the position I am."
Belgrade returns to action Thursday with a dual at Billings West, and then hosts Bozeman Jan. 19.