Had no one known any different, it would have appeared they'd been playing together all summer.
Nearly 60 players from around the state descended on the Belgrade Softball Complex over the weekend, and the 12 members of the Marines put together a dominant performance.
The Marines posted a 4-0 record, which included a 17-0 rout of Navy in the championship game, to win the 7th Annual Veterans Memorial Softball Classic.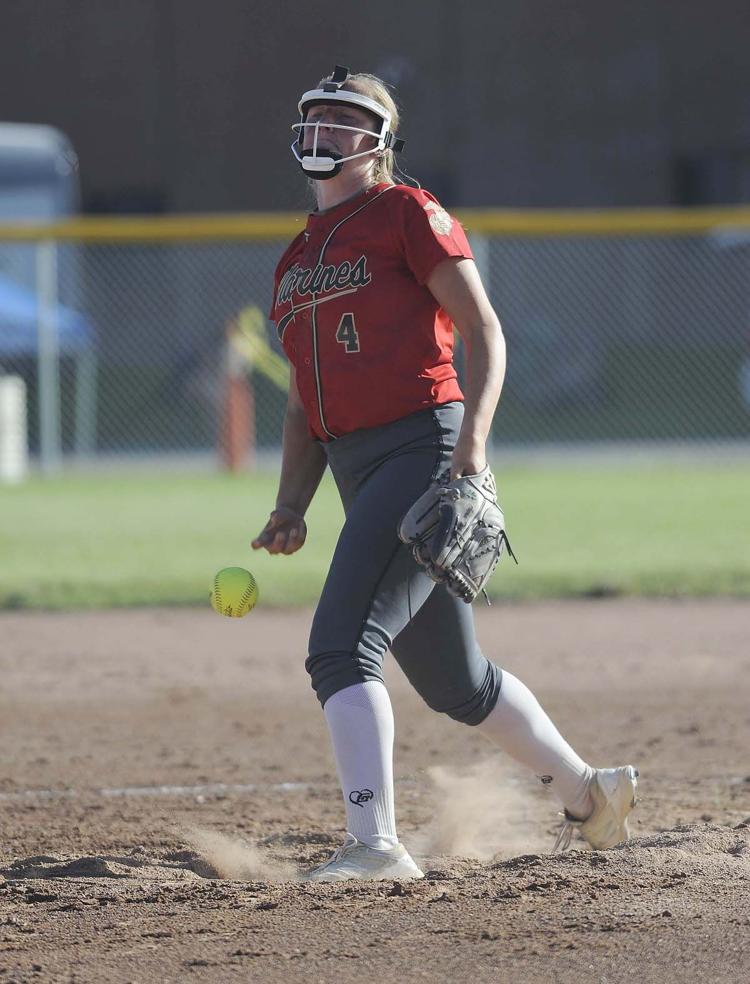 "Events like this, I just think it's really important to create chemistry, and all of our girls came in and they were open. Everyone was connecting with one another," Great Falls pitcher Anna Toon, who earned the victory in the circle for the Marines, said. "It was really awesome to see that because it really helped our team in the end."
It was the final tournament in the sterling prep career for Toon, who has been named the Gatorade Montana softball player of the year in each of the past two seasons and led the Bison to the 2019 Class AA championship.
Toon threw three scoreless innings to begin the game, and then returned in the seventh to close out the win. She struck out the side on just nine pitches.
"When I was warming up on the other field it was just not feeling good. I was like, 'Oh maybe I got cold or something,'" said Toon. "But I came out and it just felt good."
Not much went wrong for the Marines during the tournament. They outscored their opponents 44-6 beginning with a 4-2 victory against Coast Guard. Then they beat Air Force 10-2 and Army 13-2 before shutting out Navy in the chipper.
"We all just kind of clicked," Belgrade's Maddie Tomasetti, who made several key defensive plays at third base, said. "We all have similar personalities, and we all just clicked and played well together."
The Marines led just 1-0 after three innings in the title game, but broke it open in the fourth with nine runs. Tomasetti hit a double in the fifth and then capped the team's championship run with a grand slam in the sixth.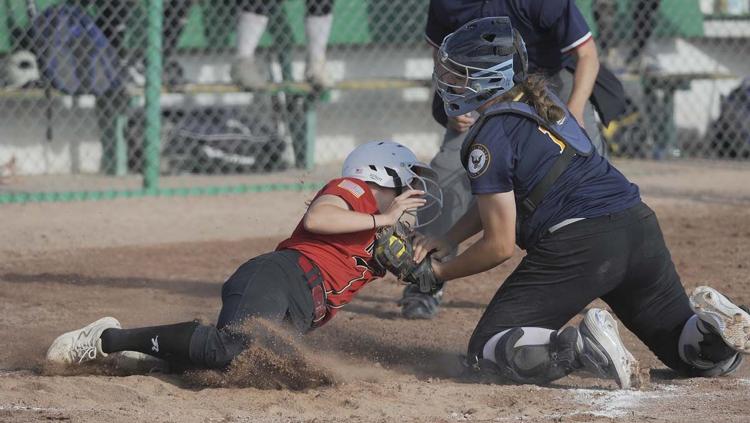 Knowing it would likely be her final at-bat of the game as well as the summer, Tomasetti approached the plate with a positive mindset.
"I was just thinking like base hit because base hits are good," she said.
Navy was held to two hits in the contest — both off of Ronan pitcher Macao Jackson — and never advanced a runner past first base. It was a tough finish to an inspiring run for the team, which played four games Saturday and six over the weekend.
After losing its tournament opener to Army 13-2, Navy defeated Coast Guard 16-7, Air Force twice, 7-2 and 21-4, and Army in a rematch 13-2. But with four consecutive games over the course of 12 hours Saturday, they ran out of steam in the championship game.
"A lot of games in the sun was a lot for us," Glacier's Kynzie Mohl, who started in the circle in the title game, said. "But we played well."
Mohl led Navy's run to the finale with a tremendous effort at the plate. The junior finished 10 of 18 with 15 RBIs after belting six home runs and a pair of doubles. Two of those dingers came in the rematch against Army in the consolation game.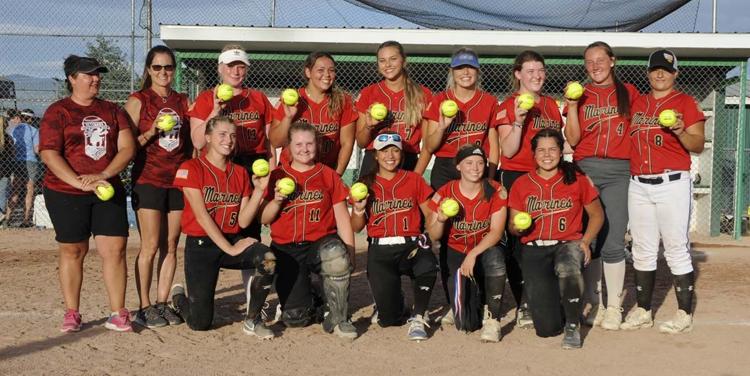 "I just wanted to get on base every single time," Mohl, who placed second in Friday's home run derby, said. "It kind of shocked me. I just kind of felt like, 'Oh one was nice,' and then it just kept going every game, so it was pretty fun."
Corvallis' Ashlynn Nixon was 4 for 4 with a double and a home run in the consolation game, while Belgrade's Kenna Thomas also homered.
With the high school season cancelled due to the COVID-19 pandemic, and limited tournaments over the summer, players were thrilled at the opportunity to play in Belgrade.
"Everyone was really excited to get out on the field because it's been rough this summer," said Tomasetti. "I haven't really gotten a lot of playing time on the field, so it was different. But everyone was really excited to be out on the field."
Toon, who was invited last year but did not participate, also felt that the tournament was a great experience.
"It was really amazing to get to come out and finish off the senior season, and the girls here were amazing," Toon, who reports to the University of Montana Thursday to play for the Griz, said. "It was competitive, but most importantly it was so much fun. It was relaxed softball."
Tournament notes ... Great Falls' Morgan Sunchild won the home run derby with 12, while Mohl had 10. Sunchild also won the derby in 2018 ... Missoula Sentinel's Mackenzie Wright won the base running competition with a time of 5.74 seconds ... Laurel's Taylor Feller won the catcher's pop-to-pop with a time of 1.71 seconds.
Veterans Memorial Softball Classic
(at Belgrade Softball Complex)
Friday's scores
Marines 4, Coast Guard 2
Army 13, Navy 2
Navy 16, Coast Guard 7
Marines 10, Air Force 2
Saturday's scores
Navy 7, Air Force 2
Air Force 10, Coast Guard 3
Marines 13, Army 2
Navy 21, Air Force 4, fourth
Navy 13, Army 2, third
Marines 17, Navy 0, champ
Boxscores
Third Place
Navy 13, Army 2
Navy                      203 053 0  -  13  19  1
Army                     000 010 1  -    2   9   3
Kennedy Venner and Rachel Porter, Kynzie Mohl (7). Claire Bagnell and Taylor Feller.
NAVY - Ashlynn Nixon 4-4 (2B, HR), Kenna Thomas 1-2 (HR), Mohl 2-3 (2 HR), Macy Mangold 3-4 (2B), Porter 0-4, Layne Bauer 2-4, Skylar Higgs 1-4, Venner 0-2, Avory Escobar 1-3 (2B), Jordyn Zimmer 0-3, Adele Didriksen 3-3, Gracie Fleming 2-3.
ARMY - Mackenzie Wright 2-3 (2B), Sammie Labrum 0-3, Dacee Zent 2-3, Morgan Sunchild 2-3, Bagnell 1-2, Jensen Keller 1-3, Sami Knapp 0-2, Sydney Jackson 1-3, Jessica Newman 0-2, Feller 0-1, Lauren Phillips 0-2.
Championship
Marines 17, Navy 0
Marines                001 925 0  -  17  17  1
Navy                     000 000 0  -   0    2  3                    
Anna Toon, Macao Jackson (4), Toon (7) and Lauren Archie, Kasidy Yeoman (4). Kynzie Mohl, Avory Escobar (4) and Rachel Porter, Gracie Fleming (4).
MARINES - Maria Hickey 1-3, Yeoman 2-4, Toon 1-1, Jackson 1-4, Azia-Rain Umphrey 0-2, Maddie Tomasetti 2-4 (2B, HR), Abby Johnson 3-4, Hannah Fetters 2-4 (2B), Archie 1-4, Addie Labrum 2-4 (2B), Taylor Springer 2-3, Abigail Brevig 0-3.
NAVY - Ashlynn Nixon 0-2, Kenna Thomas 1-2, Mohl 0-2, Macy Mangold 0-2, Porter 1-2, Layne Bauer 0-2, Skylar Higgs 0-2, Kennedy Venner 0-2, Escobar 0-2, Jordyn Zimmer 0-2, Adele Didriksen 0-2, Fleming 0-1.