MISSOULA — Outside of the team's locker room Friday morning in Dahlberg Arena, Jeff Bellach was already looking toward next year.
Manhattan Christian's season came to an end in a loser-out game at the State C tournament, but they got a look at what it takes to become an elite program. Thus, Bellach is excited about the future after the team reached state for the first time in a decade.
"I think we have a great group coming back and they'll be hungry to keep working at it. Obviously, Maddie (Luidahl) and Rylie (Thompson) being seniors is tough to end, but they did things this year that Manhattan Christian girls haven't done in a long time on a basketball court," he said. "Twenty-two win season, make it to state and battle through some challenge games, a lot of positives to take away even though the disappointment of it."
Following a quarterfinal loss Roy-Winifred Thursday, the Eagles appeared to have bounced back mentally and trailed by just a point after eight minutes of play. But they eventually committed 30 turnovers and never found a way to contain Jenna Rust, who scored a game-high 26 points in leading Westby-Grenora to a 52-36 victory.
"We didn't play our best by any means," said Bellach. "That happens in these kind of games, loser-out games at state after some disappointment."
Rust scored 15 of her points before halftime as neither Eliana Kuperus nor Kiersten Van Kirk where able to slow her down in the paint. The 6-foot senior shot 7 of 13 from the field and grabbed 10 rebounds in the first half alone.
While Kuperus tallied 14 of her team-high 16 points before intermission to keep the Eagles within striking distance, 28-20, she and Van Kirk were in unfamiliar territory trying to guard Rust.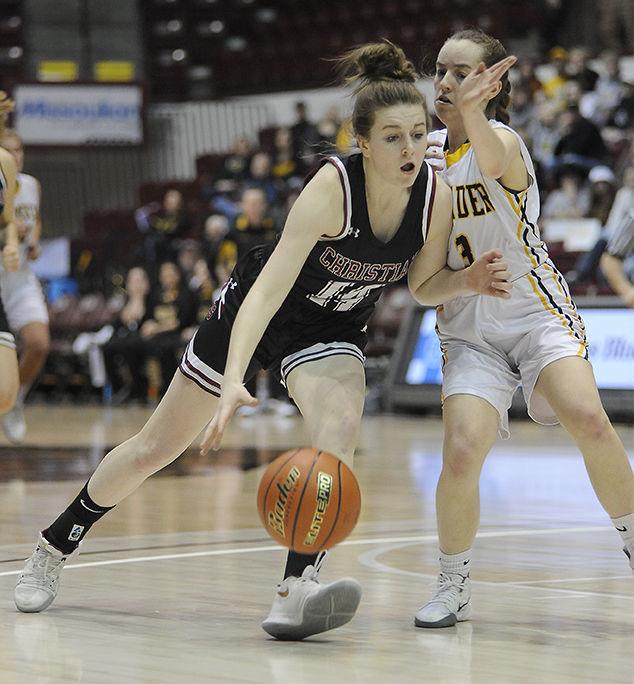 "It's just another level, like I said yesterday, that we haven't seen. It's good for our girls to see that," Bellach said of the post play his team faced. "Eli and Kiersten, they can see what they need to do to get to that next level, and our guards too. Those girls are scrappy and we've dealt with that, and we've come a long way and got better. But we got to continue to improve."
Elizabeth Field scored several times on dribble penetration for the Thunder en route to tallying 14 points, and combined with Brynn Folvag for the team's four 3-pointers.
Hope Kenney finished with eight points, while Kuperus and Van Kirk combined for 17 rebounds.
The Eagles (22-6) lose just Liudahl and Thompson to graduation and will return four starters.
"We had a great season. These girls put in a lot work from last year to where they are now. They've come a long, long ways, so I give them a lot of credit for the time they put in," said Bellach. "To be honest, a lot of them it's not their favorite sport, it's their second. I encourage them to play lots of other sports and it's part of the deal, but to get to that next level in this sport it's going to take a little more commitment and a little more time with it and they realize it now."
Friday's scores
Westby-Grenora 52, Manhattan Christian 36, loser-out
Scobey 40, Seeley-Swan 28, loser-out
Roy-Winifred 62, Ekalaka 19, semifinal
Belt 46, Melstone 26, semifinal
Boxscore
Westby-Grenora 52, Manhattan Christian 36
Christian                   10  10 5  11  -  36
Westby-Grenora    11 17  17  7 -  52
MANHATTAN CHRISTIAN (22-6) – Taylor DeVries 1 0-0 2, Grace Aamot 2 0-0 4, Eliana Kuperus 7 2-8 16, Kiersten Van Kirk 1 0-2 2, Madelyn Liudahl 0 0-0 0, Alexis DeVries 0 0-0 0, Hope Kenney 3 2-2 8, Ava Bellach 1 0-0 2, Rylie Thompson 0 0-0 0, Natalie Walhof 0 0-0 0, Jaydyn VanDyken 0 0-0 0, Hailey VanDyken 0 2-2 2. Totals: 15 6-15 36.
WESTBY-GRENORA (24-3) – Brynn Folvag 2 1-4 7, Samantha Ledahl 1 1-3 3, Kiarra Brunelle 1 0-0 2, Elizabeth Field 5 2-2 14, Jenna Rust 11 4-10 26, Sayler Stewart 0 0-0 0, Ashden Christian 0 0-0 0, Olivia Christian 0 0-0 0, Emma Smart 0 0-0 0, Angelina Garcia 0 0-0 0. Totals: 20 8-19 52.
3-point goals: MC 0, W-G 4 (Folvag 2, Field 2).