CHURCHILL — Entering his first game as Manhattan Christian's head coach, Layne Glaus wanted to see two things from his team Thursday night.
The first was high energy, while the second was teammates supporting each other. Afterwards he was pleased with each.
"Those are two things we focused on early in the season," Glaus said. "If they play outside of themselves and they're talking to each other on defense and cheering for each other on the bench, then that's going to go a long ways for us this year. I thought they did well with that."
While the Eagles jumped out to a 9-0 lead against Townsend in their season opener, they faced some adversity in the first half. All-State point guard Caidin Hill got into early foul trouble and sat out the entire second quarter.
The Bulldogs managed to get within a point before eventually trailing 22-17 at halftime. But Christian regrouped in the second half and pulled away for a 58-44 non-conference victory.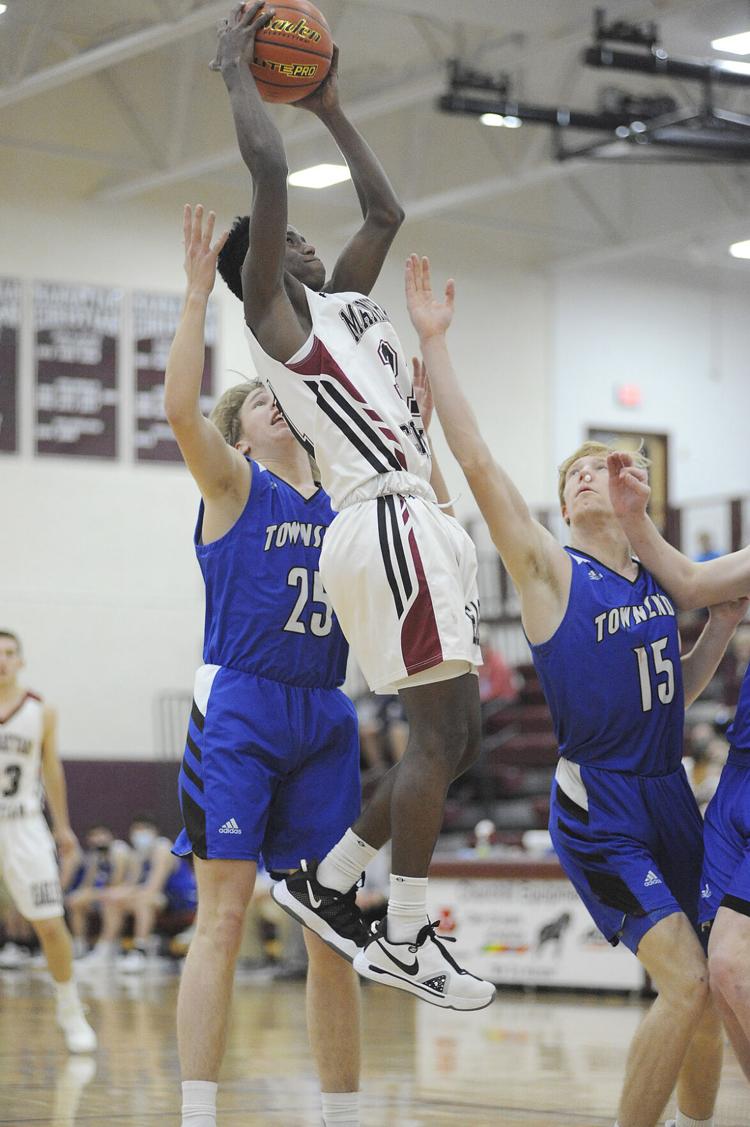 With Hill out of the game, the Eagles began to settle for perimeter shots and weren't getting as many inside-out looks. It was a lineup that Glaus noted the team hadn't worked on much during preseason practices, but he was happy it made other players step into a new role.
"It was great, to be honest, to get those guys that might not handle the ball as much in those situations," Glaus said. "Hats off to Townsend, they're a big, physical, athletic team, and I feel like Clint (Watson) does good job with them. I think that was part of it. They gave us some trouble there just because they're so athletic."
Townsend (0-2) was within five, 36-31, with a little over a minute remaining in the third quarter. But Christian closed out the frame with seven consecutive points capped by a 3 from Seth Amunrud. Then the Eagles began the fourth quarter with three consecutive 3-pointers, and 10 straight points, to stretch the lead to 53-31.
Caidin Hill, Tebarek Hill and Amunrud buried the 3's, which were set up off of turnovers by Christian's full court pressure.
"It was defensive effort. Those guys worked their butts off, so credit to them on the defensive end," said Glaus. "But on that stretch it was more of a attack mindset, so we did get to the free throw line a few times. So we were able to set up our press."
Amunrud connected on four 3's en route to scoring a game-high 18 points, while Tebarek Hill also reached double figures with 12.
Christian is back in action Friday hosting Shields Valley in its conference opener.
Manhattan Christian 58, Townsend 44
Townsend                   7  10  14  13  -  44
Christian                   11  11  21  15  -  58
TOWNSEND (0-2) - Trey Hoveland 3 1-3 7, Colten Noyes 0 0-0 0, Ryan Racht 4 2-4 11, Camden Ferguson 0 0-0 0, Gavin Vandenacre 3 0-2 6, Braden Racht 2 2-3 6, Aaron Geisser 2 2-4 8, Devon Zeadow 3 0-2 6, Tizer Sangray 0 0-0 0. Totals: 17 7-18 44.
MANHATTAN CHRISTIAN (1-0) - Trevor VanDyken 0 1-3 1, Seth Amunrud 7 09-0 18, Gavin Weiss 3 1-2 7, Logan Leep 1 1-2 3, Tebarek Hill, 5 0-1 12, Caidin Hill 3 0-0 7, Jackson Leep 0 2-2 2, Mason Venema 0 0-0 0, Ethan Venema 0 0-0 0, Devan Walhof 1 0-0 2, Willem Kimm 3 0-1 6. Totals: 23 5-11 58.
3-point goals: Tow 3 (Geisser 2, Racht 1), MC 7 (Amunrud 4, T. Hill 2, C. Hill 1).