Just a short drive from Four Corners, and before venturing into the Gallatin Canyon, there is a turnoff on the right for Spanish Creek Road. It leads to the Spanish Creek Campground from which a trail to Pioneer Falls can be accessed.
It's one of the easier hikes I've done — it's just 3.3 miles to the waterfall and the first two miles are relatively flat — with breathtaking views along the way. Pioneer Falls, which is a tributary of the South Fork of Spanish Creek, is about 40-feet high and was running hard due to snow melt.
After arriving at the campground take the trail (it is horse friendly, but no mountain biking is allowed) to the west and cross a footbridge over the South Fork of the Spanish Creek. Then go left and follow the Spanish Creek Trail upstream.
The trail parallels the stream for much of the hike and enters the Lee Metcalf Wilderness. There are plenty of lodgepole pines along the trail, and great views of Gallatin Peak, Beacon Point and Blaze Mountain are visible along the way.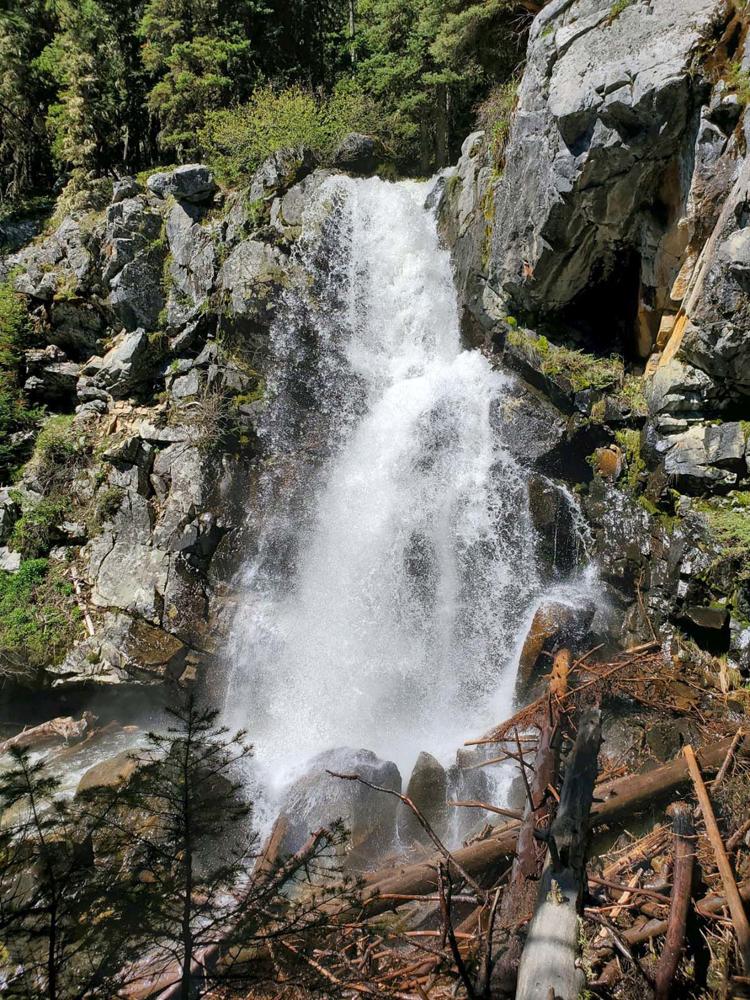 At the 1-mile mark there a large boulder field on the right side of the trail, and then at the 2.6-mile mark there is a junction. Go right (west) up several switchbacks for about another half mile to reach Pioneer Falls.
The Spanish Creek Trail continues south to Spanish Lakes and Mirror Lake, a hike I plan to do later this summer.
The switchbacks are the most difficult part of the hike as it climbs about 800 feet in a short distance. Before making the final push to the falls, there a steep path that veers to the left down to the stream. While you can't see the falls from here, there is large fallen tree that be crossed and provides a fun photo opportunity.
Once back on the trail, it took another two minutes or so to reach the falls, which can be viewed from below as well as above. Be careful, however, with the high runoff the rocks and dirt around the falls were slippery.
For those who would like extend this hike, continue up the switchbacks to a spacious beautiful meadow with panoramic views. The trail leads to Jerome Rock Lakes, which is located below the Madison Divide.
How to get there: From Four Corners drive south on Hwy 191 towards the Gallatin Canyon for 13 miles. Turn right at Spanish Creek Road and then travel 9 miles on gravel road that becomes paved after 6 miles to the trailhead parking lot.
— Dan Chesnet is the sports editor at the Belgrade News and can be reached at dchesnet@beglrade-news.com.