It took just 90 seconds, and four consecutive turnovers, to break open what had been a close game Tuesday in the Belgrade Special Events Center.
Belgrade trailed just 23-19 at halftime in its home finale against Billings Skyview. But the Panthers turned the ball over on their first four possessions of the second half and were unable to recover.
The Falcons quickly stretched the lead to double figures en route to a 51-33 Eastern AA victory.
"I think we had four turnovers in the first half alone and that was a sloppy way to start the second half," Belgrade coach Mike Deming said. "Then they come in and make some threes ... next thing you know a four-point game is 10 within a couple possessions. Goes to show you how explosive they are, but we were careless with the ball."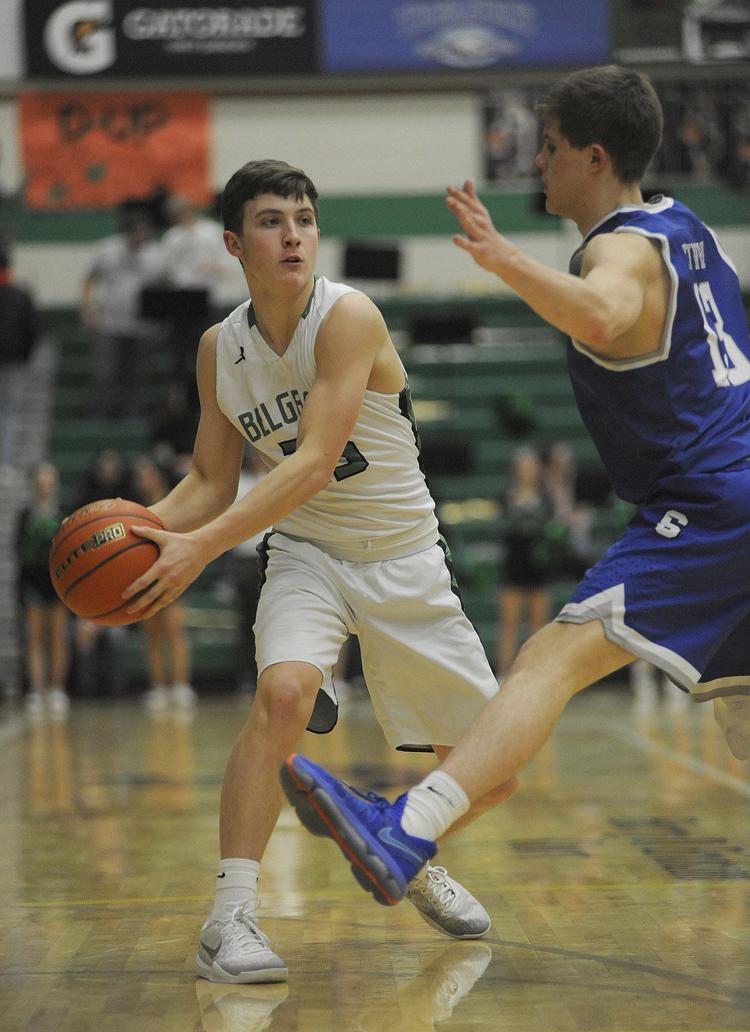 The Panthers withstood six first half 3-pointers by Skyview to trim the deficit to four at halftime. But they never got closer than seven following that disastrous stretch to begin the third quarter and trailed by 16 entering the fourth.
The Falcons (11-6, 7-4 Eastern AA) connected on 10 3-pointers in the contest, led by three from Julius Mims. The 6-foot-7 senior finished with a game-high 16 points.
"They're high jumpers, they're physical, they're athletic and they can shoot it. They shot the ball really well," said Deming. "I think of the 23 points in the first half 21 of them, or whatever it was, was on threes."
Noel Reynolds scored 11 of his team-high 18 points in the first half, while Ta'Veus Randle finished with 11 for the Panthers.
"This is the best Noel's played all year. He's just constantly getting better. Every game he's gotten better and as a matter of fact when we played Skyview down there is kind of when he turned it on," said Deming. "He looked explosive tonight and it was good to see him (do that) on senior night."
Reynolds and Cooper VanLuchene, the team's two seniors, were honored prior to the contest.
"I thought Cooper did a tremendous job of rebounding the ball defensively," said Deming. "They've given a lot and sacrificed a lot to be on this team and help the younger players."
Belgrade (1-16, 0-11 Eastern AA) wraps up the regular season Saturday with a conference game at Billings Senior.
Billings Skyview 51, Belgrade 33
Skyview        14  9  16  12  -  33
Belgrade          6  13   4  10  -  51
BILLINGS SKYVIEW (11-6) - Julius Mims 6 1-2 16, Connor Chase 1 0-0 3, Max Davis 2 2-4 7, Cam Ketchum 2 0-0 6, Ab Seybert 1 2-2 4, Trett Moseman 1 0-0 2, Payton Sanders 4 0-0 10, Ky Kouba 0 0-0 0, Levi Johnson 0 0-0 0, Peyton Carle 1 0-0 3, Cole Allison 0 0-0 0. Totals: 18 5-8 51.
BELGRADE (1-16) - Tate Bowler 0 2-4 2, Ta'Veus Randle 3 5-5 11, Austin Spangler 0 0-0 0, Cooper VanLuchene 1 0-0 2, Noel Reynolds 6 6-11 18, Wyatt Russell 0 0-0 0, Kade Schlauch 0 0-0 0. Totals: 10 13-20 33.
3-point goals: BS 10 (Mims 3, Ketchum 2, Sanders 2, Chase 1, Davis 1, Carle 1), Bel 0.