MANHATTAN — Through 12 minutes of play Saturday afternoon, it was a defensive stalemate. Manhattan and Missoula Loyola had combined for six punts and just one first down in a quarterfinal game of the Class B playoffs.
Needing an offensive spark as the second quarter commenced, Chris Grabowska dialed up a trick play. Manhattan's sixth-year coach called for a double pass, which the Tigers executed to perfection.
Quarterback Lane Veltkamp threw behind the line of scrimmage to Caden Holgate, who then tossed a 23-yard pass to Kyle Hotvedt. Not only did the play result in a first down, but it set the Tigers up inside Loyola's 45.
The play, which had also been successful in Manhattan's regular season finale against Jefferson, finally gave the offense some much-needed traction. And, three plays later, Hotvedt scored on a 25-yard reception.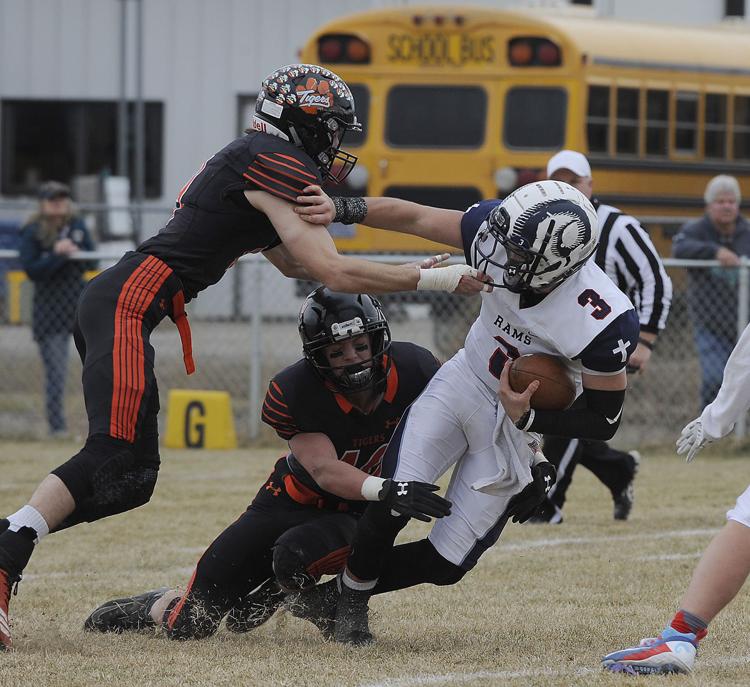 "Jefferson bit on it and we were just kind of hoping these guys would bite on it to," said Hotvedt. "It was just a good throw honestly. Caden put it right where I needed it to be and I caught it."
From there, the Tigers generated three more touchdowns offensively and rode a stingy defense to a 26-7 victory. It snapped a string of four consecutive losses in the quarterfinal round for the program, which advanced to the semifinals for the first time in 2010.
"Everybody's so pumped," said Veltkamp. "We've gone out in the second round I don't know how many years now, so to get over that hump is just huge. Going into next week that's a big boost for our team."
Manhattan (10-0) will travel to Fairfield (10-0) next week for a showdown between unbeatens. The defending state champions routed Florence, 55-20, in other quarterfinal action Saturday.
"It's going to be a great game. Last year they knocked us off and so we're all kind of going in their looking to knock them off," Veltkamp, who threw for 93 yards and rushed for another 62, said. "They won state last year. It's just a huge game and it's going to be a great game."
The Tigers took a 14-0 lead into halftime after Veltkamp scored on a 1-yard run to cap an 11-play drive with 13.7 seconds remaining in the second quarter. Loyola punted five times in the first half and was only able to muster one first down.
"We got the number one defense in the state, and you can see, it's hard to move the ball on us," said Grabowska. "They did in the second half a little bit. They had to start throwing a little bit … we were just playing prevent trying to keep them out of the end zone, and they made some good plays. But I thought for the most part our defense played extremely well today."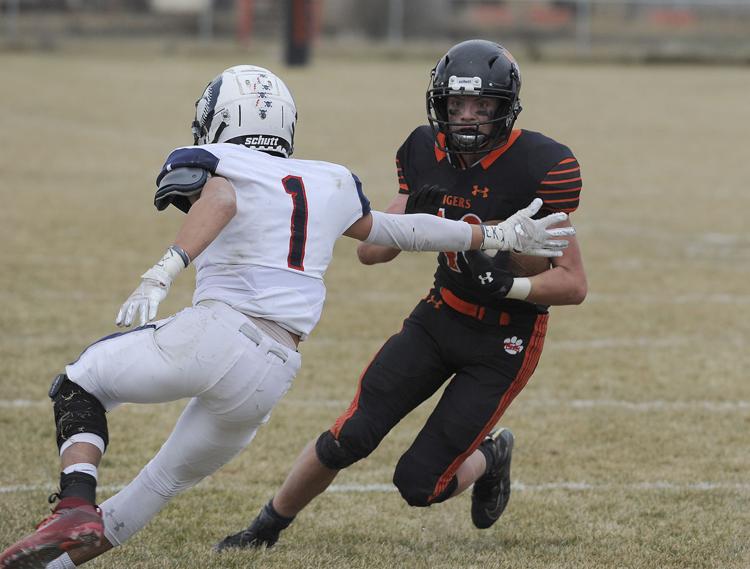 Manhattan has allowed just one score in the postseason, which came in the fourth quarter. Nick Mitzel threw a 39-yard touchdown pass to Basil Coutinho to trim the deficit to 20-7 with 7:56 remaining.
Garrit Weeda had stretched the Tigers' lead to 20 after capping a 14-play, 73-yard drive with an 18-yard touchdown run early in the fourth quarter. Then, after the defense forced Loyola to turn the ball over on downs inside its own 25 with 5:13 to go, Toby Veltkamp scored on a 5-yard run with a little over three minutes remaining.
"We were able to pound the ball a little bit and get that final score. That was kind of the exclamation point, the nail in the coffin so to speak," said Grabowska. "That's one thing about our kids. When they need to respond and put the game away, they've been doing a really good job at that."
Lane Veltkamp intercepted Cormac Benn on the ensuing possession when the Rams (6-5) attempted a double pass of their own to cap a stellar defensive effort by Manhattan. Loyola was limited to eight first downs in the contest, punted seven times, and had a turnover.
"We just played more physical than them, honestly," said Hotvedt, who caught six passes for 64 yards. "I feel like we always come out and we fire up and we get ready to play defense. That's our main thing."
Despite the recent struggles in the quarterfinal round, Grabowska was confident this year's team would finally get over the hurdle.
"We just focused like it was another week and we knew coming into this game that we could do it," he said. "That was kind of our mindset and next week we're just hopefully going to keep this thing rolling."
Manhattan 26, Missoula Loyola 7
Loyola                           0   0   0   7   -   7
Manhattan                   0  14  0  12  -  26
Man - Kyle Hotvedt 25 pass from Lane Veltkamp (Jose Molina kick)
Man - L. Veltkamp 1 run (Molina kick)
Man - Garrit Weeda 18 run (kick failed)
ML - Basil Coutinho 39 pass from Nick Mitzel (Clayton Ogilvie kick)
Man - Toby Veltkamp 5 run (kick failed)