MANHATTAN — Noting that it felt like home, Manhattan's Kyle Hotvedt signed a letter of intent Monday to play football at the University of Montana-Western in Dillon.
The senior is a three-sport athlete — Hotvedt also competes in basketball and track — and helped the Tigers post an 11-1 record this past fall en route to reaching the state B championship game for the first time in program history.
"I got a lot of opportunities from a lot of schools, which I really appreciate, but Western was just a good fit for me academically and athletically," said Hotvedt. "I really like that block schedule that they have and I just like the community a lot. On my visit it just kind of felt like home."
Hotvedt plans to study secondary education with an emphasis on physical education as well as minor in both coaching and business. He stated the school's education program played a major factor in his decision to play for the Bulldogs.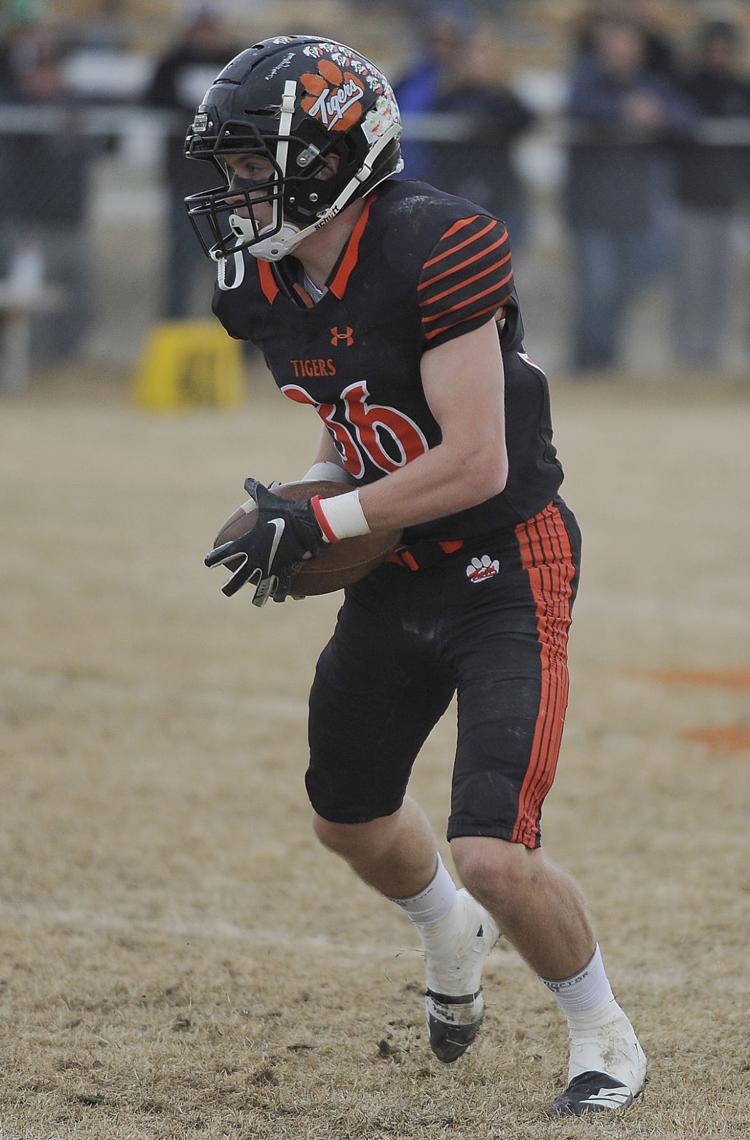 "A lot of prestigious teachers that I've talked to, and I've talked to a lot of people that have come out of Western, have said that they love it," Hotvedt said. "Their teaching program allows you to focus with that block schedule on one class, and that's name of their football program too. They've got a lot of good student athletes with a lot of good grades, and I think it's because of that block schedule."
Hotvedt also looked at Carroll College, Montana Tech and the University of Mary in North Dakota before choosing Western.
This past season Hotvedt was among three Manhattan players to earn All-State honors. He started on both sides of the ball and was also a first team selection at receiver and defensive back.
Hotvedt led the team with 43 receptions for 649 yards and nine touchdowns, and had seven pass break ups and four interceptions in the secondary. He's been recruited as a receiver, but noted that could change.
"Originally it was for wide receiver, so I think that's what they're going to stick with," Hotvedt said. "I think they're having me more sign as an athlete, but I think they are going to have me play wide receiver."
Given a choice, Hotvedt would like to stay at receiver.
"I prefer playing offense," he said. "I like getting the ball, just that feeling of the ball coming at you in the air is pretty important, pretty special. So I like playing offense more."
Manhattan reached the postseason in each of the past four seasons, falling in the quarterfinals three times before finally getting over the hump this past season. Hotvedt credited the coaching staff for preparing him to compete at the next level.
"I think the coaches here have honestly prepared me as good as it's going to get," he said. "I don't think it can get any better just because of the coaching staff with what they've allowed us to do and what they've pushed us to do."