MANHATTAN — Stack the box in an effort to shut down the run and Caden Holgate will pick apart the secondary.
Back off and try to keep Holgate in check and Isaac Richardson and Toby Veltkamp will consistently pick up big gains on the ground.
That was the dilemma Big Timber faced Friday night, and it didn't go well for the visitor. Manhattan scored on seven of its eight offensive possessions en route to a 49-0 Southern B rout.
"We have a lot of weapons. Got some guys that can run the ball, guys that can catch the ball and we got a quarterback that can do a little of both," Tigers coach Chris Grabowska said. "It comes down to that we're just a balanced offense and we're willing to take what the defense gives us."
Manhattan (6-0, 4-0 Southern B) strung together long methodical drives early in the contest, and then also displayed its quick strike ability in the second half. Caden Holgate led the charge, completing 19 of 23 passes for 281 and two touchdowns.
"I think coach (Wes) Kragt, our offensive coordinator, did a great job calling the game tonight. They kind of keyed in on our run a little bit and we were able to go to the pass," said Grabowska. "Caden did a great job of reading the field and taking what the defense was giving him. They had some three-deep coverage guys a lot of the time and we were able to find the holes and get the ball delivered to the receiver."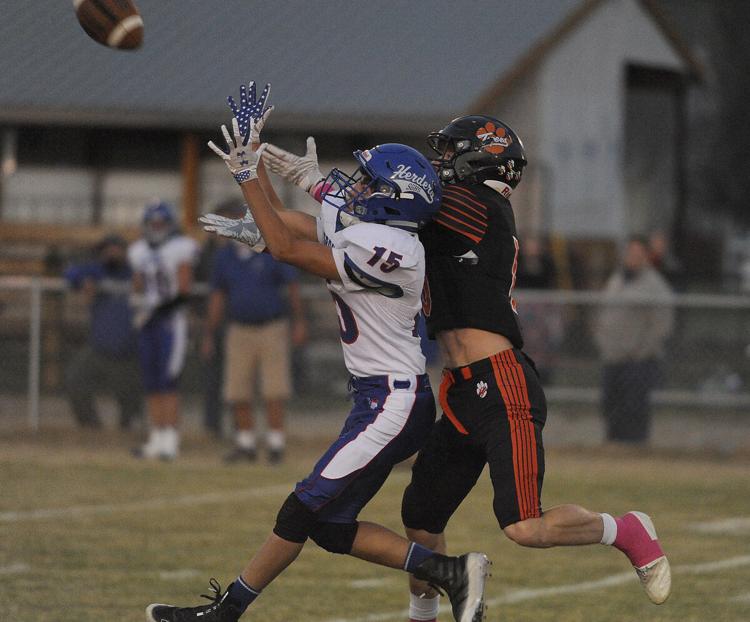 The Tigers' first possession of the game covered 79 yards in 14 plays, which includes converting on third and long three times. The biggest play was a 22-yard reception by Corban Johnson, and the drive was capped by Isaac Richardson's 4-yard touchdown run.
Manhattan then overcame a pair of penalties on its second possession, including intentional grounding on Holgate, and kept the drive alive when Johnson caught a 21-yard reception. Two plays later Veltkamp scored on a 13-yard run as the Tigers took a 14-0 lead.
"We moved the ball well and then we kind of shot ourselves in the foot with the penalty or what not," said Grabowska. "It almost seemed like we stalled, but I was impressed with the boys with how they were able to get out of those third and long situations."
Johnson had a huge night for Manhattan, hauling in six balls for 151 yards. That includes a 29-yard TD catch with 5:16 left in the first half. The junior set up the score after returning a punt more than 20 yards to the Herders' 29.
Manhattan eventually took a 28-0 lead into halftime when Holgate scored from a yard out on a quarterback sneak with 26.5 seconds remaining. In the second half the senior threw a 13-yard TD pass to Tate Bowler, who tallied seven receptions for 82 yards.
Richardson added a 3-yard touchdown run late in the third quarter to stretch the lead to 41-0, and then the Tigers' second team offense capped the scoring in the fourth when Austin Devers completed a 9-yard TD pass to Wyatt Jones.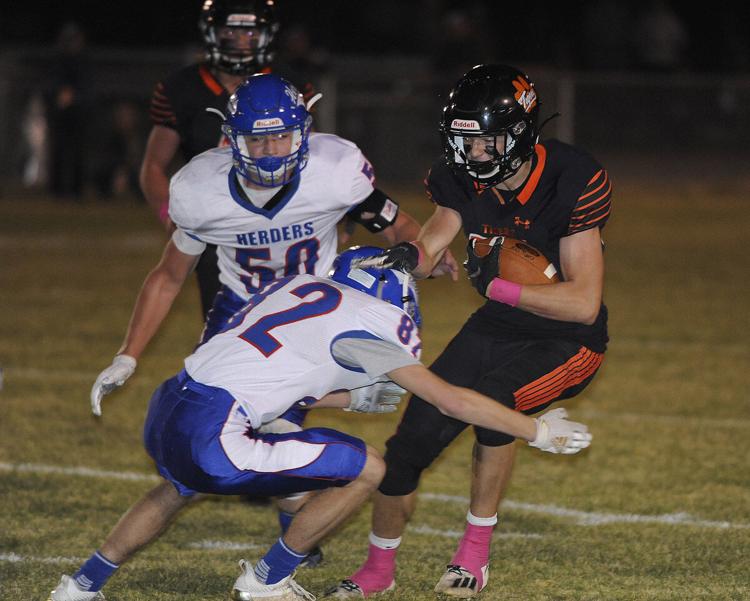 Defensively, Manhattan posted its third shut out of the second and has allowed just 13 points over the past five games after giving up 29 in the season opener to Florence-Carlton.
Big Timber finished with just 100 yards of offense and quarterback Connor Giesecke was 3 of 13 for 25 yards and was picked off twice.
"I say it every week, I feel like it's a broken record now, but our kids love to play defense. It's a mentality," said Grabowska. "They go in every week and their goal is to shut the other team down and not let them score."
The defense allowed just four first downs and linebacker Sven Stenberg finished with 6.5 tackles and a first half interception. Parker Moody had the other interception in the second half.
"I told the kids enjoy this win, it's homecoming, go celebrate a little bit, and Monday we have to work hard. Because it is a big week for us," said Grabowska. "We'll be ready and we'll see what happens."
Manhattan travels to Townsend Oct. 16 for a clash that will decide the conference championship. The Bulldogs (5-1, 4-0 Southern B) have won five straight following a season-opening defeat to Bigfork.
"Townsend's a great team, they're well coached, they got some good athletes on their team," said Grabowska. "We're going to have to have a great week of preparation."
Manhattan 49, Big Timber 0
Big Timber                    0   0    0   0  -   0
Manhattan                   6  22  13  8  -  49
Man - Isaac Richardson 4 run (pass failed)
Man - Toby Veltkamp 13 run (Caden Holgate pass to Richardson)
Man - Corban Johnson 36 pass from Holgate (Drew Deming kick)
Man - Holgate 1 run (Deming kick)
Man - Tate Bowler 13 pass from Holgate (kick failed)
Man - Richardson 3 run (Deming kick)
Man - Wyatt Jones 35 pass from Holgate (Logan Vasarella run)