Shayla Shea was in no rush.
Manhattan, a second-year program in its first state tournament game, had just slashed the lead to a single run in the top of the sixth inning against a top-seeded team. Shea had just belted a hit to the outfield and was considering staying at second base or bolting for third.
Her coaches called for her to run for third. She remained safe at second.
The sophomore represented the tying run of a monumental game in the program. She didn't have state tournament experience and had no guarantee she would reach home. But she displayed patience and remained. And she was rewarded as she eventually tied the game.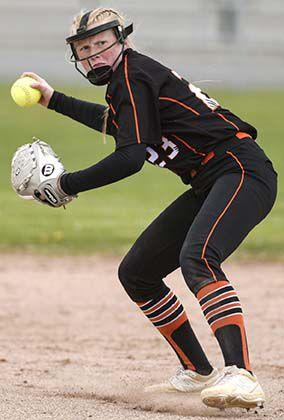 The Tigers played like they had experienced state before and minimized mistakes. But the East's No. 1-seeded Huntley Project took advantage of a Manhattan error in the bottom of the sixth to score the game-winning run. The Red Devils defeated the West No. 4-seeded Tigers 4-3 in the first round of the Class B-C tournament Thursday at the Belgrade Softball Complex.
Still, Shea and the Tigers remained positive after the game. They had narrowly lost, but their season wasn't over yet. Besides, they had already accomplished their season-long goal of making it to state at all.
"We worked our hardest in that game," she said. "Those games that are that close are so painful to lose because we were there the whole game. It was just a lot of fun to play them and know we could hold the No. 1 seed."
Manhattan head coach Randy Cygan couldn't tell if the Tigers (16-10) were dealing with jitters or nerves to start the game. But if they were, they didn't show it as they loaded the bases in the first inning with efficient base running.
Then Huntley Project's Addy Hultgren took over. She placed and mixed pitches to keep the Tigers out of a rhythm and threw faster than they were used to. She struck out six straight batters spanning between the first and third innings and finished with 11 strikeouts and two earned runs on two hits and a walk.
"We were trying to adjust and trying to swing harder than we should've been," Manhattan center fielder Amy Grevious said, "instead of letting the bat hit the ball."
Huntley Project scored in the bottom of the third on an error to take the lead, but the Tigers responded when Shea scored her first of two runs, also on an error, in the fourth.
As Manhattan continued to struggle against Hultgren, Kierian Herra drove in a run on a sacrifice fly in the bottom of the fourth and Kasey Jones cranked a home run over the center-field fence in the fifth.
Down two runs, the Tigers didn't falter. On the first at-bat of the sixth, Grevious belted a solo home run. She smiled, admitting she wasn't watching the first pitch she faced very closely, leaving her frustrated. She told herself that if the Tigers were to tie the game, it would start with her. So she took her emotion out on a 1-1 pitch, found the sweet spot on her bat and sent the ball over left field.
"I think we came prepared and gave them a run for their money," Grevious said. "We had some good hits and good defense. I'm proud of how we played."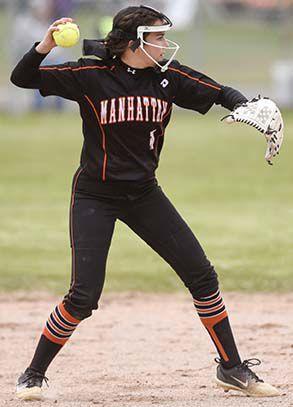 On the following plate appearance, Shea hit her double and eventually scored on an error. Malia Friese, the would-be winning run, worked her way to third, but the Red Devils forced the third out before she could score.
Still, Manhattan's spirits were never higher. Cygan doubts Huntley Project was expecting such a contested game.
"We had nothing to lose going into this game," Shea said with a smile. "Nobody expected us to win, but we said no matter what we were going to try our hardest and just go out there and have fun because the game is played so much better when we're having fun. So the mindset going into this was just relax and remember why you love this game."
But one of the few times the Tigers made mistakes, the Red Devils capitalized. Meagan Elgas, who allowed just one earned run on three hits, three strikeouts and two walks, was tagged with an error during a pitcher-catcher exchange, opening the door for Rylee Wadman to score.
Manhattan didn't score in the final inning, but the Tigers didn't feel overwhelmed with heartbreak. They will attempt to keep their season alive by taking on East No. 3 seed Conrad/Choteau at noon Friday in a loser-out game.
And even if they don't, the Tigers have already accomplished what they set out to do.
"We played a good game, we really did," Shea said. "And I think tomorrow is going to go well."
Huntley Project 4, Manhattan 3
Manhattan               000 102 0  -  3  2  5
Huntley Project      001 111 x  -  4  3  4
Meagan Elgas and Daela Didriksen. Addy Hultgren and K Jones. W – Hultgren (15-1). Elgas (11-6).
MANHATTAN (16-10) – Adele Didriksen 0-3, D. Didriksen 0-4, Amy Grevious 1-3 (HR), Shayla Shea 1-2 (2B), Malia Friese 0-3, Natalie Scott 0-1, Lizzie Rasnick 0-3, Matilda Dietz 0-3, Casey Elfland 0-2, Lexi Miller 0-1.
HUNTLEY PROJECT (16-1) – S. Summer 0-3, Hultgren 1-3, Kasey Jones 1-3 (HR), M. Krum 0-3, Rylee Wadman 0-1, A. Henry 0-3, A. Wengler 0-3, Kierian Herra 0-3, J. Zimmer 1-2.