THREE FORKS — Down 3-0 in the fifth set Thursday night, Manhattan finally caught a break. An error on the other side of the net led to a side out, and then Teresa Bannan stepped to the service line.
The 5-foot-11 junior served 11 consecutive points, including nearly half a dozen aces, to swing the momentum. Then the Tigers held on from there to beat longtime rival Three Forks.
"Probably a night she's going to remember for a long time," Manhattan coach Charli Chapman said. "She doesn't always get to serve as a middle. Her energy was just excited and contagious."
After dropping the second and third sets, the Tigers rallied for a 25-11, 24-26, 17-25, 25-11, 15-7 District 5B victory. Oliviah Westervelt and Adele Didriksen combined for 23 kills and 37 digs to lead the Tigers.
But the outcome could have been different had the momentum not shifted after the Wolves began the fifth set with an ace by Savannah Jensen, a kill by Madison Niles and then a passing violation by the Tigers.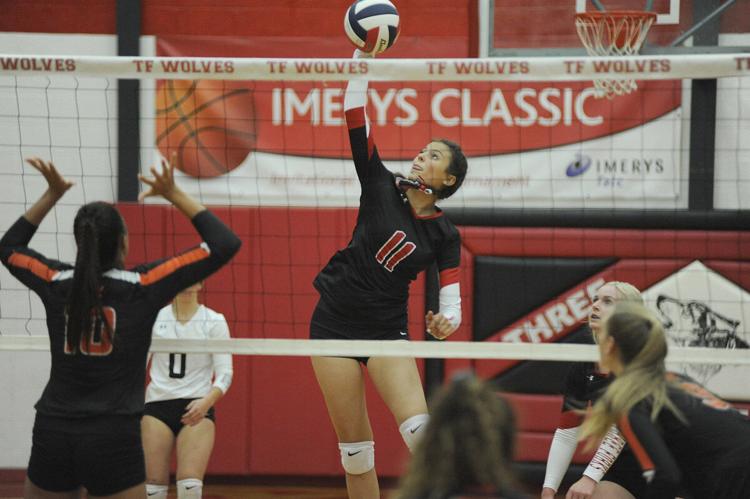 "It was both ways. One team was hot, one wasn't," Three Forks coach Tracy Welter said. "It's just the way the ball bounces I guess."
The Wolves (1-3, 0-2 District 5B) bounced back from a mistake-prone first set to hang on and win the second after a Westervelt kill had tied the score at 24. Freshman Cheyenne Cavin won it a short time later on a kill for Three Forks.
The Wolves then ran away with the third set, leading by as much as 11, to take a 2-1 match lead. The performance was a welcome sight for Welter after the team had struggled offensively in losses to Choteau and Jefferson.
"I was proud of the way we played overall," she said. "We played so much better than we have. Our offense finally got going. We had a lot of kills, a lot of digs, we were way better."
Jasmyn Murphy and Niles each finished with seven kills, while Addi Pestel tallied a match and career-high 38 digs. Three Forks' defense tallied 129 digs in the match.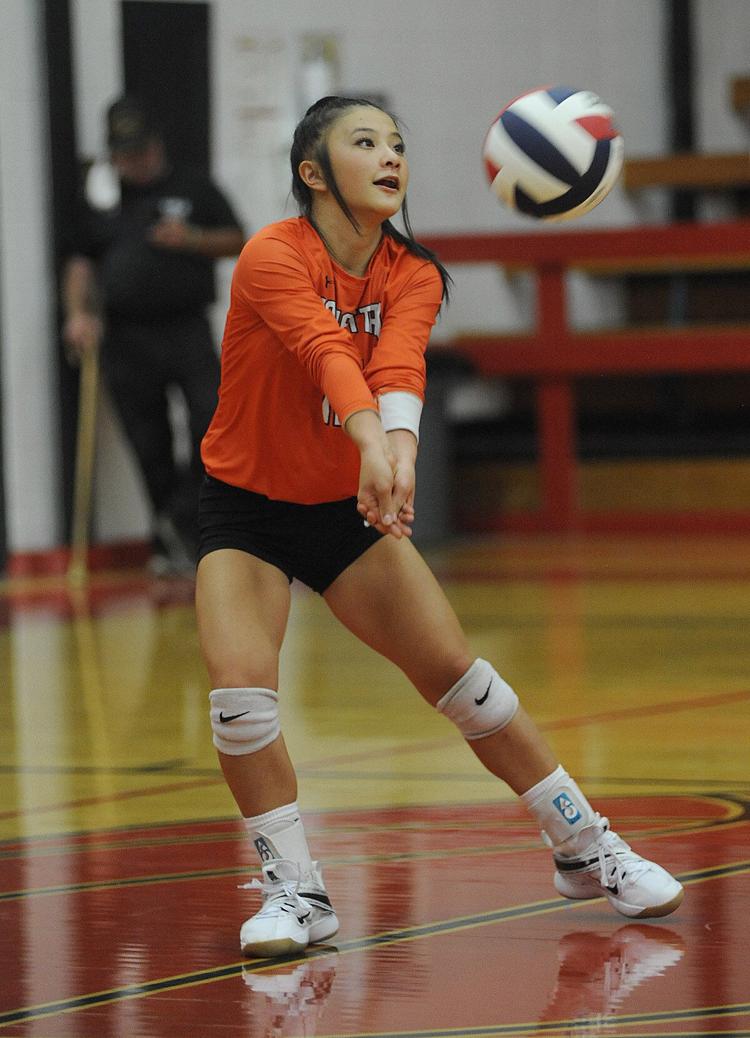 Welter noted things are finally starting to click for the team, which only returned a handful of varsity players from last year's senior-laden squad.
"We went to a new rotation tonight and I think they're settled in," she said.
Manhattan (3-1, 1-1 District 5B) shifted momentum to begin the fourth set by taking a 3-0 lead. Chapman was pleased with how her team responded after losing in a similar situation to Whitehall Sept. 8.
"We talk about volleyball being a game of momentums and who's keeping the high energy," she said. "We came off a really hard loss with Whitehall that we shouldn't have lost, so we tried some new things this game to get a little bit different rotation."
Bannan finished with seven of the team's 18 aces and had a pair of blocks, while Cayli Chapman dished out 33 assists.
"Kudos to my girls for figuring out how to rally together and do the little things that kept them in it," coach Chapman said. "I'm super proud of the group of them for coming back from a tough loss, a lot of intense practice, and be able to come back."
Manhattan returns to action Saturday hosting Gardiner in a non-conference match. Three Forks travels to Ennis Sept. 15.
Manhattan def. Three Forks 25-11, 24-26, 17-25, 25-11, 15-7.
MANHATTAN (3-1) - Kills: 36 (Oliviah Westervelt 16, Adele Didriksen 9). Digs: 67 (Westervelt 20, Didriksen 17). Blocks: 5 (Teresa Bannan 2, Andi Douma 2). Aces: 18 (Bannan 7). Assists: 34 (Cayli Chapman 33).
THREE FORKS (1-3) - Kills: 37 (Jasmyn Murphy 7, Maddi Niles 7). Digs: 129 (Addi Pestel 38, Aubree Waldbillig 25). Blocks: 5.5 (Hemi Ervin 2, Murphy 2). Aces: 17 (Pestel 6, Macie Jensen 5). Assists: 29 (Savannah Jensen 15, M. Jensen 12).