BOZEMAN — No doubt about it, this one hurts.
For the second straight season Belgrade's state championship dreams were dashed, and once again it was Billings Central that provided the anguish in Brick Breeden Fieldhouse.
The Panthers forced a second championship match Saturday afternoon at the State A tournament and were controlling the contest. But they simply couldn't finish what they started.
Billings Central (25-7) rallied from an 18-10 deficit in the second set to win 29-27, and then rode that comeback to a four-set victory.
"It was momentum and then we just lost what little we had. We were just riding on fumes at that point and riding on adrenaline," Belgrade coach Jade Schmidt said. "When we weren't able to finish that second set we lost our adrenaline and a little bit of everything that we had left."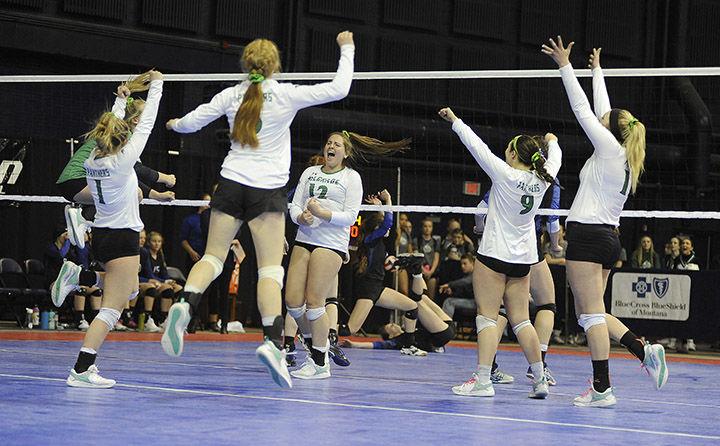 The Rams rallied to win the match 22-25, 29-27, 25-15, 25-19 led by 18 kills and six blocks from Olivia Motten-Schell. Belgrade had won the first championship 20-25, 25-22, 25-21, 21-25, 15-8 to follow up a four-set victory in the consolation match against Corvallis.
"If we would have been able to hold our lead and finish that it would be a different story," said Schmidt. "But they have no regrets. I have no regrets as a coach."
Belgrade (30-4) dominated the first set early and led by as many as 10 points. Then Jaiden Blakey served up eight straight points for a 17-9 lead in Game 2.
But as they did three times in Friday's semifinal victory, the Rams fought back. They knotted the set at 24 and then fended off set point three times before prevailing.
That was the 11th of 13 sets for the Panthers, who were clearly battling fatigue after spending more than six hours on the court.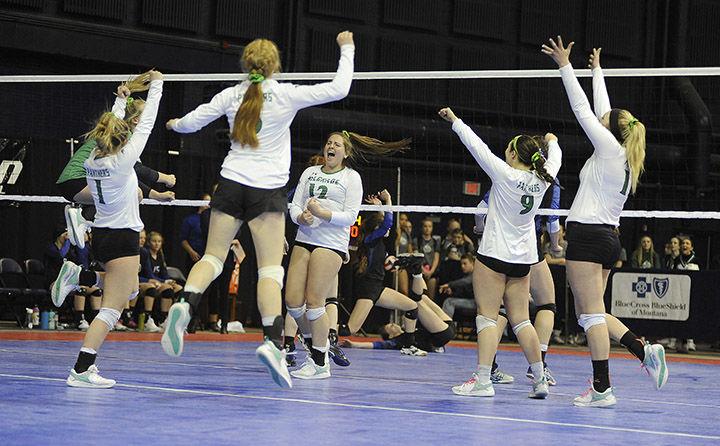 "It will be okay because I know that we left everything on the court," said Schmidt. "They just played for over six hours straight and pushing them the way we did."
The contest marked the final match as a Class A program for Belgrade, which moves up to AA next year. Thus it was a bittersweet end for not only the Panthers, but for their nemesis from the east.
The teams have created a healthy rivalry and have met in each of the past four divisional championship matches as well as the past three years state tournaments.
"I mean, iron sharpens iron, right? They're our best sharpener and I hope they can say the same about us," Central coach Kylie Reitz said. "Obviously, they're going to get great competition at the AA level so we're going to miss having that team where you go play them and you go, 'oh, crap, I've got to get better at this.' I might joke around and go 'good riddance, I'm glad that they're gone,' but I really am going to miss that team."
Bailey Christensen, who will graduate as the program's all-time leader in kills, wrapped up an illustrious career with 27 kills in the first championship match and 24 in the second.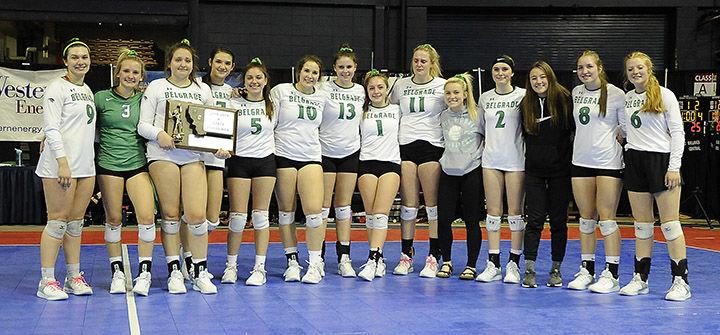 Christensen also led the Panthers with 19 kills and 20 digs in the 25-17, 22-25, 25-18, 25-20 victory against Corvallis.
Younger sister Taylor, a junior libero, also shined. She made three key saves in the fifth set of the first championship match that led to points en route to tallying 29 digs, and then she added 26 more in the second title match.
"I think this will be especially hard on her losing this group of seniors. She'll be the main primary kid that's coming back next year and she's obviously really close with all the seniors too," said Schmidt. "I was really proud of how well she played today. I think she took a big step up from what she looked like Friday night and that's what we needed her to do. A lot of teams think that Bailey's our best player, but we wouldn't be able to do what we do without Taylor."
Seniors Olivia Cook and Blakely tallied 32 kills and 135 assists, respectively, on the day. They are among seven seniors who will be lost to graduation.
"It's going to hurt. It's going to hurt for a long time," Schmidt said of the loss. "But what I told the girls afterwards is when they look back on this season and on this day, they'll know that they put everything that they could have on the floor and they left it all out there. That will begin the healing process."
Belgrade def. Corvallis 25-17, 22-25, 25-18, 25-20.
CORVALLIS (26-6) – Kills: 43 (Marueen Jessop 18). Digs: 105 (Casey Fison 25). Blocks: 13 (Hannah Hutchison 5, Charlotte Powell 5). Aces: 5 (Kaitlin Irwin 2, Hannah Hutchison 2). Assists; 38 (Hannah Martin 33).
BELGRADE (29-3) – Kills: 54 (Bailey Christensen 19, Olivia Cook 13). Digs: 101 (Taylor Christensen 34, Jaiden Blakely 22, B. Christensen 20). Blocks: 9 (McKenna Carlson 6). Aces: 10 (Hazel Eaton 3, B. Christensen 2, T. Christensen 2).
Belgrade def. Billings Central 20-25, 25-22, 25-21, 21-25, 15-8.
BILLINGS CENTRAL (24-7) – Kills: 49 (Olivia Motten-Schell 21, Blayne Meyer 19). Digs: 107 (Avery Hadley 29). Blocks: 10 (Motten-Schell 6, Cindy gray 5). Aces: 5 (Taylor Bower 3). Assists: 34 (Sierra Schuster 33).
BELGRADE (30-3) – Kills: 63 (Bailey Christensen 24, Olivia Cook 11). Digs: 93 (Taylor Christensen 29). Blocks: 9 (McKenna Carlson 3, Cook 3). Aces: 10 (Jaiden Blakely 3, B. Christensen 3). Assists: 51 (Blakley 46).
Billings Central def. Belgrade 20-25, 25-22, 25-21, 21-25, 15-8.
BILLINGS CENTRAL (25-7) – Kills: 36 (Olivia Motten-Schell 18). Digs: 100 (Avery Hadley 22). Blocks: 11 (Motten-Schell 6). Aces: 3 (no leader). Assists: 40 (Sierra Schuster 35).