As the ominous cloud cover continued its approach from the west, I felt I had more time. Reach the summit and then bomb back down the trail to the parking lot with time to spare.
Easy peasy, right?
Well, Mother Nature had other ideas and unleashed a fury of weather that was unexpected on my first mountain biking trek through the trails at Lewis & Clark Caverns State Park.
A squall dumped light hail and sleet shortly before I reached the main visitor center, and then I sought shelter at the Headquarters Building for 25 minutes as the intensity increased and thunder boomed in the distance.
By the time the squall dissipated, it looked as if it had snowed. Trails were white and a temperature drop combined with the wind made for a chilly descent. Rather than return down the Cave Gulch Trail, which can be accessed from a campground at the base, I opted to continue on to the east side.
But, the 4.5-mile ride back down proved to be a sloppy mess as the hail melted and small streams formed on the trail. It only got worse when light rain began to steadily fall.
Quite frankly, it was treacherous, and despite a cautious approach I wrecked with a little over a mile remaining. I went over the handle bars, but fortunately had a soft landing and only suffered a couple of scratches.
While the weather certainly played a factor, I wouldn't bike this again even on a good day. The trails are narrow, consist of loose gravel and rocks, and are very slick even when dry.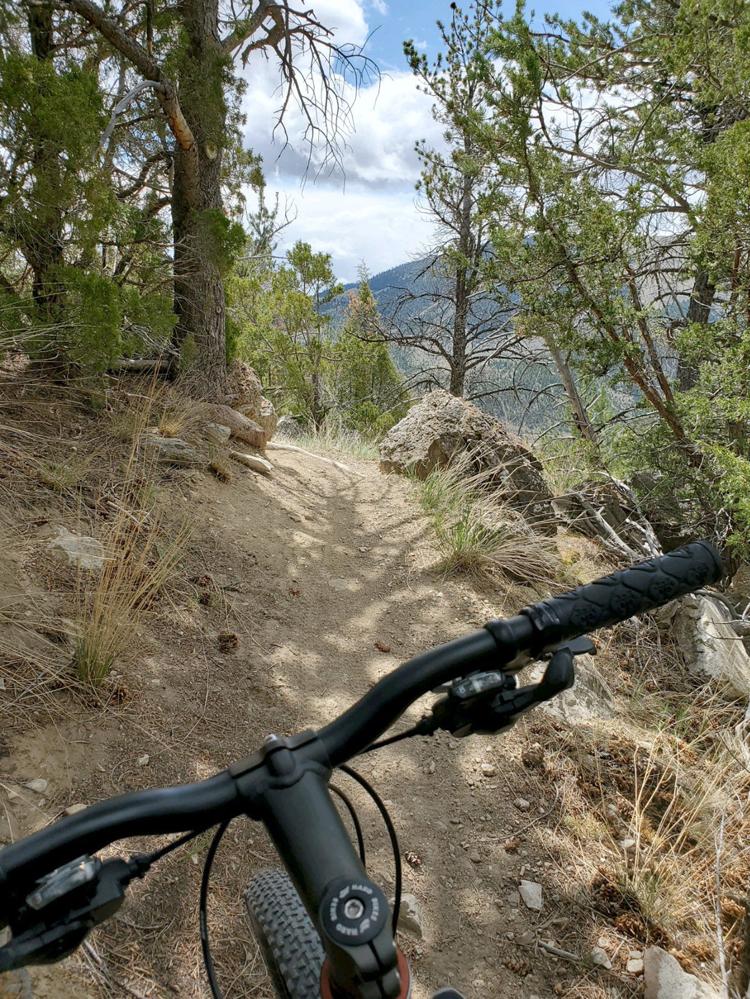 Several of the switchbacks were pretty difficult to navigate a turn and I had to walk the bike at times. There are also plenty of protruding rocks, tree stumps and branches, and cacti are prevalent along the trails. Be sure to carry a spare tube (or two) in case a tire accidently finds a cactus.
I would not recommend a first time rider attempting this trail system, which is more suited for hiking. For those who are more skilled, however, the 10 miles of trails provide a challenge — the 1.9-mile Cave Gluch Trail climbs 1,000 feet — and is significantly less crowded than Copper City Trails north of Three Forks. I saw just four hikers and one other biker during my outing.
In addition to biking and hiking, there are plenty of other activities to enjoy at the park, which was established in 1941. That includes fishing and camping, and of course, the cave tour that will astound visitors with stalactites, stalagmites, columns and helictites.
While the park is open year-round, the caverns are only available to the public May through September. But the road to the main visitor center was closed when I was there, likely due to the COVID-19 pandemic.
There were plenty of visitors taking advantage of campsites, however, and entry is free for Montana residents who pay the state park fee with their annual vehicle registration.