In its first two seasons as a Class AA program, Belgrade has lacked the depth its competition has enjoyed. But the Panthers have closed the gap this fall.
Belgrade has increased its numbers by more than a dozen from a year ago led by a senior class of 21. Thus, head coach Eric Kinnaman, who is beginning his 15th year at the helm, is thrilled with the leadership and experience the team will have on the field.
"I'm excited about our senior class. We got a whole bunch of leaders out there and I got kids that have experience," he said. "You look at last year I think we ended up with eight seniors, and the rest of them were juniors. So you look at the experience that we bring back, it's quite extensive."
Among the senior class is Austin Spangler, who started at quarterback a year ago. He's a versatile athlete who can also play receiver and tight end as well as on defense.
"He knows the offense inside and out" said Kinnaman. "He's going to be a huge player for us."
Junior Diego Casas and senior Aidan Kulbeck are also in the mix at quarterback, although Spangler is the front-runner due to his experience from a year ago.
"Austin just from last year has kind of the head and shoulders above everybody because he has that experience back there," said Kinnaman. "He knows the offense very well because he has been there even though we had a few changes. He's been able to run the offense during the camp period and during the summer."
Senior Gage Ruddick and Wyatt Lambeth lead the running back corps, while fellow seniors Dyson Kinnaman, Ta'Veus Randle, Reece Sanders and Kulbeck are expected to see action at receiver.
In the trenches, senior Ryan Simon is the foundation of both sides of line at tackle and defensive tackle.
"He's going to be an anchor for us. He's grown in size, he's grown in maturity," said Kinnaman. "He's so darn smart up front that it doesn't matter who's next to him. He can help the guy next to him or across from him or wherever he lines up. He's a very smart football player."
Belgrade has been thin along the line the past two years in which the team has won just one game. But Kinnaman noted it will be a strength this season with several veteran returners along the addition of a handful of players who didn't compete last year.
"We have a good O-line core coming back and for the most part they are a lot of seniors," he said. "It's going to be a good core group and we should have a little more depth."
The senior class will also be prominent on the defensive side of the ball with seniors Tanyon Halverson and Evan Major expected to see action in the secondary along with Kulbeck.
Hunter Groff and Tyrus Hardy should see plenty of time on the line or at linebacker, while junior Asher Feddes will be an impact player as well.
"We do need to work on our middle linebacker," said Kinnaman. "That's kind of somebody that we're searching for but I think we'll see Tyrus Hardy or Asher Feddes there and Hunter Groff on the D-end.
"We have a slew of seniors that have a ton of experience and a lot of them are going to stick out for us this year I think."
Belgrade, which lost all five of its games during a COVID shortened year in 2020, opens the season Aug. 27 with a non-conference game at Glacier.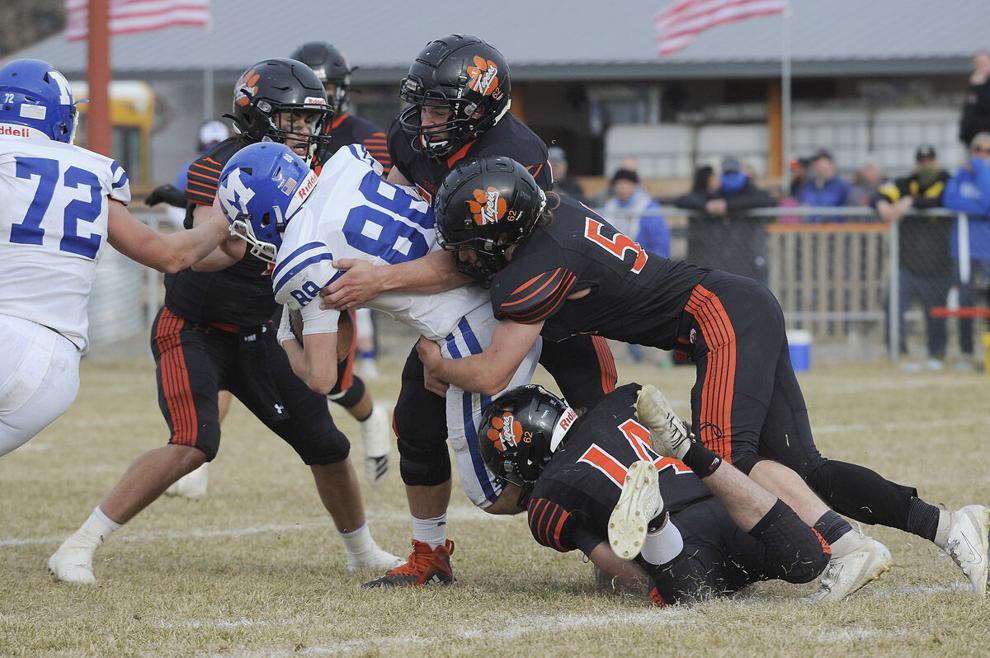 Manhattan reloads for defense of crown
For the first time in program history Manhattan's football team will enter a season as the defending state champion.
The Tigers ran the table a year ago and capped a historic 12-0 campaign by winning the Class B title. It was program's second consecutive appearance in the championship game, and the goal is to return to the finale again in 2021.
"That's kind of the expectation every year for any team really across the whole state. That's kind of their goal going in and it's no different for us," Chris Grabowska, who is beginning his eighth season as head coach, said. "We never really focus on the wins and losses and making that state championship run. We focus more on the process and doing the little things right and building a team the right way."
While Manhattan has boasted a 23-1 record over the past two years, it was hit hard by graduation this past season. Four All-State players have moved on and many starting positions need to be filled.
"We got about six or seven returners and then the rest we're just hoping some guys step and fill in those roles for us," said Grabowska.
One of those returners is receiver/defensive back Corban Johnson, who was an All-State selection last year as a junior. Johnson led all receivers with 54 receptions for 944 yards and a team-best 15 touchdowns.
Seniors Kale Arthun and Lane Holzworth return along the line as does junior Case Kruse.
"We got a lot of numbers in our line both on offense and on the defensive line," said Grabowska. "Just a couple of guys that have a lot of playing experience and some guys that are going to have to step in and fill those roles for us."
Seniors Wyatt Jones and Logan Vasarella return at receiver and running back, respectively, and overall there are nearly 60 athletes out for the team.
But Manhattan lost two-way starters Cayl DeBoer (OL/DL), Gabriel Delgatty (TE/DE), and Toby Veltkamp (RB/LB). Each were All-State selections last year and Veltkamp ranked second on the team in rushing with 676 yards and nine touchdowns.
The biggest loss, however, was likely that of Caden Holgate. He was a two-way starter at quarterback and defensive back and also earned All-State honors.
Holgate engineered an offense that averaged 42 points per game by completing 72 percent of his passes for 2,274 yards and 30 touchdowns. He also rushed for 448 yards and nine scores.
Senior Austin Devers and sophomore Callin Fenno have been in a battle to replace Holgate at quarterback.
"It's been a good competition so far," said Grabowska. "Both guys have put in a lot of work in the offseason and have done some really good things in fall camp so far. I'm just excited to see how that turns out."
While there were several other position battles taking place during preseason practices, Grabowska noted that this season is not a rebuild.
"Our message every year is that this is a reloading season and this year is no different. We just got to reload some more positions than we have typically in the past," he said. "A lot of kids got an opportunity to step in and just make it their turn, make it their team."
Manhattan kicks off the season hosting Florence-Carlton in a non-conference game Sept. 3.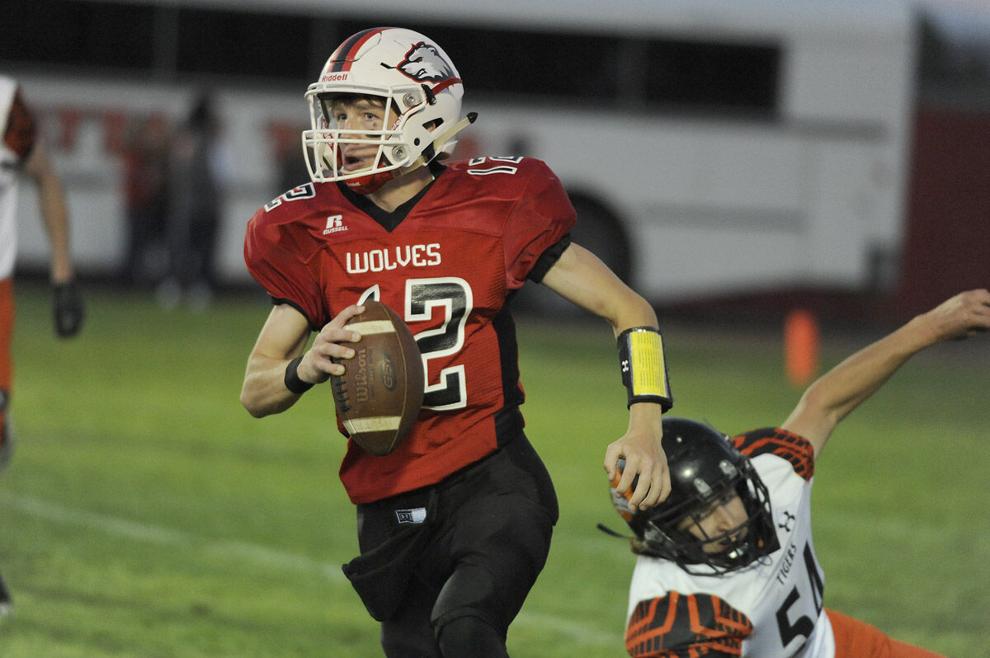 Three Forks expecting to take big step forward
It's been a struggle for Three Forks' football team since making a postseason appearance in 2018. The program has won just one game over the past two years, but now there is renewed optimism.
Nearly 40 athletes have been participating in fall camp, which is more than double what the Wolves had two years ago.
"My first year I think we had 17 kids," Three Forks head coach Connor Sullivan said. "My second year I think we had 23 and now we're up to 37."
A culture change, Sullivan added, has contributed to the higher turnout.
"I think a culture has been set around the school. Not just me, but the basketball coach (Terry Hauser)," he said. "I also helped coach basketball this past year and I think that helped as well to recruit some kids out."
The Wolves return their entire roster from a year ago when the team finished 1-7. And with more than a dozen new players, they finally have some much needed depth.
"We didn't have one senior last year on the team, so now we're going to have about 12 seniors and we're going to have depth at every position, which helps," said Sullivan. "I'm excited to get the ball rolling."
Among the returners is senior quarterback Owen Long. Long was a first-year player a year ago, but has looked much more comfortable during fall practice.
"He's not as hesitant. He's more confident in himself and the system," said Sullivan. "So I'm just excited."
Senior receiver Austin Allen, who earned all-conference honors last year, also returns.
"I'm excited to have him back," said Sullivan. "He's been busting his butt in the offseason."
On the defensive side of the ball senior Walker Page and junior Dylan Kamps are expected to lead the way.
"They're the type of kids that love that contact and want to go out there compete and hit almost every single rep," said Sullivan.
Newcomers Jacob Buchignani and Finn Tesoro are also expected to have an impact for the Wolves at skill positions. Both are varsity basketball players, and Tesoro is a transfer from Manhattan.
"First year coming out for football, but so far he (Tesoro) looks pretty solid," said Sullivan. "He's a great athlete, so just kind of adjusting and knowing the reps and knowing the system, and he'll be alright."
The high turnout has also allowed Three Forks to bolster the offensive and defensive lines. It's an area that past opponents have been able to exploit.
"We got a few more kids out that I wish would have come out the first two years I was here. But we got some depth in the O and D-line now," said Sullivan. "This offseason was huge for us. We averaged about 15 kids in the weight room and I don't think one O-lineman or D-lineman missed a single workout. So that was awesome to see."
With a veteran crew leading the way, Sullivan noted the team is motivated for success in the Southern B conference.
"I think we're going to be able to compete on both sides of the ball," he said. "Obviously I'm not going to guarantee a win by any means, but I think we're going to go out there and compete, see what happens and have fun in that process. We're in a tough good conference, so you got to bring your A-game every single week."
Three Forks kicks off the season Aug. 27 hosting Roundup.