Simply put, things didn't go the way Carl Bridwell had invisioned in 2020. Belgrade was hit hard by injuries and had three matches canceled due to COVID during a one-win campaign.
But there is renewed optimism for the program entering this fall. The Panthers have increased numbers and added depth thanks in part to a co-op with Manhattan, and return more than half a dozen starters.
"Last year the things that made it difficult for us were we got injured and we didn't have depth," said Bridwell. "This year we have 16 girls on JV, which they're mostly freshmen and sophomores and it's super exciting to have a good core.
"But I'm pumped about just having some girls that don't have an expectation of how we need to play. We can teach them some new things and try some different formations, and that's what we're going to see what we can do."
Overall, Belgrade had increased its numbers to 33 for preseason practices and at least two freshmen will swing to the varsity.
"I hope we just keep turning heads. That's our goal here," said Bridwell. "And I think some freshmen and some sophomores are going to do that this year that haven't in the past."
Belgrade returns six seniors from last year's varsity in Anne Cheney, Fiona Collins, Grace Garvert, Peyton Robertson, Sarah Tadvick and Mackenzie Turner. Robertson earned honorable mention all-conference honors as a midfielder after leading the team in scoring with three goals and a pair of assists, while Turner is a three-year starter at keeper.
"Right now I can visualize a solid spine of Sarah Tadvik, Peyton Robertson, Annie Cheney and Fiona Collins and Mackenzie Turner as kind of that senior spine," Bridwell said of the defense. "From there we'll kind of see what we have."
Other returning players are juniors Abbie Morin, Emilee Monsivais, and Allison Sprague; and sophomores Karli Aitchison and Sydnie Watson. Aitchison scored a pair of goals last year.
Bridwell noted that he also picked up a transfer from Colorado Springs in Maggie Lappe as well as sisters Clara and Rebekah Yager thanks to a co-op with Manhattan.
"They're both work horses," Bridwell said of the Yager sisters. "Maybe it's just that farm hand mentality, but I hope that just kind of grows because from what they experience and what they show at school is that there is opportunity here. It's just been exciting and they've been totally incorporated. There's no hard feelings. Everybody's excited to have the numbers."
With a lack of depth last year the Panthers were worn down by opponents in the second half of matches. Thus, conditioning has been a focus this fall.
"We're definitely putting in the conditioning way more than we did last year, so that our fight isn't so much on the tactical side and more on the physical side. (We) can we keep playing to the level that we want to play," said Bridwell.
Belgrade begins the season Aug 28 at Great Falls CMR.
"What's kind of nice is we got our first game against Great Falls moved (to Aug. 31), so now we have until Saturday to prep against CMR," said Bridwell. "Then we have four games in seven days. But it at least gives us that much more time to prepare and set ourselves up for success."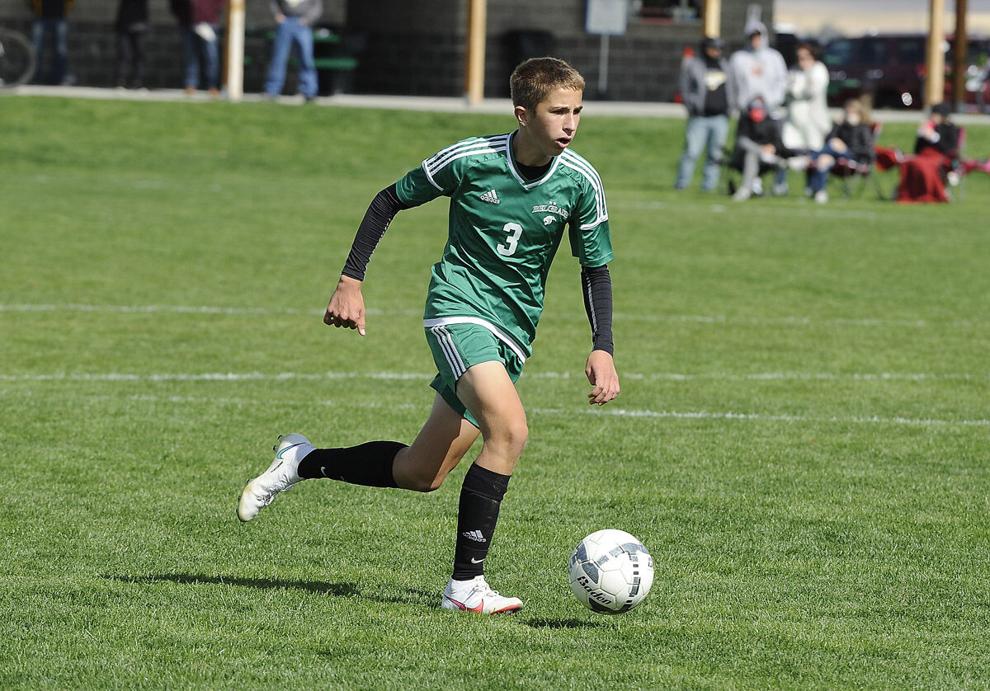 Lemley seeking to add stability to Belgrade boys
or the third time in as many years, Belgrade has a new head coach. But Dr. Robert Lemley has a plan in mind to provide some much needed stability to the program.
It begins with growing the program, and the Panthers have seen a slight increase in numbers this fall due in part to a co-op with Manhattan.
"I hope to grow the program so that in three to five years when I probably retire from coaching the program will be built up and competitive enough that it's easy to hand off to the next coach," Dr. Lemley said.
Dr. Lemley, who is a primary care physician, had planned to retire last year after nearly a decade coaching in the Montana Surf Club Soccer program as well as at Bozeman High. But he had a change of heart after Belgrade's Sydney McCauley resigned as head coach.
"I was going to retire from coaching but this opened up and I had people come up to me and ask me if I'd be open in coaching over here," Dr. Lemley explained. "So I was like, 'Yeah.' Opportunity, grow a program, it was like, 'Heck yeah.'"
Belgrade has four returning seniors in Christian Aitchison, Emil Gasanov, Will Mauritsen, and Sam Waller. Waller led the team in scoring a year ago with six goals and three assists en route to earning all-conference honors, while Mauritsen had three goals.
While they're are several other varsity returners, Dr. Lemley had yet to announce starters. What he did know is that the JV will consist of 15 players, while the varsity will have 14 with a couple players swinging up from the JV.
"I kind of think that we have a strong varsity club right now and I want to surprise and I want to be competitive out there," he said. "I think we're going to start out of the gate being very competitive."
The Panthers won three matches a year ago after going winless in their first season as a Class AA program in 2019. Dr. Lemley said he sees plenty of potential this fall.
"The goal is to surprise. We're perceived as the underdog. There's growing pains going from the single A to double A," he said. "And a lot of people out there and in conferences think that Belgrade's an easy win. Last two years they have been."
While new to Belgrade, Dr. Lemley is familiar with many of the players through club soccer. Thus, he noted the transition as the new coach has been smooth.
"I've coached a lot of these guys before at club level. The seniors in particular, they were on a team with my son, who plays for Bozeman High that we went to a President's Cup with and had some great success throughout the whole season," said Dr. Lemley. "So they knew me coming into this."
What Dr. Lemley has learned about the team during fall practices is that their strength lies within the midfield.
"We may have a weak back line right now. That's going to change," Dr. Lemley said. "But our midfielders are super solid right now. They're going to bring a good game."
There were four players vying for the starting keeper position, including a pair of freshmen.
"We got four in the mix right now," said Dr. Lemley. "One solid varsity keeper. One new guy who's in 11th grade who has potential to be a keeper, so we're kind of grooming him a little bit. And then two freshmen walked on and want to keep, so we're happy about that."
Belgrade opens the season Aug. 28 at Great Falls CMR.