Despite scoring 68 runs in a four-game home and away series over the weekend, the Belgrade Bandits were forced to settle for a split.
The Bandits lost the opener to Dillon 11-10 on the road Saturday before routing the Cubs in Game 2 34-4. Then they won the first game Sunday 22-0 at Medina Field, but lost the second 3-2.
Saturday's games were non-conference, while Sunday's counted in the Southern A standings.
Belgrade (18-7, 3-1 Southern A) trailed 3-1 heading in the bottom of the seventh Sunday in Game 2, but cut the lead to one and had the game-tying run on first with one out. But Connor Reid flew out to center and then Payton Burman popped out to pitcher Damon Skradski to end the game.
"It was just horrible offense. Twenty-one outs in that game and 11 of them were via routine fly balls to the outfield or infield flies. So over 50 percent of those outs are pretty hard to make a mistake on," Bandits manager Johnny Graham said. "That's it, there it is."
Belgrade out-hit the Cubs 9-5, but did not register an extra base hit and struck out four times.
"That's 14 outs that are free," noted Graham. "Pretty hard to do damage there ... we got to hit the ball better than that."
Skradski did just enough to hold Belgrade's offense, which had tallied 32 hits in the previous two games, in check.
"We allowed that kid to get in a real nice comfort zone and he did a good job," said Graham. "He threw strikes and we just didn't bat as well as we can."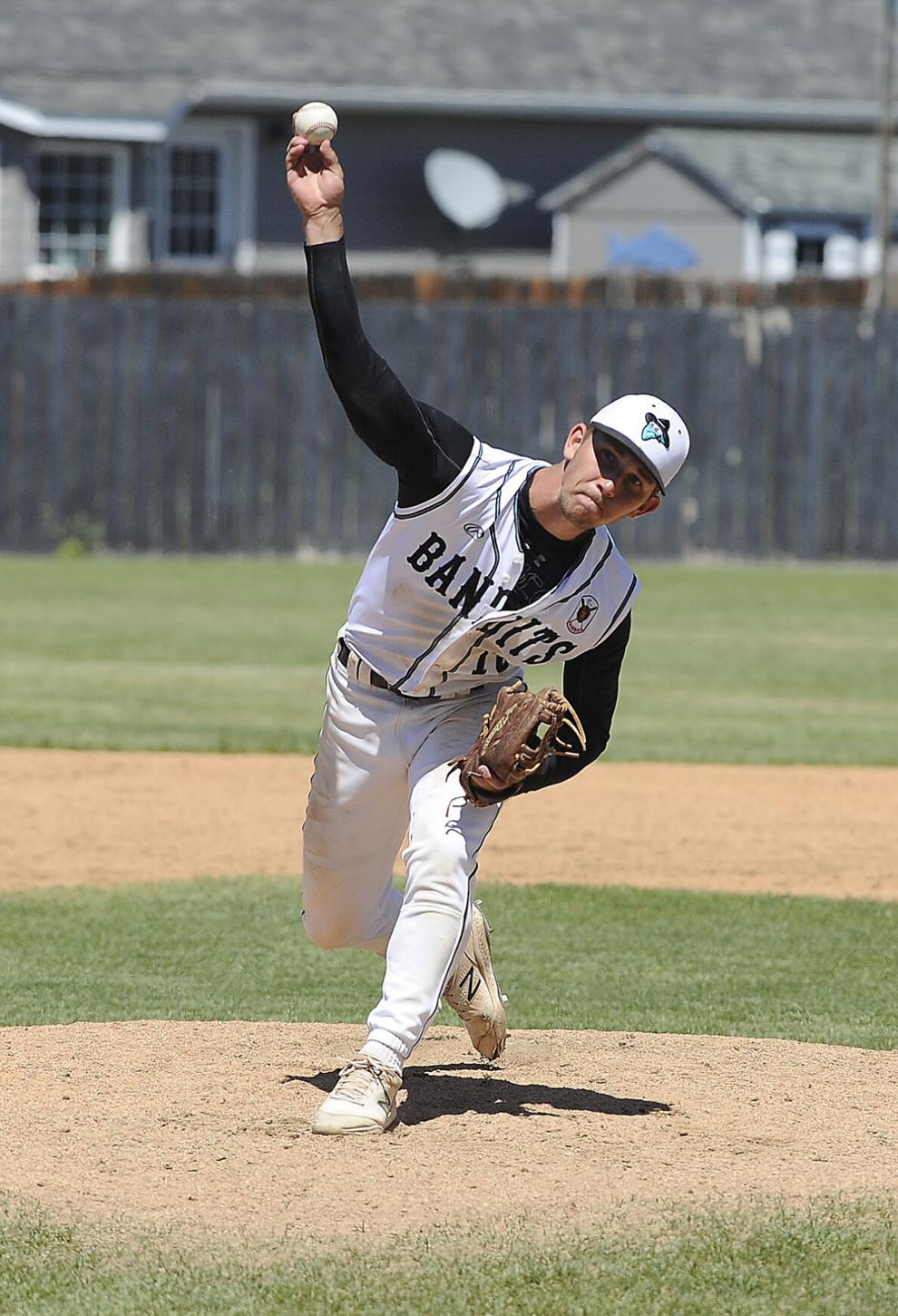 Gavin Waters tossed a 5-hitter for the Bandits and struck out 12 in a complete game effort, while Kash Fike allowed just three hits and struck out five in the Game 1 rout.
"Gavin I thought threw really well in game two and Kash in game one. Both the arms threw real well," said Graham. "And we were good defensively for the most part. It just came down to easy outs that we created offensively."
Belgrade finished with 14 runs in the opener and Lane Neill, Coby Richards, Jacobsen and Reid each hit doubles, while Aidan Kulbeck had a triple.
Saturday, the Bandits took an early 3-0 lead and led 8-4 heading into the bottom of the fourth before the Cubs rallied for the win. Evan Hamberger was saddled with the loss on the mound after allowing eight hits and walking five. He also had six strike outs.
Reid was 2 for 3 with a double and a pair of RBIs, while Richards finished 2 for 4 with three RBIs.
In Game 2, the Cubs led 3-0 after the first inning, but Belgrade scored eight in the second and 12 in the third en route to victory. Fike hit a three-run homer in the third, while Dyson Kinnaman had two of the team's five doubles.
Nine of Belgrade's 11 batters had at least one hit in the victory, and Brody Jacksha finished 5 for 6 with a double and five RBIs. Wyatt Lambeth, Fike and Richards each had two hits.
"We just swung the bat better in those two games (we won) quite honestly, and then you have walks coming off that which makes sense. Pitcher's trying to throw strikes and balls are getting barrelled," said Graham. "And even the game we lost yesterday, we didn't lose because of our offense, we scored 10 runs. We walked too many guys in that game."
Belgrade is back in action hosting Livingston in a conference doubleheader Wednesday.
Belgrade                  301 402 0  -  10 8  4
Dillon                       400 610 x  -   11  9  5
Evan Hamberger, Wyatt Lambeth (4) and Kash Fike. Connor Curnow, Tyler  Lagunas (1), Johnny Reiser (6) and Cole Pulliam.
BELGRADE (16-6) - Lane Neill 1-2, Fike 1-4, Coby Richards 2-4, Mason Jacobsen 1-2, Brody Jacksha 1-4, Payton Burman 0-4, Cooper VanLuchene 0-1, Conner Reid 2-3 (2B), Alex Casas 0-3.
DILLON - Kale Konen 0-3, J Hughes 2-3, Jace Fitzgerald 1-3, Curnow 1-3, Conner Vezina 1-1, Pulliam 1-3, Taylor Handios 1-3, C Hartman 0-2, Lagunas 1-3, Reiser 1-5 (2B).
Belgrade               08(12) 39  -  32  18  2
Dillon                    300     10  -   4    5   5
Caleb Hoppe, Dyson Kinnaman (5) and Alex Casas. Johnny Reiser, Anthony Macias (3), Dean Smith (5), Damon Skradski (5) and n/a.
BELGRADE (17-6) - Lane Neill 0-1, Casas 1-5 (2B), Kash Fike 2-5 (HR), Evan Hamberger 0-1, Keaton Carter 1-3, Brody Jacksha 5-6 (2B), Wyatt Lambeth 2-4, Kinnaman 3-5 (2 2B), Coby Richards 2-3 (2B), Aidan Kulbeck 1-3, Payton Burman 1-1.
DILLON - Cole Pulliam 1-3 (HR), Jace Fitzgerald 1-2, Conner Curnow 0-1, Taylor Handios 1-3, J Hughes 1-3 (2B), Tyler Lagunas 1-3, C Hartman 0-2, Kale Konen 0-2, Vezina 0-3.
Dillon                     0   00  00  -   0    3   3
Belgrade                6(12)2 2x  -  22  14  1
Cole Pulliam, Johnny Reiser (2), Anthony Macias (2) and J Hughes, Pulliam (2). Kash Fike and Connor Reid.
DILLON - Kale Konen 0-2, Jace Fitzgerald 0-2, Connor Curnow 0-2, Conner Vezina 1-2, Damon Skradski 0-2, Pulliam 0-1,Taylor Handios 0-1, Tyler Lagunas 1-2, Dean Smith 0-2, Anthony Macias 1-1.
BELGRADE (18-6) - Lane Neill 1-3 (2B), Fike 0-3, Coby Richards 3-4 (2B), Mason Jacobsen 2-2 (2B), Reid 2-4 (2B), Cooper VanLuchene 0-2, Brody Jacksha 2-4, Dyson Kinnaman 2-2, Aidan Kulbeck 2-3 (3B).
Dillon                        000 120 0  -  3  5  2
Belgrade                   100 000 1  -  2  9  1
Damon Skradski and Cole Pulliam. Gavin Waters and Connor Reid.
DILLON - Kale Konen 1-4, Jace Fitzgerald 0-4, Connor Curnow 1-4, Conner Vezina 1-3, Skradski 1-3, Cole Pulliam 0-2, Tyler Lagunas 0-2, Anthony Macias 0-3, Johnny Reiser 1-1.
BELGRADE (18-7) - Lane Neill 0-4, Kash Fike 1-3, Coby Richards 2-4, Mason Jacobsen 2-4, Payton Burman 1-4, Keaton Carter 1-2, Connor Reid 1-4, Wyatt Lambeth 0-3, Alex Casas 1-2.