BOZEMAN — With just one day to prepare for Tuesday's playoff match following a nearly two-week layoff due to a Covid-19 outbreak at the school, Belgrade head coach Carl Bridwell knew Bozeman would be in better shape tactically and physically.
But it was the Panthers who seized the early momentum in a Eastern AA playoff match when freshman Karli Aitchison scored in the 16th minute. The goal didn't hold, however, as the Hawks notched the equalizer four minutes later and then got an own goal in the 65th to post a 2-1 first round victory.
"If you think about it today, three goals were scored, all three from corners. This was a scrappy physical game that either team could have won," said Bridwell. "I told the girls at the end of the game, even though tears, there's going to be a day where Bozeman will lose (to us), and that's going to be a good day for Belgrade soccer."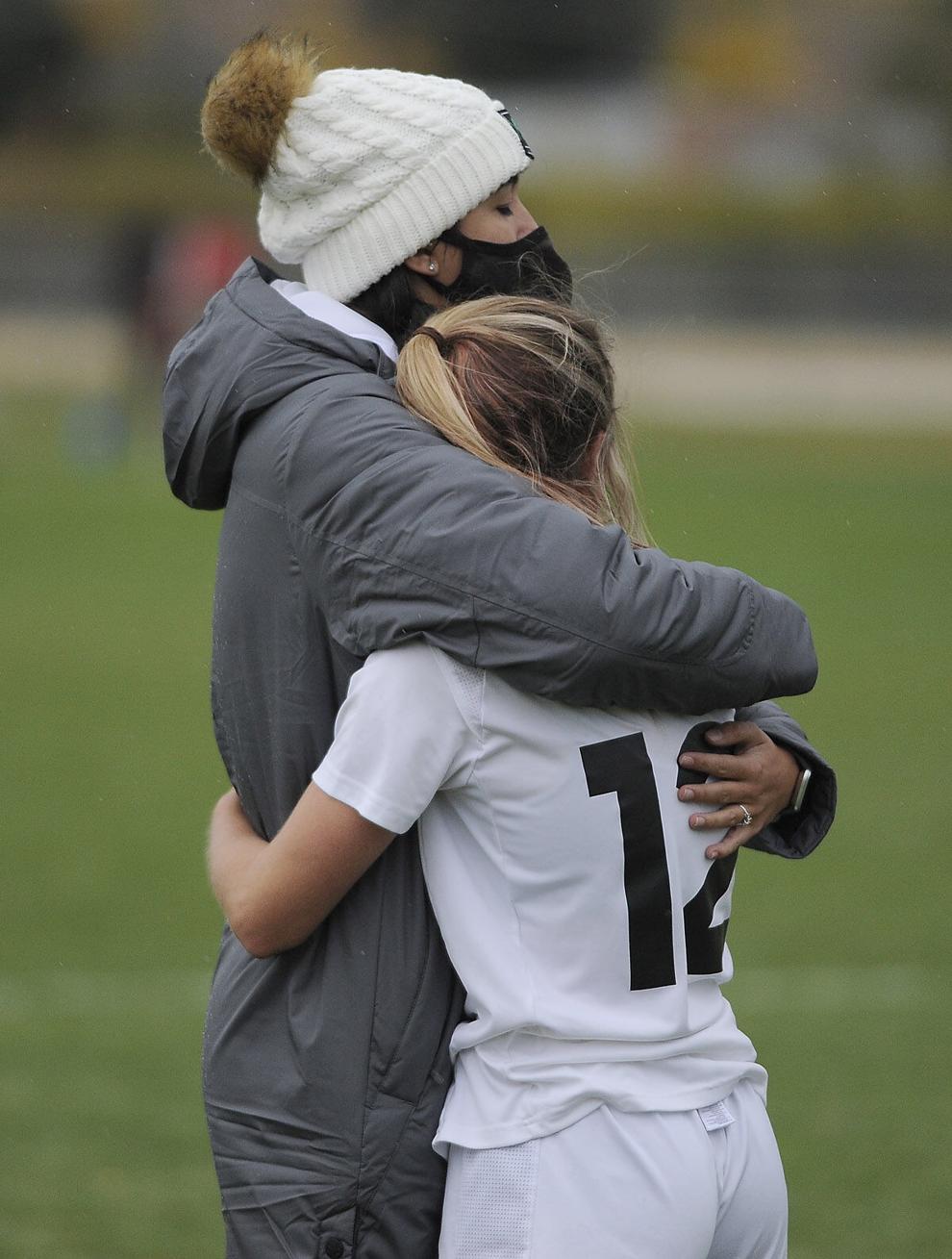 Belgrade, which finished with a 1-9-2 record, has never beaten Bozeman's varsity. The team's did play to a 1-1 draw in the first of two regular season matches a year ago.
Overtime was looking like a possibility after the second half reached it's midpoint. But Bozeman scored the own goal in the 65th minute following a corner kick that led to a scrum in front of the Panthers' net.
Belgrade, with a stiff wind at its back, pressed hard over the final 15 minutes and got off a couple of dangerous shots. But keeper AJ Battle made a handful of saves as the Hawks held on for the win.
"Belgrade always gives us some fits," Bozeman coach Erika Cannon said. "It felt like we were controlling the game enough. … We started to create a lot of really good opportunities. I was really proud of them."
The first goal of the contest was set up by a corner kick from Dalani Brayton. It led to a scrum in front of the net and Aitchison eventually booted in a one-timer for the score.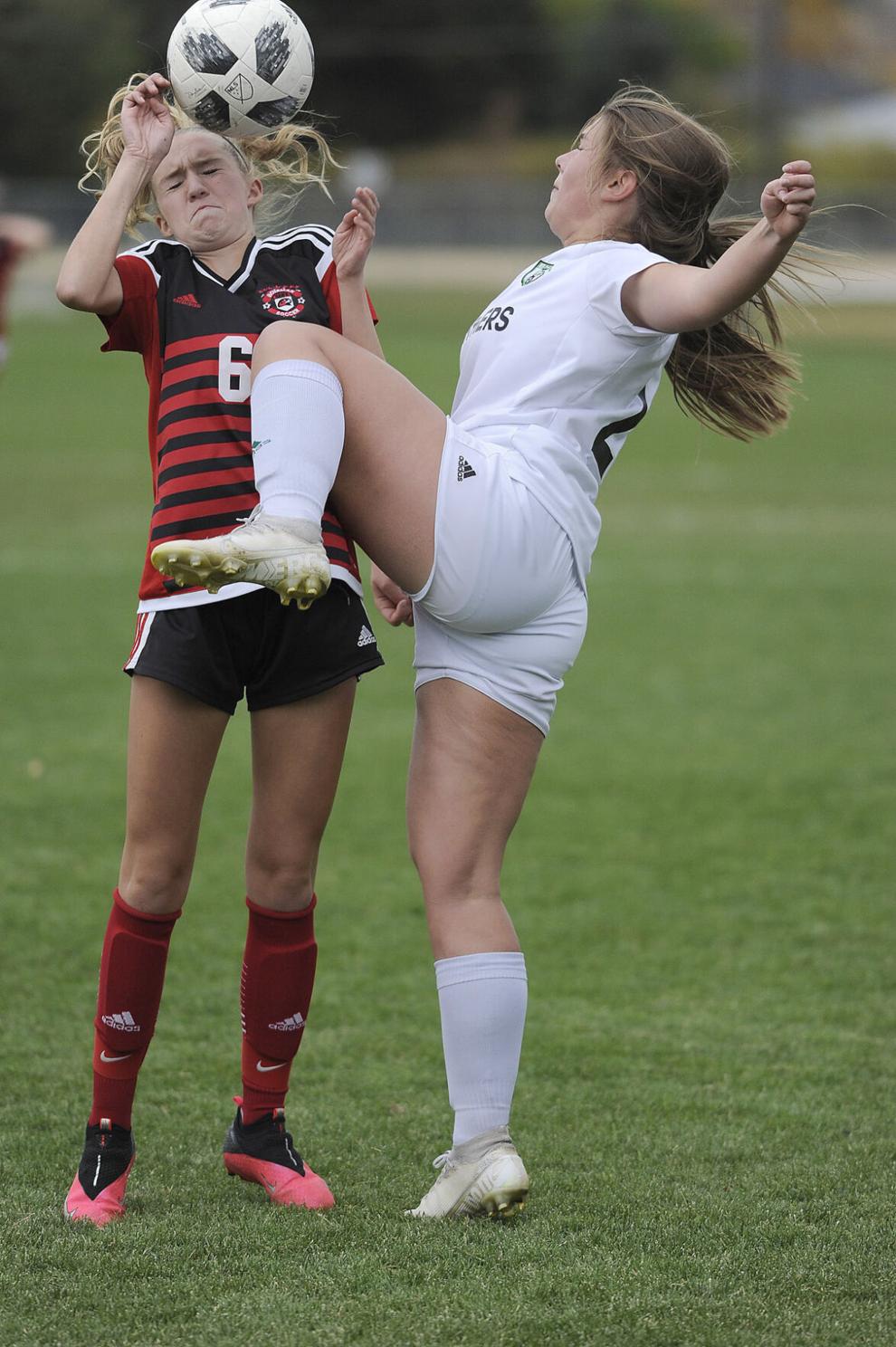 "I want to say (Katelin) Monlux found Karli and Karli  just took the one-time shot," said Bridwell. "Which all season long I've been telling her to take two touches, but she took a one-time shot and it set her up perfectly to loop up and over AJ. It was great."
Bozeman (10-2-3) tied the game in the 20th minute off a corner kick that Ursula Vlasas wound up heading in after the ball had bounced near the left post. The Hawks had a couple of more opportunities from there and nearly took a lead into halftime.
Belgrade keeper Mackenzie Turner, who finished with 11 saves, managed to punch the ball over the crossbar following a dangerous shot in the 39th minute.
Despite playing into the wind in the second half, Bozeman created several opportunities, including the corner kick that led to the own goal.
"They definitely came out in the second half with a vengeance," said Bridwell. "You could see from the fouls and the arms and the way they were attacking the plays, they were angry."
Panthers' boys shut out by Senior, 6-0
Seth D Ambrosia scored a hat trick, and Trey Draayer added two goals, as Billings Senior ended Belgrade's season Tuesday at Amend Park in Billings.
The Broncs built a 5-0 lead en route to a 6-0 victory in an Eastern AA playoff match. It was the first contest in more than two weeks for Belgrade after all of the school's activities were halted due to an outbreak of Covid-19.
The final three matches of the regular season were canceled, and the Panthers had just one practice on Monday to prepare for the match.
"We had two weeks off of practice and then we missed three of our final games, and then just had one day to get into a playoff mindset. That was really hard for us to battle against," first-year Belgrade coach Sydney McCauley said. "They were in not great shape anymore, and we were trying our best with what we were given. We had two hours of practice and then we had to go right into a game, and so that was really hard on us. But it's just the situation we were put in and we just had to make the best of it."
Unbeaten Senior (11-0-3) scored early an often to set the tone, and added an own goal in the second half. In addition to scoring three goals, D Ambrosia also had a pair of assists. Hadyn Koch assisted on two goals as well.
"They scored super early on us and continued to score," said McCauley. "After halftime we just made an agreement as a team to not let anymore goals in, and then they got one in. It was just super unlucky for us."
While the defense improved in the second half, Belgrade struggled to generate an offensive attack throughout the contest.
"We didn't get any shots off really," said McCauley. "We had a few good free kicks, but that was about it."
Although the season was halted in Billings, positive strides were made this fall. Belgrade notched its first-ever AA victory after going winless a year ago, snapped a 15-match losing streak dating back to 2018 and finished with a 3-9-0 record.
"I'm super proud of all of them and I know their potential. So we just need to start bringing that out in every game," said McCauley. "But they're honestly an amazing group of guys and they can all play super well. They just have to get on it next year."
Belgrade loses just three seniors to graduation and will return its leading scorer in Sam Waller. The junior tallied six goals and had three assists.
"We only lose three seniors, so it will be nice. We'll be ready to go," said McCauley. "And hopefully we get the Manhattan co-op. That's what I need to happen."
Belgrade        1  0  -  1
Bozeman        1  1  -  2
Bel - Karli Aitchison (unassisted), 16th
Boz - Ursula Vlasas (unassited), 20th
Shots: Bel 14, Boz 14. CK: Bel 4, Boz 10. Fouls: Bel 5, Boz 3. Saves: Bel 11 (Mackenzie Turner), Boz 9 (AJ Battle).
Billings Senior 6, Belgrade 0
Belgrade        0  0  -  0
Billings Senior    5  1  -  6
BS - Seth D Ambrosia 3 goals; Trey Draayer 2 goals; Own goal.