Belgrade's golf team tuned up for divisional with a solid performance at the Bozeman Invitational. The two-day tournament wrapped up Friday, and the team had one top 10-placer in Anthony Madison.
Madison had rounds of 78 and 77 at Valley View Golf Course and Bridger Creek Golf Course, respectively, to lead the Panthers to seventh place finish. The senior placed 10th with a 155.
"Anthony Madison continues to play solid. If he can eliminate one or two bad holes per round he can continue to be in the top 10 in each tournament," Belgrade head coach Mike Deming said. "He has such a positive attitude which helps him with his success on the golf course."
Jacob Maroney was just five strokes behind Madison with a 160 to place 16th. He had rounds of 79 and 81 as the Panthers carded a 676 as a team.
"Jacob had a shot for par for his second nine holes and would have scored better but had two disaster holes," said Deming. "Much like Anthony, if he cleans up those round changing bad holes he will improve his overall standings in each tournament."
Justin Garcia and Colter Gee rounded out the team with scores of 173 and 188. Jaxson Hinshaw did not compete due to illness.
"Justin continued to play solidly and Colter set his personal record at this tournament," said Deming. "Both continue to play their best golf going into the divisional tournament."
Gallatin, led by Ramey Lloyd and brothers Justus and Jordan Verge, won the team title with a 562. Lloyd won the tournament with a 136, while Justus and Jordan carded a 139 and 141, respectively.
Billings Senior and Billings Skyview rounded out the top three teams and will be among the contenders at the Eastern AA Divisional, which begins Thursday in Great Falls at Eagle Falls Golf Course.
"The East boys have some very good teams. But, as a team, if we can be more consistent and continue to strike the ball solidly, we might be able to be one of the teams that advances to the state tournament," said Deming. "Everyone else will be playing their best golf and we need to as well."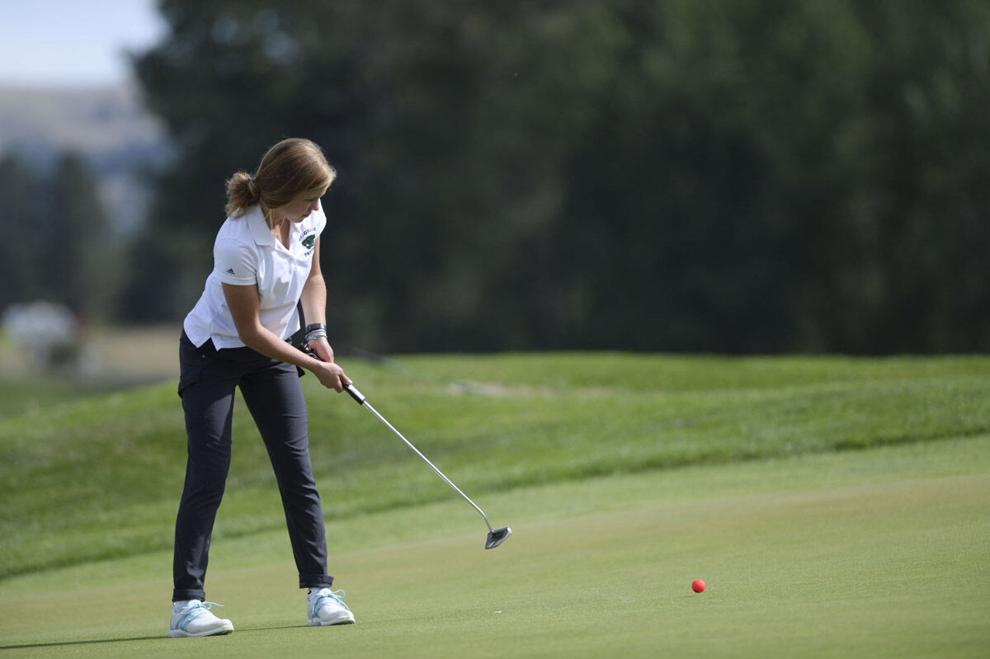 Belgrade's girls placed fifth with an 835 led by Bella Anderson. The senior had rounds of 100 and 98 to finish 21st with a 198.
"Bella continues to play consistently and if she can eliminate excess putts she will be able lower her overall daily scores," said Deming. "She plays her best when the pressure is on. We are excited to see her compete at her first divisional tournament."
Jordan Whitaker carded a 209, while Leila Mamangun was one stroke back with a 210. Belgrade was rounded out by Brynn Butler (222) and Riley McMahon (225).
"Jordan had a solid tournament and is striking the ball better. Leila has many good holes where she drives the ball well. She and Jordan will be looking to advance to their second state tournament," said Deming. "Riley played much better on the second day and almost played 20 strokes better. Brynn continues to play solid and provides such positive energy to our team."
Deming added that the girls struggled the first day at Valley View, but improved dramatically at Bridger Creek. Still, too many penalty strokes contributed to higher scores.
Billings West, led by a third place finish from Bella Johnson, won the team title. Butte's Kodie Hoagland won the tournament with a 152.