BILLINGS — This football season is only Belgrade's third as a member of Class AA, but its hardships during that time have been noted.
Thursday brought a sense of relief and, for a moment, celebration to the Panthers as they overcame Billings Skyview 24-20 to spoil the Falcons' senior night at Wendy's Field at Daylis Stadium.
The victory snapped a 13-game losing streak for the Panthers, and it served as their first win since Oct. 25, 2019, also against Skyview. It's the program's second win overall since jumping up from Class A after the 2018 campaign.
"As much as you want to say as a coach that winning isn't everything … god it means a lot. It really does," said relieved Panthers coach Eric Kinnaman. "We're new to AA, but that excuse has to come to an end. This is our third year in AA and it's going to be our fourth year next year, and any win that we can get is important to the program right now."
It couldn't' have come in much more dramatic fashion.
The play of the game was made by Belgrade defensive back Austin Spangler, who returned an interception 96 yards for a touchdown to snuff out a late Skyview drive and put the Panthers ahead 24-14 with 2:14 remaining.
With the ball on the 16-yard line, Falcons quarterback Dylan Goodell was throwing toward a slant pattern near the goal line, but Spangler was in the right spot to make an athletic snare. He then raced down the right sideline to score the Panthers' biggest touchdown in two years.
"I saw the slant so I just went straight into my drop," Spangler explained. "The ball came to me — it just fell into my hands — and I saw green grass and I just ran. I ran for my life hoping to get that touchdown and it worked out."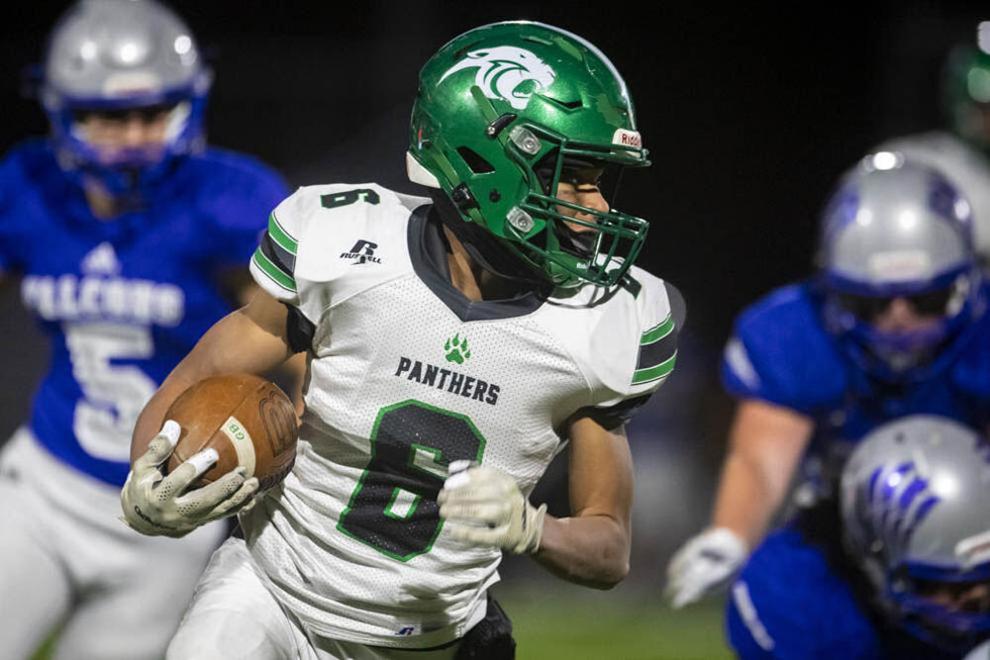 "Plays like that are game-changers," Kinnaman said.
Both teams entered Friday starving for a victory. Skyview hadn't won since its opener against Kalispell Flathead, but the loss to Belgrade marked the Falcons' seventh in a row.
Goodell helped stake Skyview to a 14-7 lead with a 26-yard touchdown pass to Trey Dye in the first quarter and a 1-yard TD run of his own late in the second.
In the aftermath of Spangler's theatrical defensive play, Goodell later found Dye for another touchdown with just 1:28 left, but after an onside kick failed, Belgrade was able to run out the clock.
"Certainly, winning would have been great. It would have been great to send our seniors off with a win," Falcons coach Nathan Wahl said. "We competed to the bitter end. I'm proud of them."
The game ended with tempers flaring. Taking a knee in victory formation as seconds ticked off the clock, Belgrade quarterback Diego Casas was leveled with a late hit by Skyview's defense. That, in turn, led to a pair of dead-ball fouls being called on the retaliating Panthers — not to mention a good amount of trash talk from both sides.
Belgrade's defense came away with four takeaways, including three interceptions, to help spearhead the victory. Offensively, both Casas and Tre'vion Randle had rushing touchdowns. Randle had a game-high 83 rushing yards.
A Nick Gawarkiewicz 20-yard field goal early in the fourth quarter proved crucial.
Skyview's Goodell threw for 225 yards, hitting Dye eight times for 100 yards. Paolo Salminen rushed for 54 yards, while Payton Sanders finished with six catches for 84 yards.
"There were a few times there when we didn't execute the way we know how and we paid for it," Wahl said. "As we go into this last week we're going to focus on doing the little things right and make sure we give ourselves every opportunity to compete."
Belgrade 24, Billings Skyview 20
Belgrade                         7  0  17  0  -  24
Skyview                           7  7   6  0  -  20
BS - Trey Dye 26 pass from Dylan Goodell (Bridger Felchle kick)
Bel - Tre'vion Randle 23 run (Nick Gawarkiewicz kick)
BS - Goodell 1 run (Felchle kick)
Bel - Austin Spangler 96 interception return (Gawarkiewicz kick)
BS - Dye 97 pass from Goodell (kick failed)
Bel - Gawarkiewicz 20 field goal
Bel - Diego Casas 1 run (Gawarkiewicz kick)