As the season winds down, Bozeman is focusing less on its opponents and more on perfecting itself.
On Thursday against Belgrade, that to-do list included, in part, combining passes in order to move the ball into a scoring position.
Almost all went according to plan in that regard as the Hawks picked up a 5-0 win against the Panthers to move to 12-0 this season.
After beating Belgrade earlier in the season by an 8-0 margin, Bozeman could have had an idea of what to take advantage of the second time around. But Hawks head coach Hunter Terry said accomplishing the team's own goals was more important.
"I wasn't looking at exploiting anything at all," he said. "There were just a handful of things we wanted to focus on, and I think we did a really, really good job of it."
Bozeman's priorities ultimately resulted in a hat trick for Drew Johnson, the state's leading scorer, and the team's 11th shutout in its dozen matches.
The Hawks have played at a high caliber all year, but with two regular-season contests left, there is no better time than now to piece together dominant efforts on both sides of the field.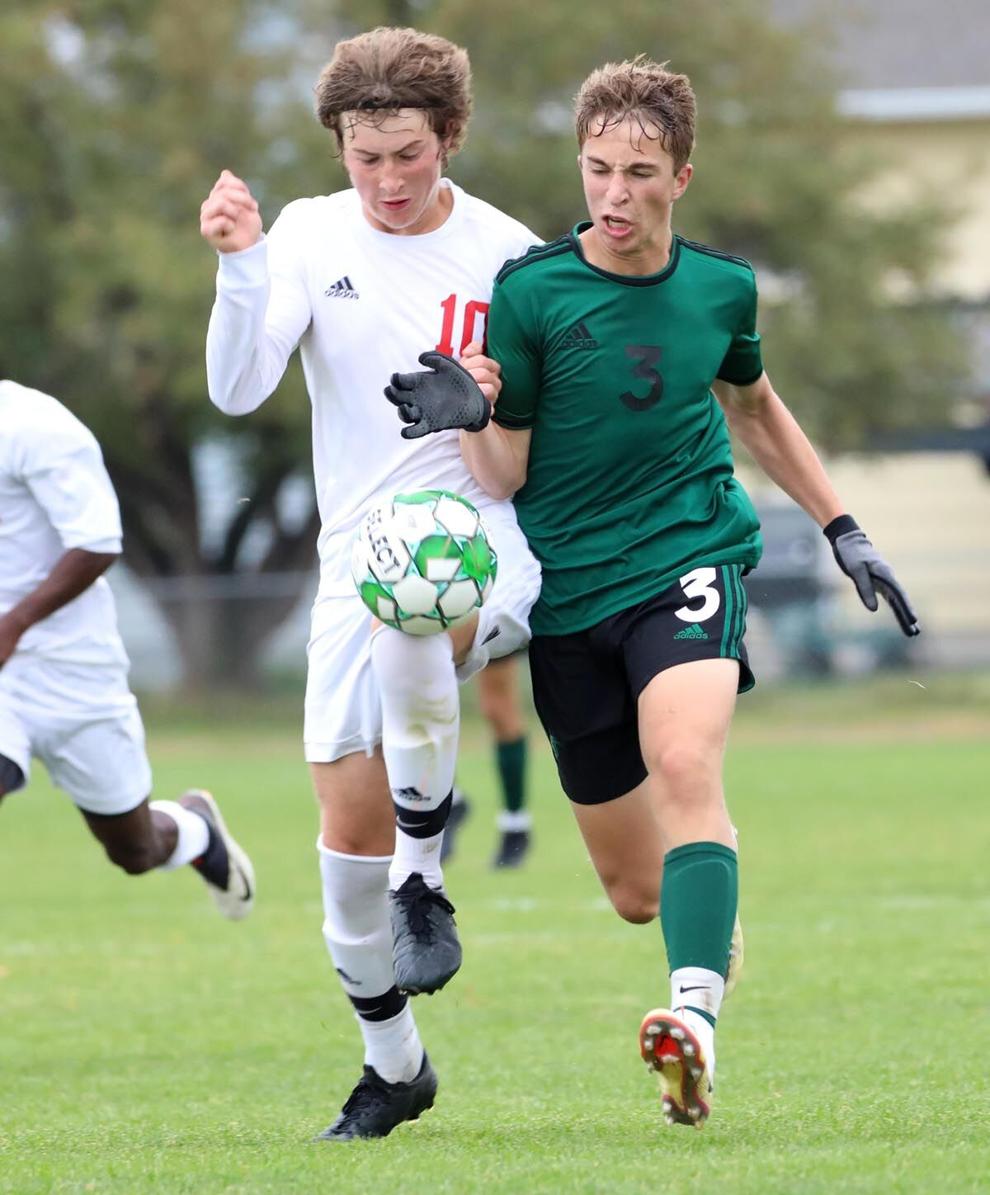 "We have a set way we're trying to play," Terry said, "and we're trying to plan for the future."
On Thursday, the teams battled on the rain-slicked field to earn the first edge in momentum.
Johnson ultimately supplied it with a goal in the 11th minute off of an assist from Riley Bloomer.
Johnson said the Hawks have aimed recently to score within the game's first five minutes. They didn't get there Thursday, but they struck first nonetheless and built from there.
"It's always important to score first, I think," Johnson said. "It kind of takes the wind out of their sails a little bit."
The game was nearly evened one minute later, though, as Noah Russell's free kick clanged off the top of the goal, where the right post and crossbar meet.
That was Belgrade's best scoring opportunity as the Hawks dominated possession. Panthers head coach Dr. Robert Lemley said counterattacks proved to be most effective, but it was still a challenge to get anything going.
"I think we stuck to our game plan as best we could," Lemley said. "Our weakness is that when we win the ball we can connect the passes until the final one that was needed. We ended up passing to the other team, and they were very quick to capitalize."
Bozeman added to its lead with goals from Joshua Angell and Bloomer in the 28th and 40th minutes, respectively.
Terry credited Belgrade for playing "super compact" and not pressuring the ball, a defensive scheme that made it difficult at times to find open offensive lanes.
Johnson tacked on two more goals in the second half, however, to create the final margin and show how adept Bozeman is at finding a way to score anyway.
"I think both teams have definitely changed (since the first meeting), so you can only take that so much," Johnson said. "I think you can learn a team's tendencies and play off of that, but I think we're more focused on ourselves and how we can improve rather than reading too much into the opponent."
Johnson now has 29 goals this season and 61 for his career. Angell assisted on one of Johnson's second-half scores. Bozeman keeper Oliver Olsen finished with a pair of saves.
Belgrade goalie Shay Schoolcraft, facing immense pressure throughout the game, tallied 15 saves.
Saturday the Panthers scored a pair of goals in a 4-2 conference loss on the road to Gallatin. Jonathan Foster and Noah Russell scored for the team.
Gallatin got a pair of goals and an assist from Max Burke, including the final tally with just nine minutes remaining to clinch the win. Simon Scott and Chase Stohlman also scored.
Belgrade (3-7-3) wraps up the regular season Thursday at Billings Skyview.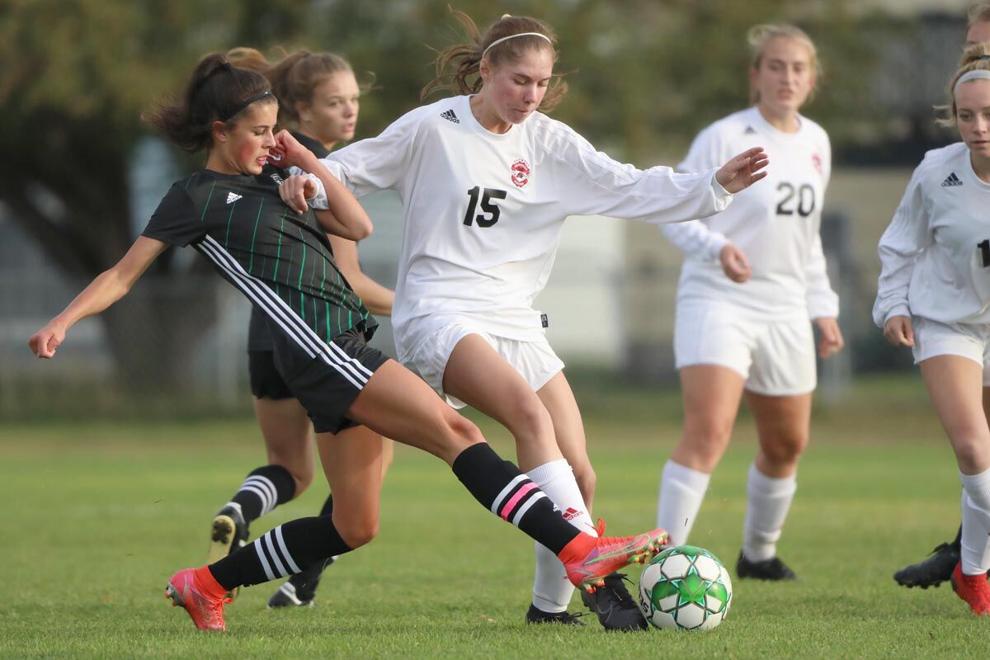 Girls lose matches to Bozeman, Gallatin
With about 28 minutes gone in the first half on Thursday against Belgrade, Bozeman's Miles Al-Chokhachy received a left-to-right crossing pass from teammate Bella Raecke.
Al-Chokhachy tried to settle the ball in front of the goal, but she stepped over it awkwardly and the scoring opportunity dissipated as Panthers defenders recovered their positioning.
The Hawks were awarded a corner kick two minutes later, allowing Al-Chokhachy another chance to help the team score. Her low and looping pass found the foot of her sister, Lucy Al-Chokhachy, right in front of the goal.
The family connection provided the second goal and some much-needed breathing room in what was ultimately a 2-0 win for the Hawks.
Miles, a senior, was happy to have recovered from her earlier misstep and create a scoring chance for Lucy, a freshman.
"I was so mad that I missed that goal," Miles Al-Chokhachy said. "But  then I got the corner. I told myself to cool down. My sister and I, in practice once I hit a corner right to her head and she went in, so I knew she was able to get on those. I kind of calmed myself down, and I was so excited that she hit it in."
The younger sister needed some convincing from nearby teammates that she had actually scored her second goal of the year.
"She was looking around, like, 'Wait, I scored?' And we were all cheering her on," Miles Al-Chokhachy said with a laugh.
The goal came just five minutes after Bozeman scored for the first time. Goalie Sabrina Scurry booted the ball down the field and earned an assist after it was tracked down by Grace Stoddart, who took it the rest of the way and beat Belgrade keeper Mackenzie Turner for her first goal.
"We've learned how to compete, but we made two mistakes," Panthers head coach Carl Bridwell said. "The ball over the top and the corner, where our outside back doesn't shift in. We made two mistakes in that first half, but nonetheless we kept fighting and that's the spirit we need to remember."
Turner finished with 10 saves to keep Belgrade within striking distance. Bridwell called her "a guardian angel back there."
Bozeman head coach Erika Cannon also praised Turner's play considering "we created a lot more opportunities than the two we put in."
But the Hawks did beat Turner twice. On the first, Cannon said Stoddart showed a lot of poise and discipline in settling the ball and scoring. On the second, she liked to see Miles Al-Chokhachy regroup after a frustrating moment.
Saturday Belgrade lost another conference match at Gallatin 2-0. It was the ninth time the team has been shut out this season and the 11th consecutive loss following a 2-0 start.
Auna Flohr and Olvia Collins scored the goals for the Raptors.
Belgrade wraps up the regular season Thursday at Billings Skyview.
Bozeman        3  2  -  5
Belgrade        0  0  -  0
Boz - Drew Johnson (Riley Bloomer), 11th
Boz - Joshua Angel (unassited), 29th
Boz - Bloomer (unassisted), 40th
Boz -  Johnson (Bloomer), 50th
Boz - Johnson (unassisted), 61st
Shots: Boz 30, Bel 4. CK: Boz 10, Bel 0. Fouls: Boz 8, Bel 5. Saves: Boz 2, Bel 14 (Shay Schoolcraft).
Belgrade        0  0  -  2
Gallatin        0  0  -  4
Gal - Max Burke (Rowen Luehder)
Gal - Simon Scott (Chase Stohlmann)
Bel - Jonathan Foster (n/a)
Gal - Burke (Patrick Williamson)
Bozeman        2  0  -  2
Belgrade        0  0  -  0
Boz - Grace Stoddart (unassisted), 26th
Boz - Lucy Al-chokhachy (Miles Al-chokhachy, 30th
Shots: Boz 22, Bel 2. CK: Boz 12, Bel 0. Fouls: Boz 3, Bel 4. Saves: Boz 1, Bel 12 (Mackenzie Turner).
Belgrade        0  0  -  0
Gallatin        1  1  -  2
Gal - Auna Flohr (unassisted)
Gal - Olivia Collins (Makinlee Naffziger)