KALISPELL — As the high pop up began its downward trajectory, Maddie Tomasetti settled under the ball a few steps away from third base. The senior squeezed the final out of the game, leaped into the air and spiked the ball before landing on the ground.
Seconds later she was in the embrace of her brother Eric, an assistant coach, as Belgrade's players formed a mob outside of the team's dugout. In just their first season as a Class AA program, the Panthers had won another state championship with a 5-3 victory against Billings Senior at Kidsport Complex.
"I'm just really emotional," Tomasetti said after posing for photos with the championship trophy. "I think a lot of people doubted us in the beginning, but I'm so glad we proved them wrong."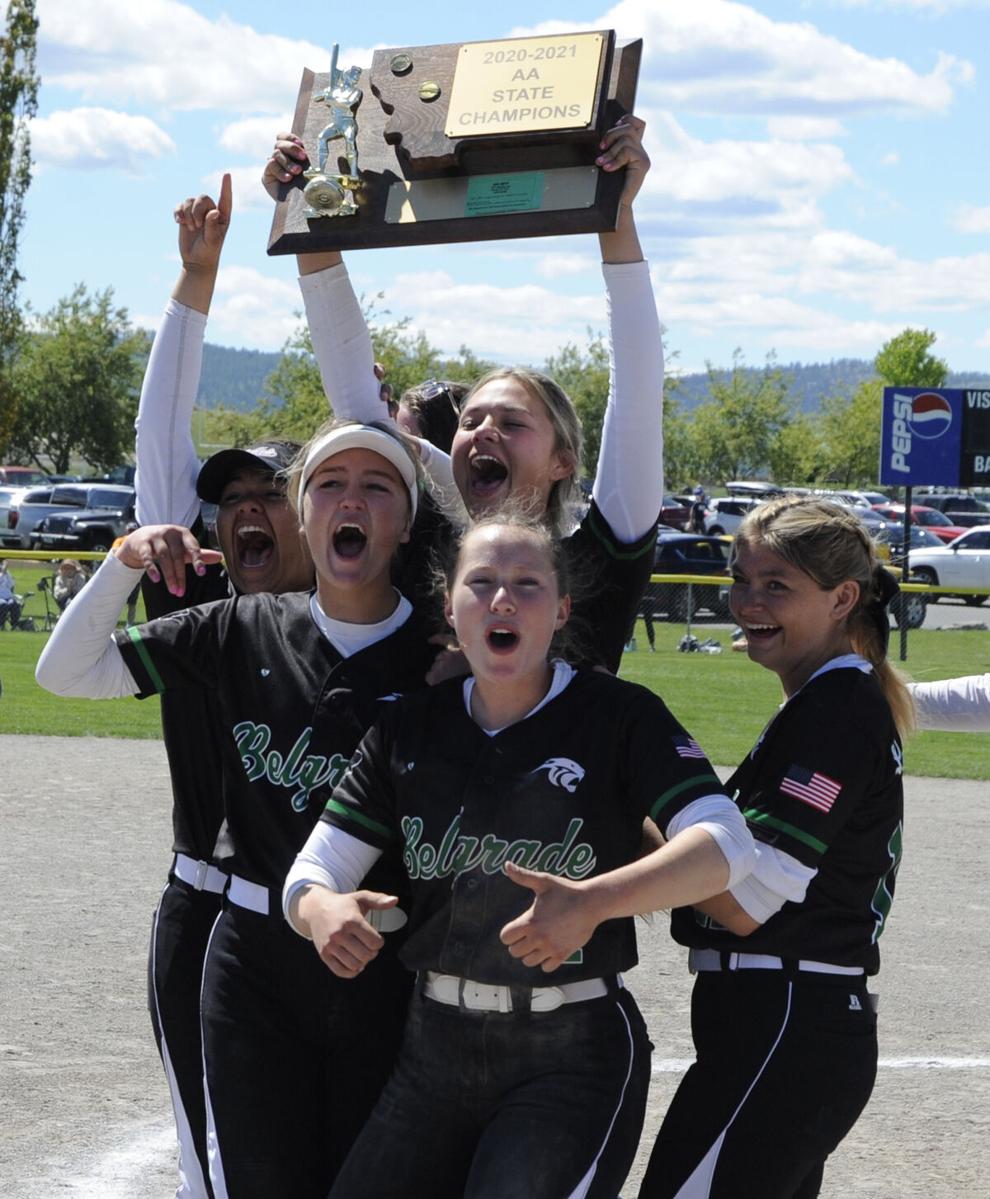 Belgrade won three consecutive Class A titles from 2017-19, but never got a chance to test the AA waters last year after the season was canceled due to COVID-19. First-year head coach Joey Roberts had a gut feeling something special was brewing this spring, though.
"We talked about it since the beginning of open gyms in March," he said. "We as coaches felt that these girls were a championship caliber team, and I think they finally discovered that about three weeks ago. I'm just so proud of these girls and this coaching staff."
Belgrade had won 15 consecutive state tournament games dating back to 2017 but lost in the first championship game to the Broncs 13-3 in six innings. Senior's Dacee Zent went 3 for 4 with a pair of three-run homers, while Kara Conway added a two-run shot, to force a second championship game.
"Dacee hits the ball really well, and she hits it really hard. She's got quick hands, and she just makes good contact," Broncs head coach Lisa Shulund said. "She's a good one to have on your team, not against you."
After shutting down Senior in Friday's semifinal, Tayler Thomas got the start again in the circle. But she was tagged for 10 hits, including two of the home runs.
Freshman Ella Seaman gave up three hits in one-plus innings of work, including a homer, before Thomas returned to the circle.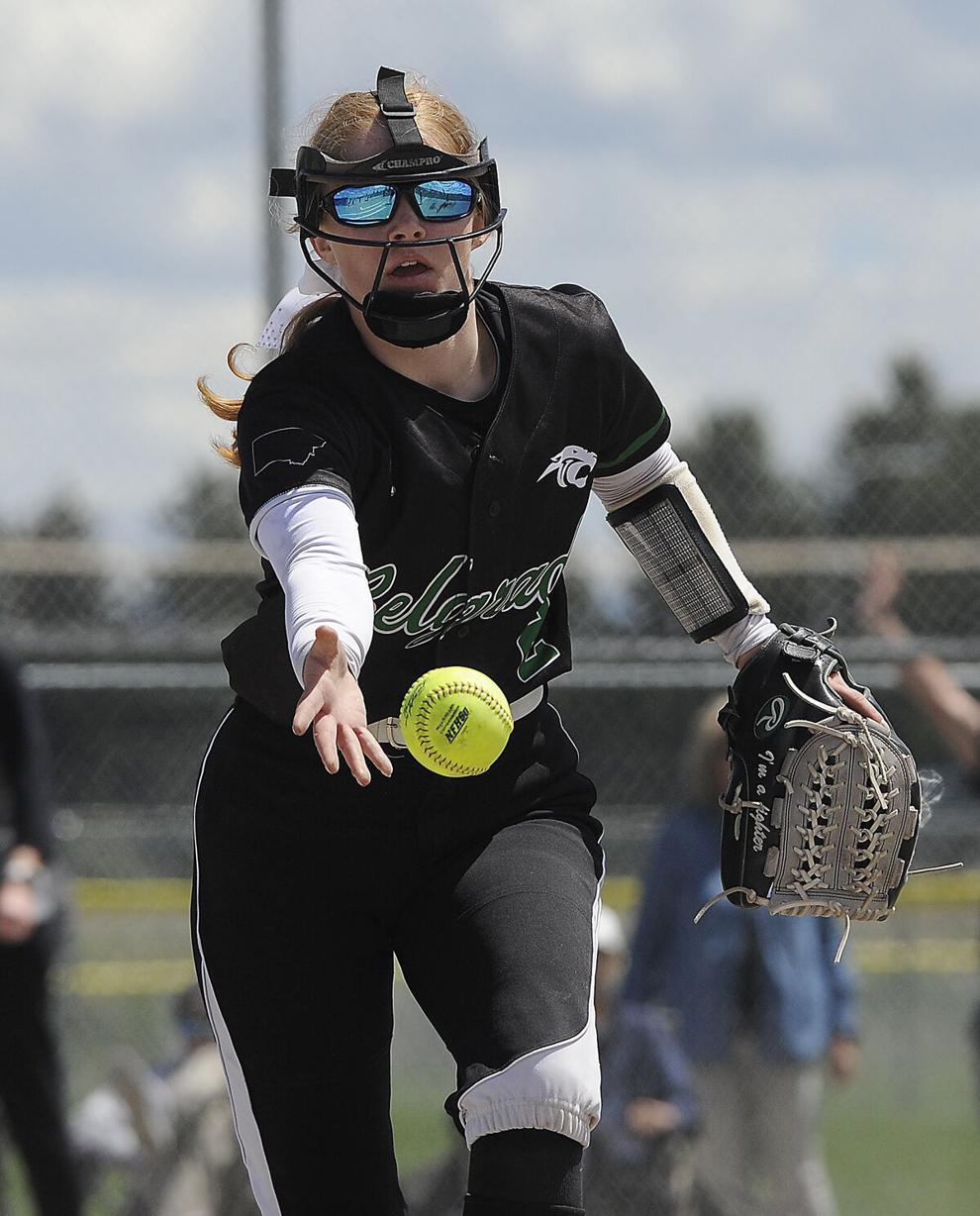 The Panthers regrouped after the Game 1 loss and never trailed in the second championship after producing a pair of runs in the second inning.
"We just talked about how we were never going to play in this moment again and how we wanted to leave it all out on the field and not regret anything. And I think we were just pumped up to play them again," Tomasetti said. "At the beginning of the season we had a really bad game against them, and we came back and showed them that we can keep right up with them. So it was kind of like the very beginning of the season."
Arin Eaton, who started in the circle in Game 2, got things going in the second with a two-out single. Shaylis Osler followed with a single to right, and then they both scored on a single to center by Elizabeth Ybarra.
Belgrade (21-7) added another run in the third and two in the fourth to stretch the lead to 5-0. Eaton got out of a bases-loaded jam in the third and the defense turned double plays twice with runners in scoring position to hold the Broncs to one run through six innings.
"I think I was kind of mad that we lost the first game," Eaton said of her effort in the circle. "And I was like, 'I'm going to go out there and shut them down. Do whatever it takes.' That's what my mindset was."
While the Broncs tallied 11 hits, only one was for extra bases as Eaton held the powerful lineup in check.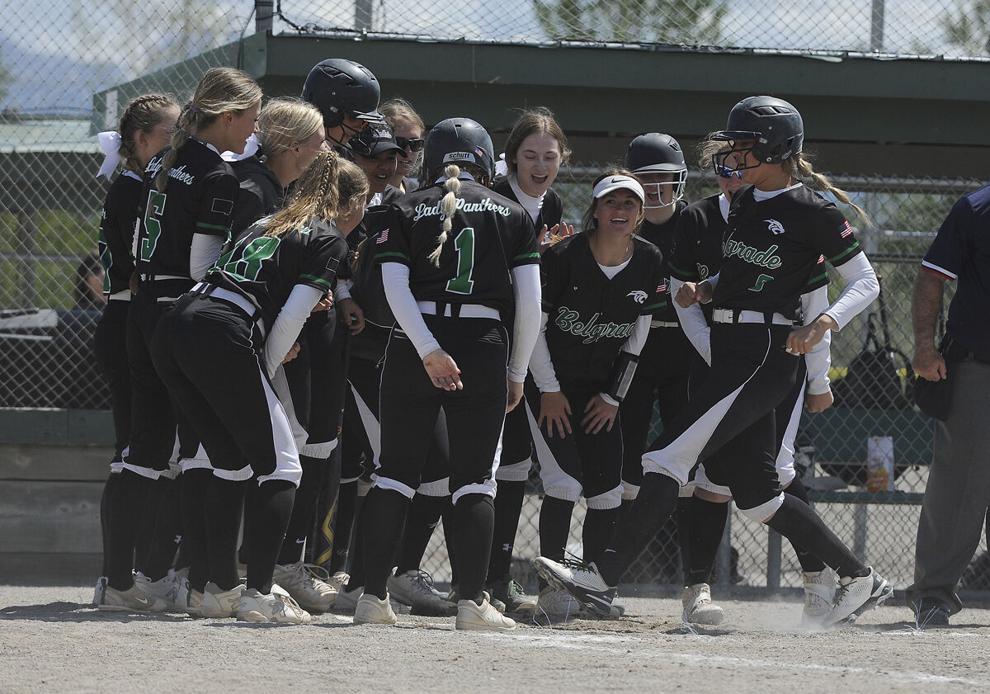 "I still feel like a lot of time we were making good contact, but it was right to people at times," Shulund said. "We were hitting line drives right at people … and then there were a few times where it was just poor pitch selection on our end."
Still, Senior (21-8) got on the scoreboard in the fifth and then made things interesting in the seventh after scoring two runs thanks to the heart of the lineup. The Broncs hit three straight singles to cut the deficit to 5-2, and then Paige Opp singled to drive in the third run.
But with runners at second and third, Eaton induced a soft pop out by Alexis Waddingham and then another by Darby Mayo to end the game.
Roberts was relieved that Belgrade got out of trouble having only allowed two runs.
"(Kennedy) Venner, (Kara) Conway and Zent are incredible softball players. I'm still kind of speechless about it," he said. "They did their damage, obviously they got a few runs, but to keep it to only two runs was pretty incredible."
Belgrade's senior class, with the exception of Ybarra who transferred in from out of state this school year, graduates as three-time state champions. Roberts credited the players for committing to the program and providing leadership, while the team's underclassmen are happy to send them out with another title.
"I'm really sad to see the seniors go," Eaton said. "But I'm really pumped that we got to win a championship for them."
Billings Senior 13, Belgrade 3
Senior                      302 026  -  13  13  0
Belgrade                 100 020  -    3    9  3
Kennedy Venner and Hollis Baker. Tayler Thomas, Ella Seaman (6), Thomas (6) and Talyn Campbell.
BILLINGS SENIOR (21-7) - Isabelle Dillon 0-2, Venner 2-2, Kara Conway 3-4 (HR), Dacee Zent 3-4 (2 2HR), Baker 1-3, Paige Opp 2-4, Alexis Waddingham 0-4, Darby Mayo 2-3, Vianca Martin 0-3.
BELGRADE (20-7) - Kenna Thomas 1-4, Kamie Gorrell 0-3, Tycelee Bowler 1-3, Maddie Tomasetti 3-3 (HR), T. Thomas 0-3, Arin Eaton 2-3, Shaylis Osler 0-2, Elizabeth Ybarra 1-3, Campbell 1-3.
Belgrade 5, Billings Senior 3
Senior                     000 010 2  -  3  11  2
Belgrade                 021 200 x  -  5   4   2
Kennedy Venner and Hollis Baker. Arin Eaton and Talyn Campbell.
BILLINGS SENIOR (21-8) - Isabelle Dillon 2-4 (2B), Venner 0-4, Kara Conway 2-4, Dacee Zent 3-4, Baker 2-2, Paige Opp 1-4, Alexis Waddingham 0-3, Darby Mayo 1-4, Vianca Martin 0-3.
BELGRADE (21-7) - Kenna Thomas 0-3, Kamie Gorrell 0-2, Tycelee Bowler 0-3, Maddie Tomasetti 0-3, Tayler Thomas 1-3 (2B), Eaton 1-2, Shaylis Osler 1-3, Elizabeth Ybarra 1-1, Campbell 0-2.