By the beginning of the track and field season Belgrade's Gracey Carter had already lined up life after high school beginning at Montana State University. But the senior was on the fence about whether or not it would include sports.
Unbeknownst to Carter at the time, that changed May 15 during a dual at Billings Skyview. She posted a mark of more than 140-feet in the javelin, and her effort that day was eventually brought to the attention of the coaching staff at Montana State University.
An offer to join the Bobcats' program soon followed, and Carter will make it official Friday morning.
"Last week, leading up to state, I feel like I was still on the fence about it," Carter said. "And then this week it just kind of happened."
It was an opportunity too good to pass up.
"Honestly, I kind of had already established my whole plan for the future at MSU, and so at that point I was like unless I get a fullride somewhere, MSU's where I'm going," said Carter. "Everything was all planned out, but then the opportunity came and I thought about it. Since I started in like seventh grade I always thought it was the coolest thing to be able to do that … I really thought about it and it's really something I've wanted to do since I started (track). I was given the opportunity, I should take it."
It wouldn't have happened without the help of Belgrade throwing coach Lise Palmer. She reached out to Jennifer Allen, the throws coach at MSU, and got the ball rolling.
"She (Palmer) told me she (Allen) was kind of on the fence because if you look at my past throws on athletic.net it shows some of the lower ones," Carter said. "I think 116 was my best up to that point. When Palmer talked to Jen about it, it was the whole series."
During that dual in Billings, Carter progressively improved with each throw en route to finishing with the top mark in the state at 144-feet, 5-inches. In the process, she broke the school record of 138-04, which had stood since 2010.
Carter had a face-to-face meeting with Allen Wednesday and within a couple of hours a decision had been made.
"She said take a couple days and then I thought about it and talked it out with my mom. And I was like, 'No, I've wanted to do this, I'm going to go for it,'" Carter said. "It was two hours (later), I texted her and I verbally committed. It all just started happening pretty quick, but I'm excited for it."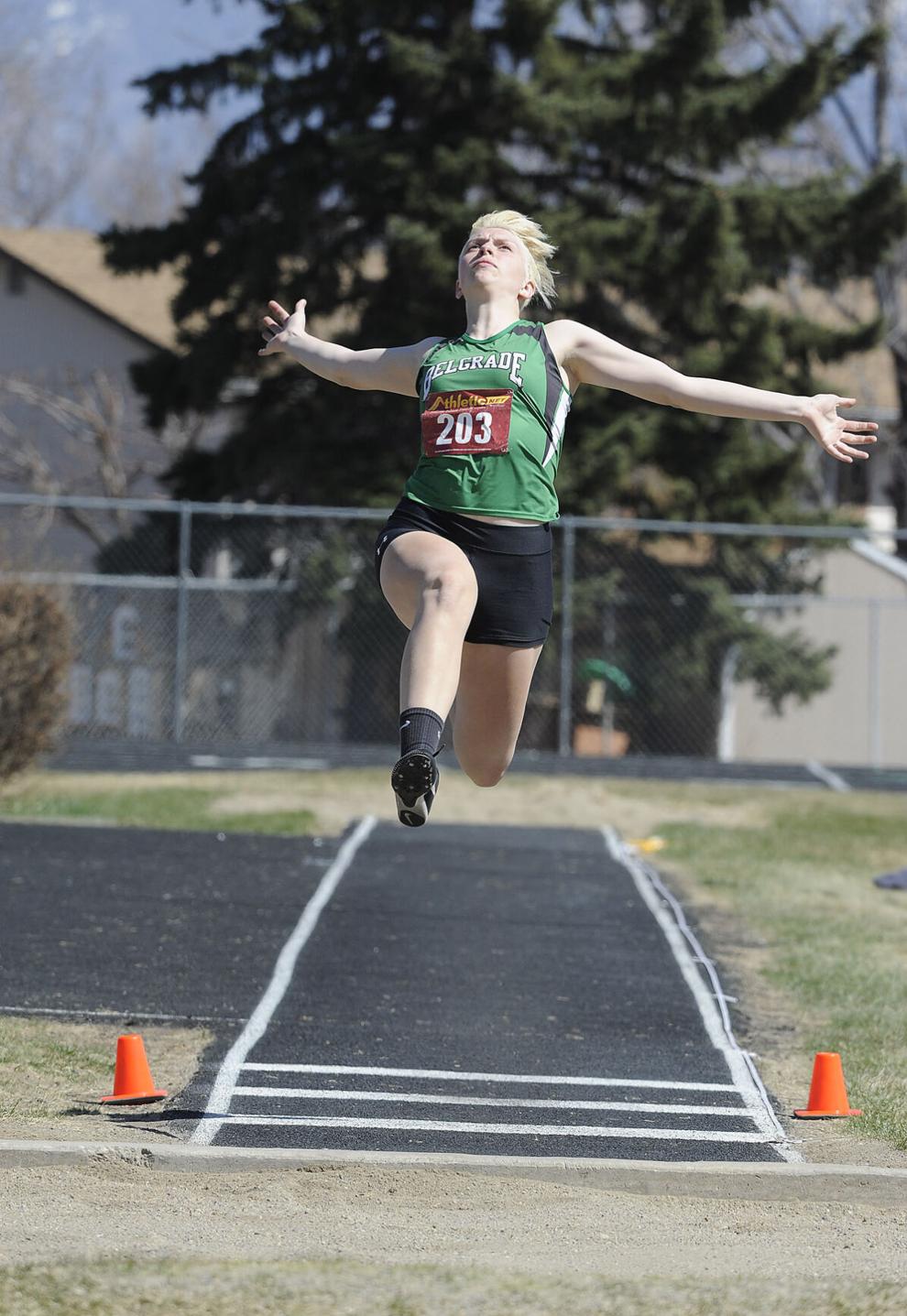 Carter finished as the state runner up in the javelin with a top throw of 123-feet, 7-inches at the Class AA meet in Missoula this past weekend. But she was pleased with the mark considering the conditions. Carter noted the runway, which had deteriorated after the Class C boys had competed on it first, was wet and slick.
"Looking at it I was actually pretty proud. I wasn't able to confidently run full speed, but I still threw a 123, so it was still good," she said. "And then the girl from Sentinel, that was a really good PR for her and she had a really good day. All her throws were really good, so there wasn't much I could do on my side other than just throw the best I could."
Missoula Sentinel's Anja Jackson won the event with a throw of 129-feet, 5-inches.
Carter was a multi-event athlete for the Panthers, competing in jumps, throws, hurdles and relays this past season. She set a personal best in the 100 hurdles at state with a time of 16.68 seconds, but just missed qualifying for the finals. Carter also anchored the 4x400 relay, which set a personal best by 10 seconds at state with a time of 4 minutes, 18 seconds.
In addition, Carter competed in discus, long jump, high jump and 300 hurdles during the season. When asked by Allen if she'd be interested in doing the heptathlon, Carter declined, for now.
"I told her I wouldn't be against it," she said. "But for now, especially with going in freshman year, getting into the hang of things with college and then add sports on top to that, for now it's just javelin. And she mentioned possibly looking at hammer throw."
Carter plans to pursue Asian studies with focus on Japanese language and literature, and will travel abroad during the offseason.