BELGRADE — On fourth down, 15 yards from the end zone, Gallatin's coaches thought their team still had a chance to score. They were right.
Garrett Dahlke, starting at quarterback, lobbed a pass up to Michael Armstrong, who hauled it in for a touchdown. Within six minutes, the Raptors led. They scored on their first three possessions en route to a 42-0 Eastern AA win at Belgrade on Thursday evening.
"Feels awesome," Dahlke said. "We came out firing. We got up on them early and kept our foot on the gas."
Raptors head coach Hunter Chandler said Braeden Mikkelson, who was the starting QB previously, injured his hand in Gallatin's last game. So while Mikkelson could still play at safety, the Raptors turned to Dahlke, who had started games at the end of last season at QB, to take over behind center.
"We feel very comfortable with Garrett back there obviously," Chandler said. "He played really well tonight. I thought he stepped up really well. He's got a nice, calm presence about him. He did a good job of commanding the offense and leading us on some drives."
Garrett Dahlke was 17 of 24 for 376 yards and five touchdowns, with those scores going to four different receivers. Noah Dahlke, his brother and a senior wide receiver, caught two of those TDs and finished with 163 yards on five receptions. Tyler Nansel caught two passes for 89 yards and a score as well.
The Raptors improved to 3-4 overall and secured their first conference victory of the year as they stand at 1-4 in Eastern AA play.
The Panthers last week scored twice, the first time they recorded a touchdown in nearly a month. But Belgrade didn't keep that success going against Gallatin.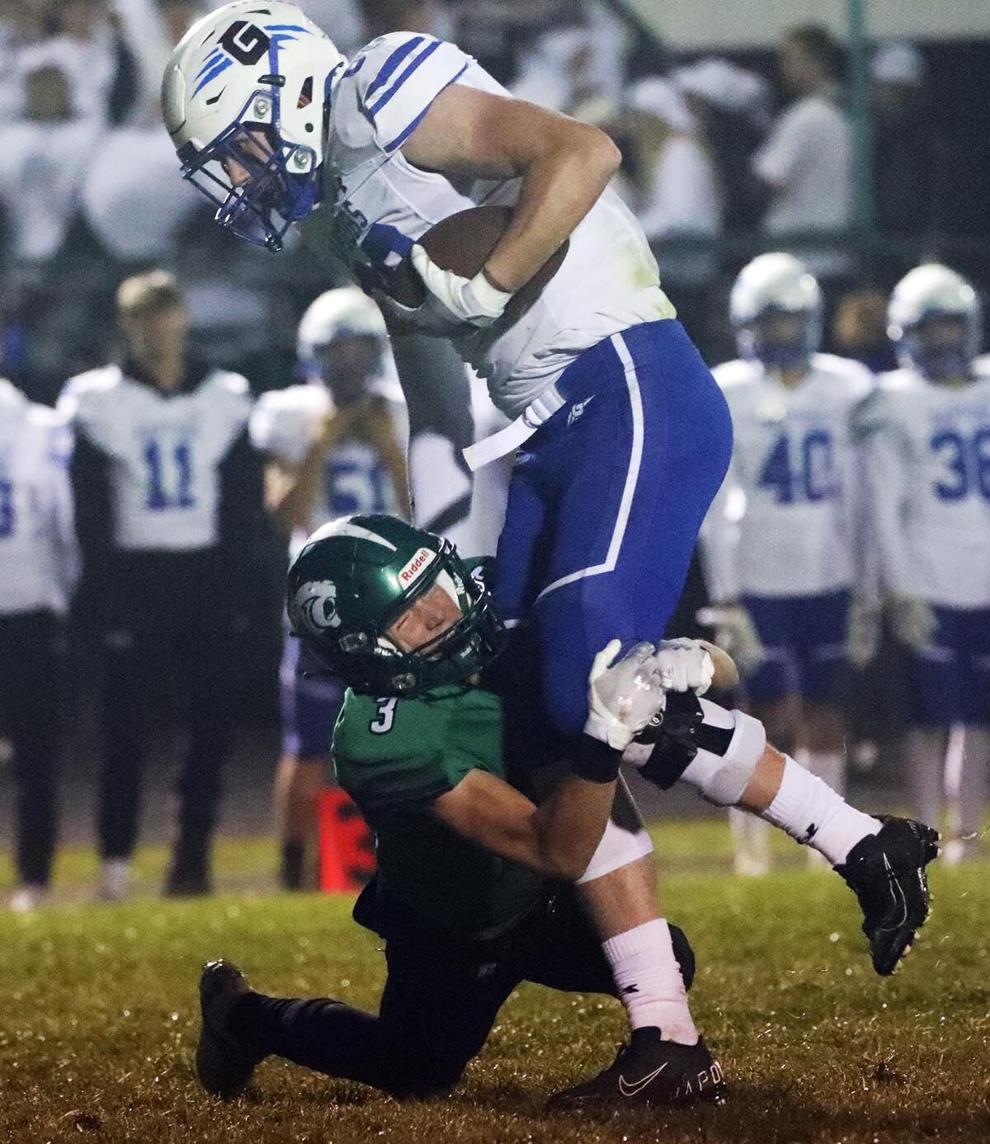 Garrett Dahlke completed four of his first seven passes. After the Panthers' opening drive stalled, the Raptors put together a nine-play possession that lasted just over two minutes.
Facing fourth down from Belgrade's 37, the Raptors lined up for a play and got the first down after the Panthers committed a pre-snap penalty. On fourth down and goal from Belgrade's 15, Garrett Dahlke completed his first touchdown pass of the night to Armstrong, giving the Raptors a lead they wouldn't give up.
The Raptors began their next offensive possession at Belgrade's 30. On fourth down and 16 from the 36-yard line, Noah Dahlke outran Belgrade's secondary to get open. His sibling found him for another touchdown. The Raptors gained a 14-point advantage when Garrett Dahlke threw a pass to Nansel from 17 yards out on the two-point attempt after a penalty.
The Raptors traveled 30 yards in just over two minutes on their next drive, ending with a Bryce Mikkelson touchdown run.
After Gallatin punted for the first time, Braeden Mikkelson intercepted a deflected pass to give the Raptors the ball at their own 34-yard line. On the first play of the ensuing series, Garrett Dahlke threw a quick pass to Noah Dahlke, and he ran along the sideline all the way to the end zone for a 66-yard score and a 28-0 lead with under three minutes before halftime.
Belgrade (0-7, 0-5 Eastern AA) had its best chance to score when Diego Casas, who led the Panthers with 103 yards on 18 rushes, ran 37 yards to Gallatin's 30. But the Raptors forced a turnover on downs to end the threat.
In the shutout, the Raptors held the Panthers to 146 total yards on 46 plays.
"We made some big plays and got some turnovers," Chandler said. "We're stout against the run, and that's kind of been a big focus for us so we knew coming into this week if we stopped the run we would have a pretty good chance."
Gallatin        14  21  7  0  -  42
Belgrade          0    0  0  0  -   0
Gal - Michael Armstrong 15 pass from Garrett Dahlke (kick failed)
Gal - Noah Dahlke 36 pass from G. Dahlke (Tyler Nansel pass from G. Dahlke)
Gal - Byce Mikkelson 1 run (Casey Garrigan kick)
Gal - N. Dahlke 66 pass from G. Dahlke (Garrigan kick)
Gal - Nansel 75 pass from G. Dahlke (G. Dahlke kick)
Gal - Josuel Kornchuk 28 pass from G. Dahlke (Carrigan kick)