As a light snow shower passed through the area Saturday morning, Nate TeSlaa found a spot on the course adjacent to Manhattan High School where he could see his runners for the majority of the race.
Manhattan Christian was competing in it's final regular season meet, a triangular hosted by Manhattan, and as they've done all season the Eagles were victorious after boasting the top three placers.
But the stakes will be much higher at state when Christian's boys try to claim a fifth consecutive Class C championship. And, it's an agonizing seven-day wait until the event is held in Kalispell.
"This week is the longest week of the entire season," said TeSlaa.
If things go as planned, Christian should be standing atop the podium with the gold trophy. After all, the team has won all eight meets it's participated in this season and features one of the top runners in the state.
Riley Schott, who posted a winning time of 17:06.9 at the triangular, won the state championship as a sophomore and placed third a year ago. The only meet he didn't win this season was Sept. 29 in a showdown against Richey-Lambert's Samuel Smith.
Smith has been the state runner up the past two years and beat Schott by 13 seconds in Lewistown. The duo will likely be leading the pack at state, and Schott knows he'll need to have his best performance of the season to win.
"I need to run a really smart race," he said. "I have to run a really smart race and just kind of do what I've been training to do all season."
Regardless of how things pan out individually, Schott said he'll feel good about a senior season that was almost for not due to the pandemic.
"As long as we get to run and have a fair shot at state, I'll be happy," said Schott. "First or last, I'll be happy."
Teammate Matt Kenney should be in the mix for a top five finish as well. The senior has excelled as the Eagles' No. 2 runner, and like Schott, he's focused on winning another team title.
"Obviously the goal is the team title. I think we just want to have a great finish for the team," Kenney said. "I'm hoping to finish as close to him (Schott) and Sam as possible. They're obviously really good and I love racing against those guys. Riley just pushes me hard, so just hoping to maybe pick up third. That would be awesome to finish third."
Kenney, who placed second at the triangular with a time of 17:39.8, and Schott are among four seniors with previous state experience. Devan Walhof and Cullen Visser have also competed at state, and freshman Oren Arthun (3rd, 18:08.4 at the triangular) has emerged as the team's No. 3 runner this fall.
Thus, Christian enters state as a heavy favorite to five-peat.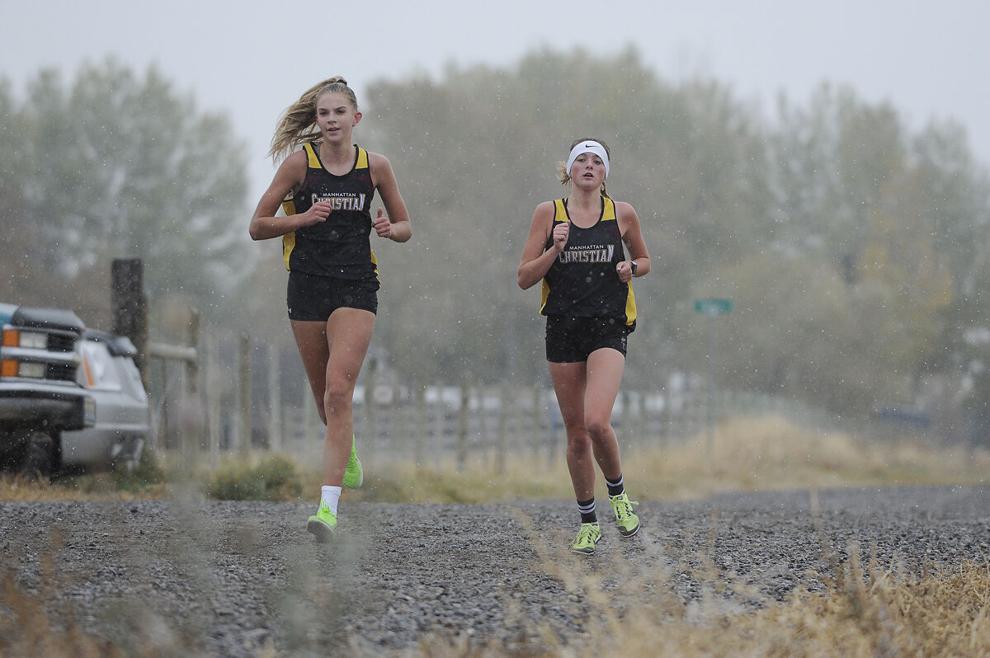 "It's kind of nice when you've been there before and you know how it looks," said TeSlaa. "Matt, Riley, Devan, Cullen — my seniors — they've been there before. They've seen it, they know what to expect, so there's not that sense of we're going in blind, and we've gone in as the favorite before."
While the seniors have a chance to go out as four-time champions, Christian has plenty of young talent coming up led by Arthun. Thus, the future remains bright.
"Obviously we have a great group of seniors, but I think we have a great culture and I think the young guys are hungry," said Kenney. "They're really good and coach TeSlaa has built a great program, and I think these guys will continue to have a great run."
Christian's girls placed fourth at state a year ago and could be in contention for a trophy again. Sophomore Ava Bellach, who placed fourth Saturday in 22:04.3, earned All-State honors last year, while Mali and Malaya Kamerman also have state experience.
Newcomers Katelyn and Kiersten Van Kirk add depth and should help push the Eagles in their hunt for hardware.
TeSlaa noted that they've all been dropping time "at the right time."
"They're working so well as a team right now, it'll just be fun. It'll be exciting," he added. "Just excited to see what happens."
The Class C portion of the state meet will be held Oct. 24 at Rebecca Farm.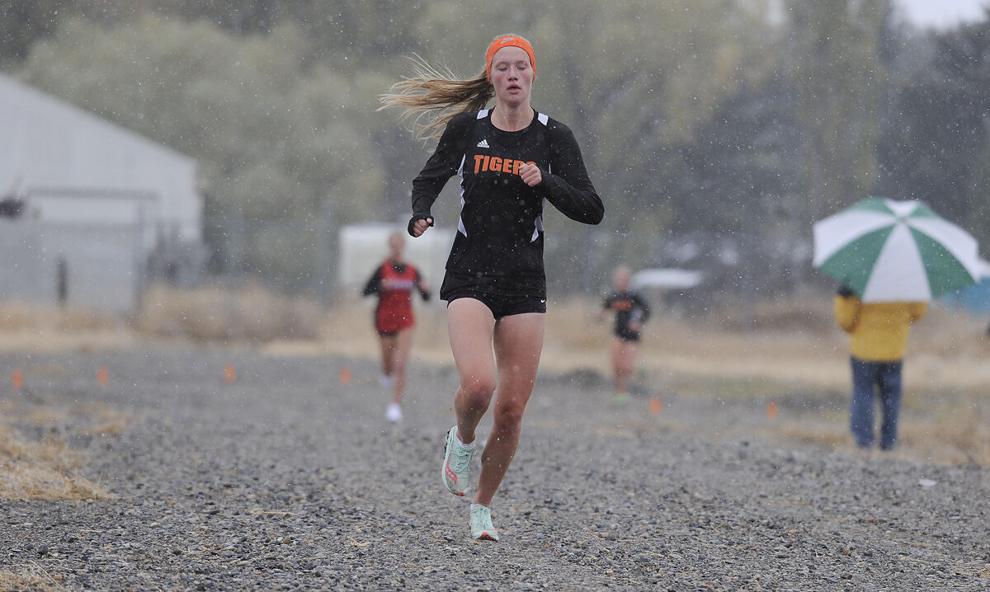 Manhattan girls, boys hoping to bring home hardware
It was cold, windy and snow showers periodically fell throughout the morning. Thus, times were a little higher Saturday for Manhattan in its regular season finale.
The Tigers tuned up for state by hosting the Manhattan Triangular, which included Manhattan Christian and Three Forks.
"The conditions weren't great and I don't think anybody PR'd today," Manhattan coach John Sillitti said. "But a few of our teams had to do runoffs to see who was going to run at state."
Manhattan has annually boasted one of the top cross country programs in the state, and both the boys and girls finished as the state runner up in Class B a year ago. They are, again, expected to be in the mix for championship trophies Oct. 23 at Rebecca Farm in Kalispell.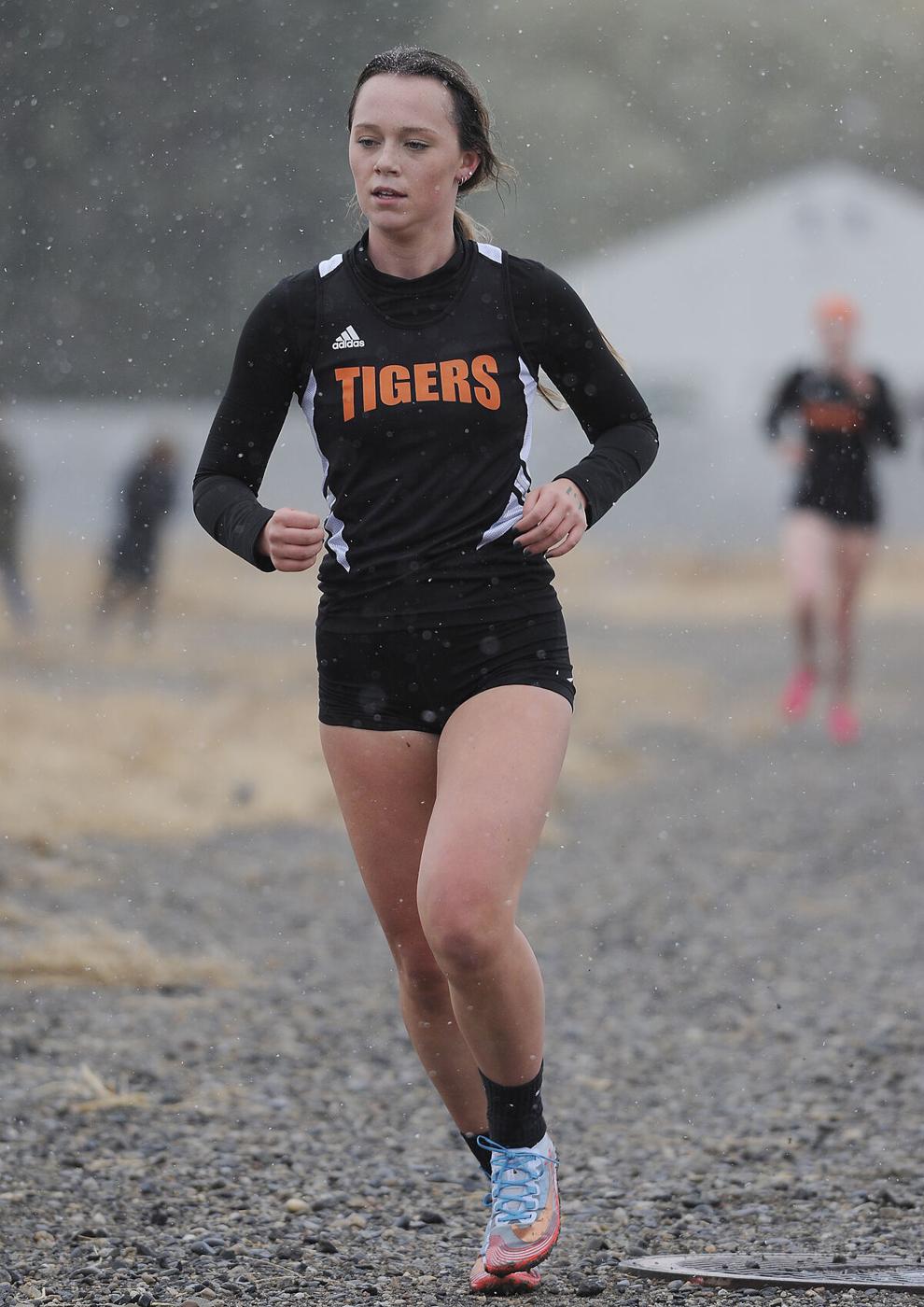 While Townsend's girls, led by Emma Stolte, returned everyone from last year's championship team, Manhattan has beaten them a handful of times this fall, including Oct. 10 at the Rusty Raisland Invitational in Townsend.
"We know Townsend's really good. I think Red Lodge is ranked close, but we've seen them and our depth is just a lot better," said Sillitti. "Encouraging thing from Townsend, our race in Townsend, is that we had seven of our varsity girls and our top JV runner all finish with faster times than Townsend's number four. That's a good sign, just our depth."
According to athletic.net, Manhattan has 11 runners ranked in the top 48 in Class B. And, the team's No. 8 runner was ranked 24th. Thus, the Tigers have the fire power and depth to dethrone Townsend.
"It's nice (to know) if somebody doesn't have their best day we feel like we have other girls that will step up," said Sillitti.
Hallie Hemenway has led the way for the Tigers, winning the final three regular season meets. The senior posted a time of 20:31.9 at the triangular, but broke the school record with a time of 19:49 in Townsend.
At the triangular, Manhattan boasted seven of the top nine finishers with Madeline Severson (22:02.1) placing third and Deanna Yung fifth (22:34.8).
While Eureka appears to be the heavy favorite on the boys' side, Sillitti expects Manhattan to be in the hunt.
"I wouldn't rule our boys out, but some other teams have made some moves in the last couple weeks that there's no guarantee for a trophy," he said. "We could fall to fourth or fifth or something, but I think if we're healthy and we get through this week OK, the boys have a decent shot at a trophy somewhere."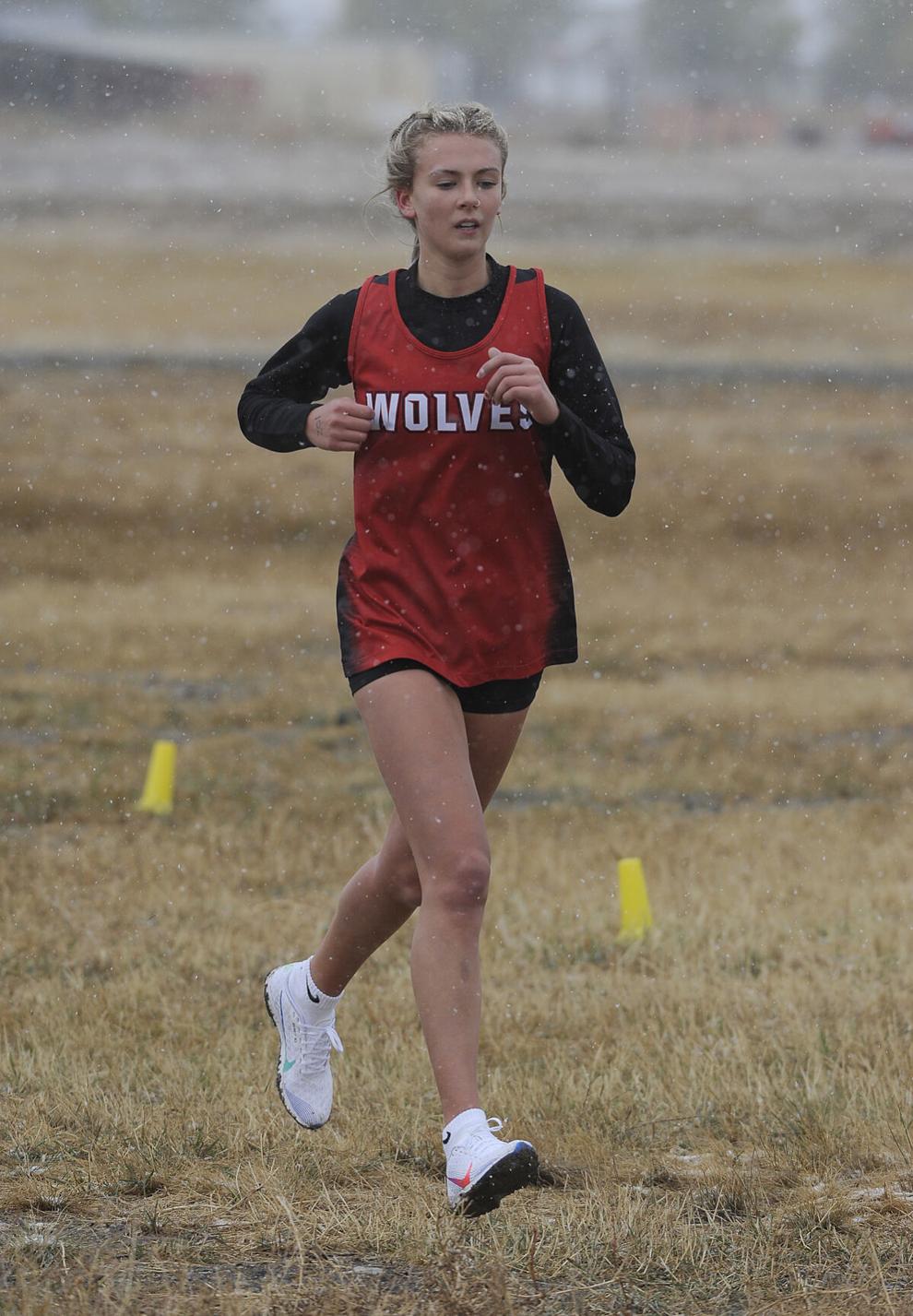 Luke Meeker led the Tigers at the triangular with a time of 18:35.1, but senior Wyatt Barney and sophomore Payden Cantalupo did not compete.
"We were missing three of our runners that finished in the top five a week ago," noted Sillitti. "I do think that if we can kind of recover from all of this and come in healthy at state our boys have a shot at a trophy as well."
Three Forks will likely be out of contention for a trophy, but head coach Tara Forsberg feels a couple of runners could earn All-State honors.
"Jayden Woodland for the girls is currently ranked in the top 10 for Class B girls. Kodee Kolberg could get top 15 if she's having a good run," she said. "Our boys are mostly ranked in the 20's so they will have to really fight for top 15, but I believe they can."
Woodland finished second at the trianglar with a time of 21:58.5 and has been a top five placer in most meets this season. Kolberg finished 10th in 23:40.9.
(at Manhattan High School)
Team scores: Manhattan Christian 26, Manhattan 44, Three Forks 50.
Individuals: Riley Schott, MC, 17:06.9; Matt Kenney, MC, 17:39.8; Oren Arthun, MC, 18:08.4; Luke Meeker, Man, 18:35.1; Layne Vanderby, Man, 18:39.8; Bryon Fanning, TF, 18:53.9; William Rolando, Man, 18:56.8; Cullen Visser, MC, 19:08.4; Beau Johnston, TF, 19:23.1; Garrett Golding, TF, 19:27.1; Anthony Deriana, TF, 19:28.4; Nathan Adams, MC, 19:29.2; Gus Stewart, Man, 19:38.8; Gabe Hungerford, TF, 19:42.5; Hunter Perrin, Man, 19:48.5; Devon Potts, TF, 20:12.7; Jaron Berg, TF, 10:19.7; Cody Hager, MC, 20:44.5; Ryan Schott, MC, 22:10.7; Rhett Violett, TF, 22:30.6; Noah Hegar, TF, 23:43.7; Zane Haroldson, Man, 23:54.1; Billy Hamilton, Man, 24:45.8; Asher Lehr, TF, 25:09.4.
Team scores: Manhattan 22, Manhattan Christian 56, Three Forks 58.
individuals: Hallie Hemenway, Man, 20:31.9; Jayden Woodland, TF, 21:58.5; Madeline Severson, Man, 22:02.1; Ava Bellach, MC, 22:04.3; Deanna Yung, Man, 22:34.8; Miah Fenno, Man, 23:03.8; Kit Wiersema, Man, 23:05.3; Saige Duffin, Man, 23:10.5; Rylee Cameron, Man, 23:26.7; Kodee Kolberg, TF, 23:40.9; Kiersten Van Kirk, MC. 24:02.7; Julia Fowler, Man, 24:06.9; Mali Kamerman, MC, 24:10.3; Ryen Gipe, Man, 24:20.5; Lily Jones, TF, 25:24.5; Malaya Kamerman, MC, 25:31.3; Katelyn Van Kirk, MC, 25:1.7; Zandra Potts, TF, 26:37.6; Ari Judd, TF, 27:34.2; Kyanna Hoekema, MC, 27:43.6; Rylee Dell, TF, 27:50.1; Kinzee Howie, TF, 27:53.1; Rachel Bos, MC, 32:31.1; Kaitln Scott, MC, 38:41.1.