In what served as a competitive preview of the state meet later this month, local harriers posted encouraging times Thursday in Helena.
Runners from around the state competed in the Capital City 7 of 7 Meet at Bill Roberts Golf Course. Nearly 50 schools were represented throughout four classifications.
The meet features a format where the No. 7 runners race against other school's No. 7's and continues until the No. 1 runners wrap up the event. Boys and girls run together, which makes for a crowded course but an exciting race.
Missoula Sentinel and Missoula Hellgate tied for the boys' title with each scoring 18 points. Bozeman was second with 28, while Great Falls was third with 32.
Manhattan Christian was the top local team, placing 10th with 95 points. Oren Arthun led the way for the Eagles, finishing 8th in the No. 1 race with a time of 16:43.63.
Nathan Adams was 15th in the No. 2 race with a time of 17:41.16, while the team's other five runners each finished in the 18-minute range.
"We did great," Eagles head coach Nate TeSlaa said. "It was a great race and the kids had some good times. It was a good warm up for state."
Christian's girls were 25th in the team standings with 161 points. Jadyn VanDyken posted the team's top time, finishing 9th in the No. 2 race in 20:51.10.
Belgrade's boys placed 13th with 108 points, while Three Forks and Manhattan were 15th and 23rd, respectively.
Sam Nash led all local runners after placing 7th in the No. 1 race with a time of 16:34.93 for Belgrade. Teammate's Kaden Lookhart (17:45.52) and Brodie Tirrell (17:55.95) posted sub-18 minute times in the No. 2 and 3 races.
The Panthers' girls were 18th with a score of 142. Hannah Giese was 25th in the No. 1 race with a time of 21:16.21.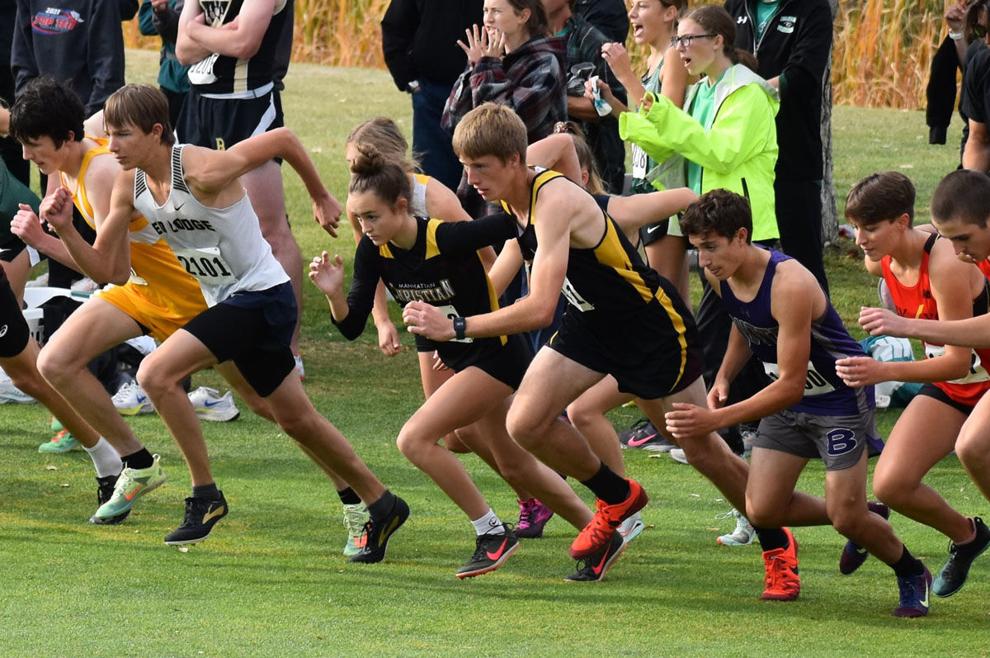 Three Forks' boys were led by the effort of Beau Johnston and Garrett Golding, who finished 28th and 19th in the No. 2 and 1 races, respectively. Johnston recorded a time of 18:17.18, while Golding finished in 18:10.81.
"Our boys had many PRs and as a team ran top for Class B," noted Three Forks head coach Tara Forsberg. "Our ladies did great with Bella Fink running a huge PR coming off illness last week."
Fink was 10th in the No. 5 race with a time of 22:16.31 to help the Wolves place 20th with 146 points. The team was led by Jayden Woodland, who was 16th in the No. 1 race in 20:19.95.
Manhattan's boys were led by Payden Cantalupo, who was 30th in the No. 1 race in 18:33.28. Carson Blanchard and Bryce Anderson also finished under the 19-minute mark.
The Tigers' girls were 13th with 106 points led by Ella Miller, who was 13th in the No. 1 race in 20:10.63.
"Ella Miller had a pretty huge breakthrough," Manhattan head coach John Sillitti said. "I think the format was good for her because she was ready to try coming out a little faster and then just compete. She ran a 50-plus second PR and is now flirting with breaking the 20 minute mark."
Sillitti also noted the effort of Rylee Cameron, who is coming off an injury. She placed 9th in the No. 5 race with a time of 21:53.85.
"Rylee Cameron had a lifetime best in her race," Sillitti said. "She's spent the last couple of years basically tying her PR from her freshman year, so it was good for her to break through that, and she did it on a tougher course."
Belgrade returns to action Thursday at a meet hosted by Bozeman, while Manhattan, Manhattan Christian and Three Forks wrap up the regular season Saturday in Townsend.