Make room in the trophy case, Manhattan Christian. Because the cross-country teams have brought home not one, but two state championship trophies to display.
The Eagles swept the Class C titles at the 57th Annual MHSA State Cross Country Championships, and the boys set a new classification record by winning their fifth consecutive championship at Rebecca Farm.
Led by a runner up finish from senior Riley Schott, and six harriers in the top seven, Christian won the crown with 9 points. Richey-Lambert, which boasted the state champion in Samuel Smith, was second with 24.
"That's what it was all about today," Schott, who recorded a time of 17:28.43, said. "We just wanted to go out and do something great for the team."
The Eagles had been tied with Kremlin-Gildford and Seeley-Swan with four titles in a row, but it was clear that tie would be broken with four All-State harriers returning this fall, including Schott. The team lived up to the expectations and boasted six all-staters by the time the bus rolled out of Kalispell Saturday afternoon.
"We just had goals and we worked hard for the whole season, and it just paid off today," Eagles coach Nate TeSlaa said. "Just exciting and just a great bunch of kids. Those four seniors, they all-stated last year, and they really helped the kids this year. A good bunch of leaders those four boys."
Seniors Devan Walhof (18:44.97), Matt Kenney (19:10.56) and Cullen Visser (19:30.95) finished fourth, fifth and seventh, respectively.
"It's been just so special to do it with these guys, and we've had a great group of guys to do it with every year," said Schott. "We've all known each other since kindergarten or whatever … and as a group we were just able to achieve that level of dominance."
The Eagles also received plenty of help from a pair of underclassmen as freshman Oren Arthun finished third in 18:28.47 and sophomore Nathan Adams was sixth in 19:13.80. Junior Cody Hager was 25th in 20:55.84.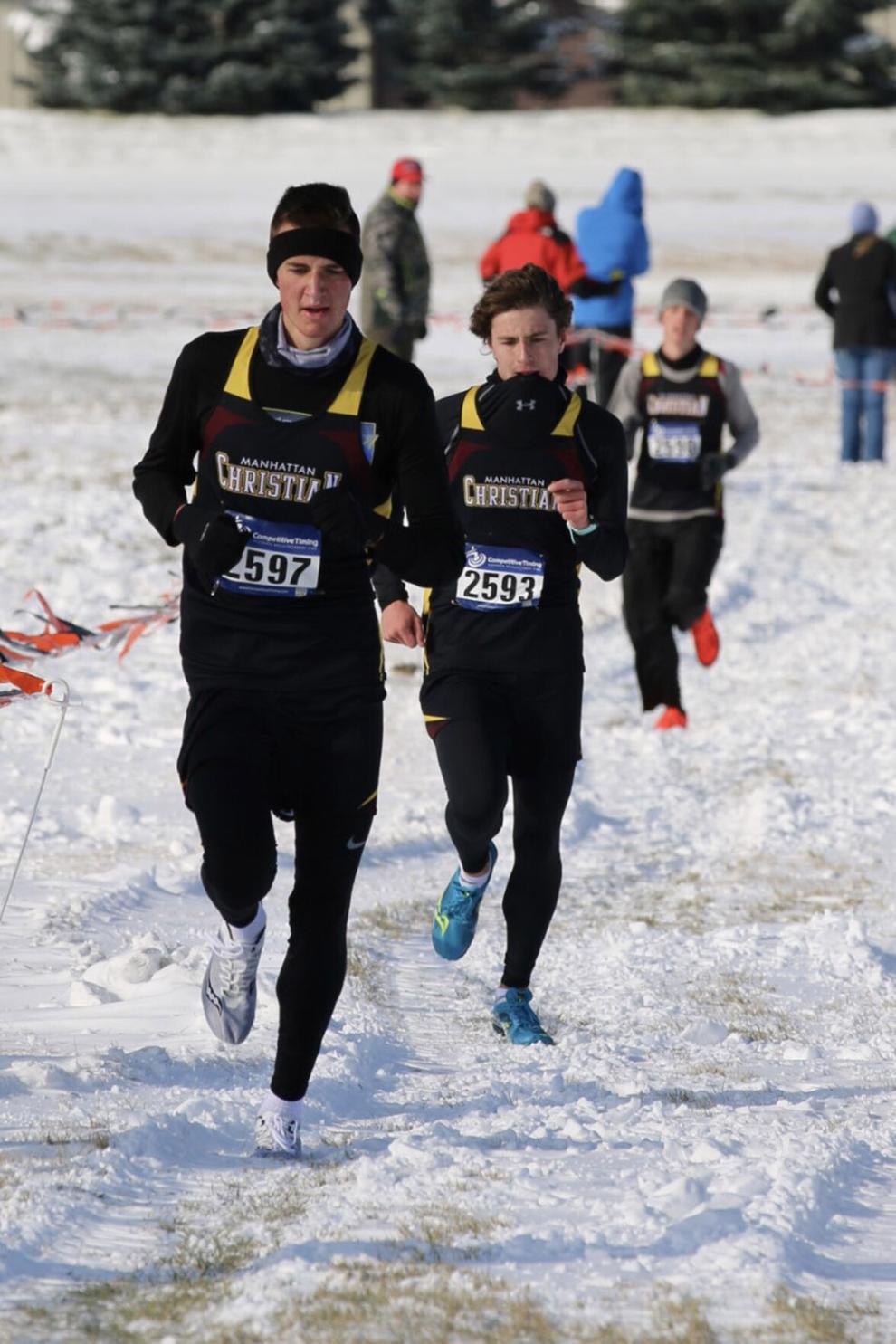 For Schott, it was the culmination of a stellar career. He won the individual championship as a sophomore and finished third a year ago. And, he has no regrets after placing second.
"I think I'd be willing to say that I don't think I won that (championship) because I was the fastest. But I won that because I was mentally very tough on that day," said Schott. "I was able to see the opportunity to get the win, while others were kind of faltering. I'm thrilled with how I've done these last two years."
Smith, who had finished as the state runner up in each of the past two seasons, posted a winning time of 17:04.18. He built a 15 second lead on Schott in the first mile and stretched it to 24 en route to victory.
"Sam had a good start," said Schott. "I was with him for about maybe 400 or 500 meters and he was just gone, and I never really got back up to him for the rest of the race."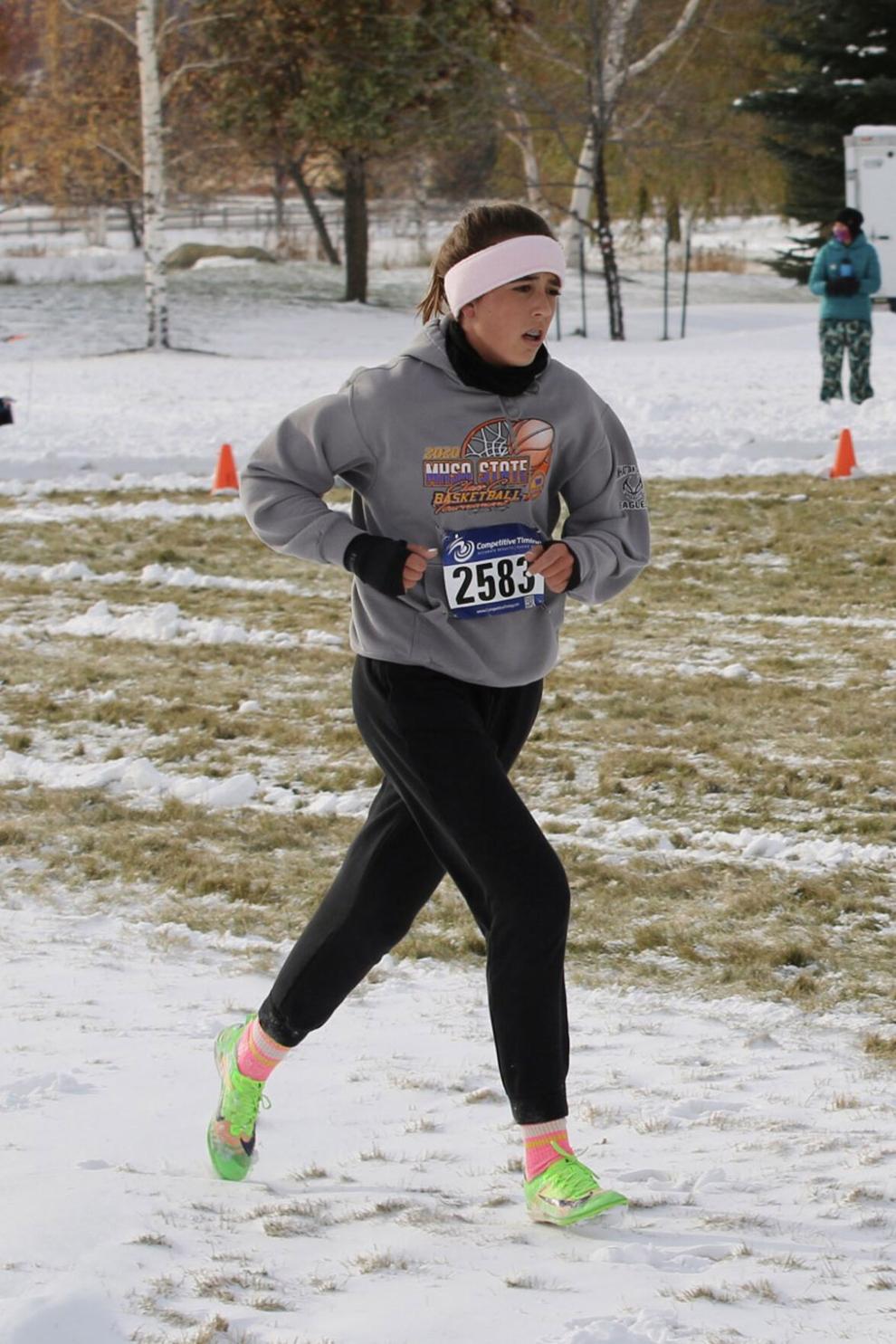 While there was little doubt for the boys, there was plenty of drama for the girls. Christian edged defending state champion Seeley-Swan, 29-30, to win the championship.
"We kind of thought that we might get a trophy for the girls," said TeSlaa. "But man they showed up and they ran hard today. I was so very proud of all of them."
Belt-Centerville's Lindsey Paulson easily beat Plentywood's Annie Kaul by over a minute for the individual title. Then Christian's Ava Bellach sprinted across the finish line to place third in 23:16.32.
"Once I crossed the finish line I turned around and there was a ton of girls coming in really quick," said Bellach. "And already I was counting, I was making sure that we could at least get second. But we got first. I was so happy."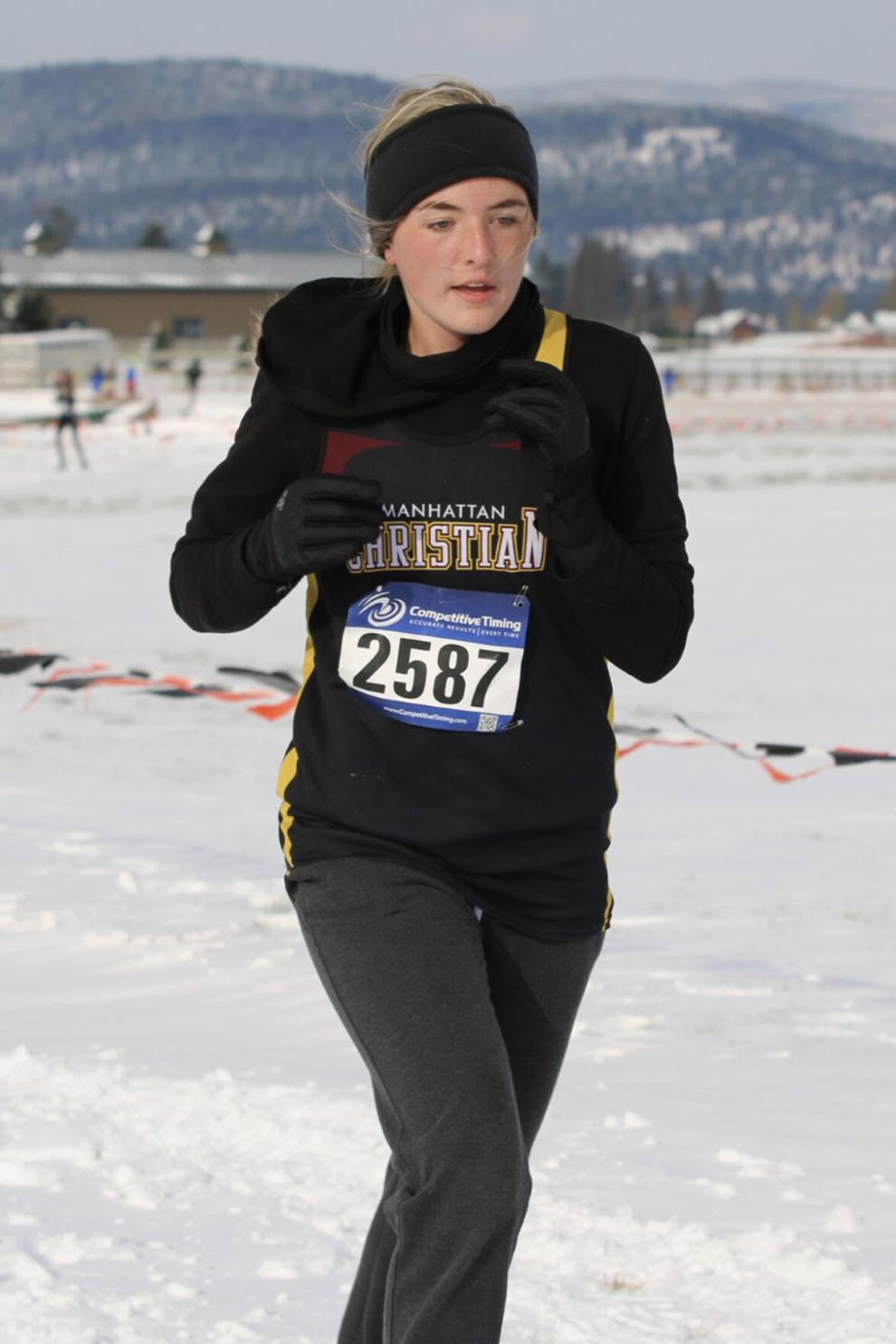 The Eagles secured the state championship — the program's first since 2001 — when Mali Kamerman placed 11th and Kiersten Van Kirk 15th with times of 24:06.76 and 24:35.77, respectively.
"It was great. They ran a good race," said TeSlaa. "It was really cold, but they all did so well."
Malaya Kamerman earned a top 25 finish after placing 23rd in 26:02.96, while Katelyn Van Kirk (27:53:57) and Kyanna Hoekema (28:44.14) rounded out the team.
None of Christian's runners who competed at state are seniors, thus expectations are already high for next year.
"I think we're going to do good. We're probably all going to train over the summer and make sure we get going," said Bellach. "But I think it should be a good year next year too."
(at Rebecca Farm, Kalispell)
Team scores: Manhattan Christian 9, Richey-Lambert 24, Belt/Centerville 37, Drummond 65, Scobey 68, Darby 75, Twin Bridges 95, Ennis 103, Culbertson 115, Heart Butte 145, Melstone 154, Fromberg 219.
Top 15 Individuals: Samuel Smith, R-L, 17:04.18; Riley Schott, MC, 17:28.43; Oren Arthun, MC, 18:28.47; Devan Walhof, MC, 18:44.97; Matt Kenney, MC, 19:10.56; Nathan Adams, MC, 19:13.80; Cullen Visser, MC, 19:30.95; Asa Jassen, B/C, 19:33.83; Gavyn Bickel, Roberts, 19:45.42; Nicholas Ellerton, R-L, 19:58.04; Matthew Ellerton, R-L, 19:58.17; Clayton Jassen, B/C, 20:00.67; Scott Parke, Drum, 20:05.63; Morgan Hendrickson, TB, 20:13.13.
Team scores: Manhattan Christian 29, Seeley-Swan 30, Westby-Grenora 34; Culbertson 54, Drummond 62, Belt/Centerville 64, Scobey 74, Plentywood 93, Park City 103, Sunburst 128, Powder River 130, Fairview 132, Whitewater 150, Circle 178, Dodson 185.
Top 15 Individuals: Lindsey Paulson, B-C, 20:50.75; Annie Kaul, Plent, 21:51.68; Ava Bellach, MC, 23:16.32; Mia Handran, Sco, 23:33.81; Elizabeth Field, W-G, 23:35.38; Sariah Maughan, S-S, 23:36.91; Sayler Stewart, W-G, 23:47.43; Emily Maughn, S-S, 23:38.88; Maddie Yakos, Drum, 23:51.39; Allie Dale, TB, 24:01.49; Mali Kamerman, MC, 24:06.76; Gracie Yakos, Drum, 24:08.72; Kayli Olson, Cul, 24:21.56; Abigail Hoffman, Park City, 24:32.70; Kiersten Van Kirk, MC, 24:35.77.