MANHATTAN — In his own admission, it wasn't a good throw.
Caden Holgate had plenty of time in the pocket, reared back and let the ball fly. The ensuing "duck" was short, but Corban Johnson came back to make the catch and then beat a pair of defenders to the end zone for a 52-yard score.
It was the last of six touchdowns Holgate had a hand in Saturday afternoon as Manhattan routed Malta, 50-0, in the Class B quarterfinals.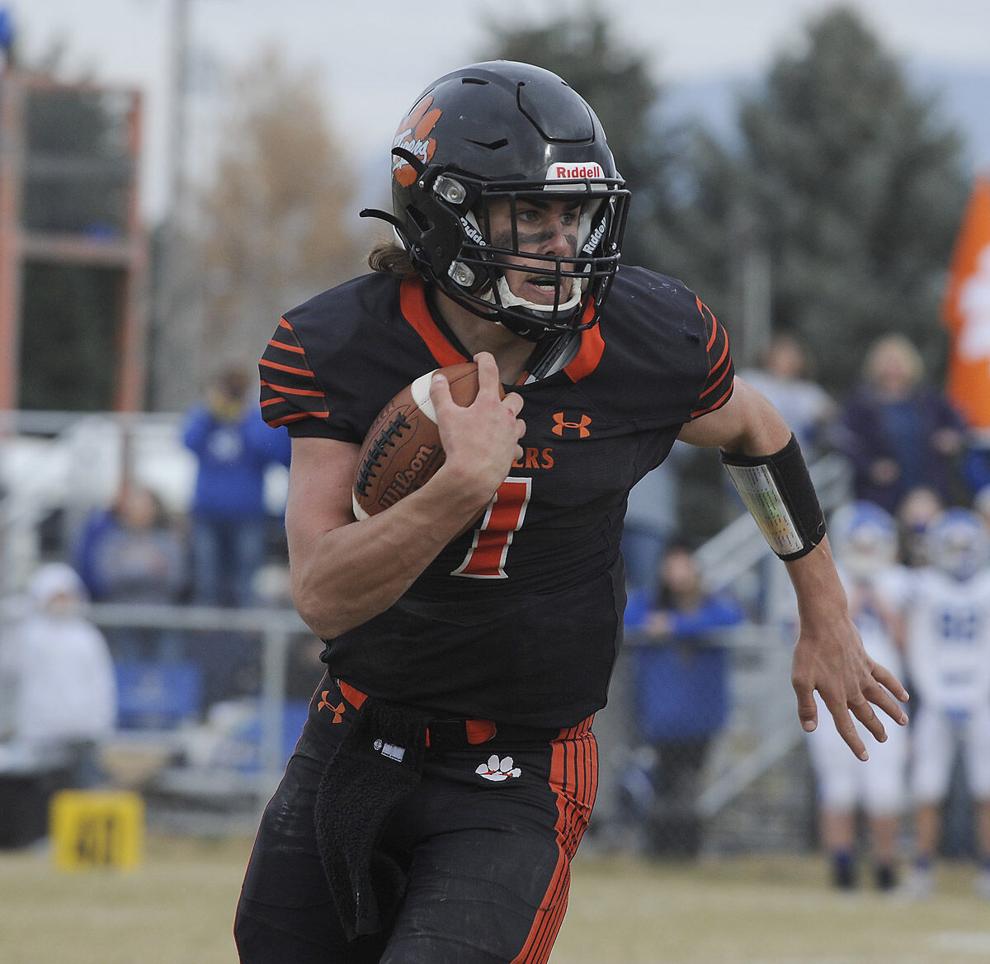 "He had a great week (of practice)," Manhattan coach Chris Grabowska said. "He's been consistent all year and he just continues to do a great for us."
Holgate completed 10 of 13 passes for 142 yards and four scores, and rushed for another 31 yards and two TDs. As he has all season, the senior shined under center.
"He's a dynamic quarterback," Johnson said. "He's always looking to run the ball, make good throws. He's something else and a quarterback we haven't had at Manhattan in a while, and we're taking full advantage of it."
Led by Holgate, the Tigers (10-0) advanced to the semifinals for the second consecutive season and will host Glasgow next Saturday. The Scotties defeated Columbus 46-0 in other quarterfinal action.
Having already hosted two playoff games, the team is looking forward to the third.
"I love being in front of the home fans," Holgate said. "It's great having that support. Love playing on the home field."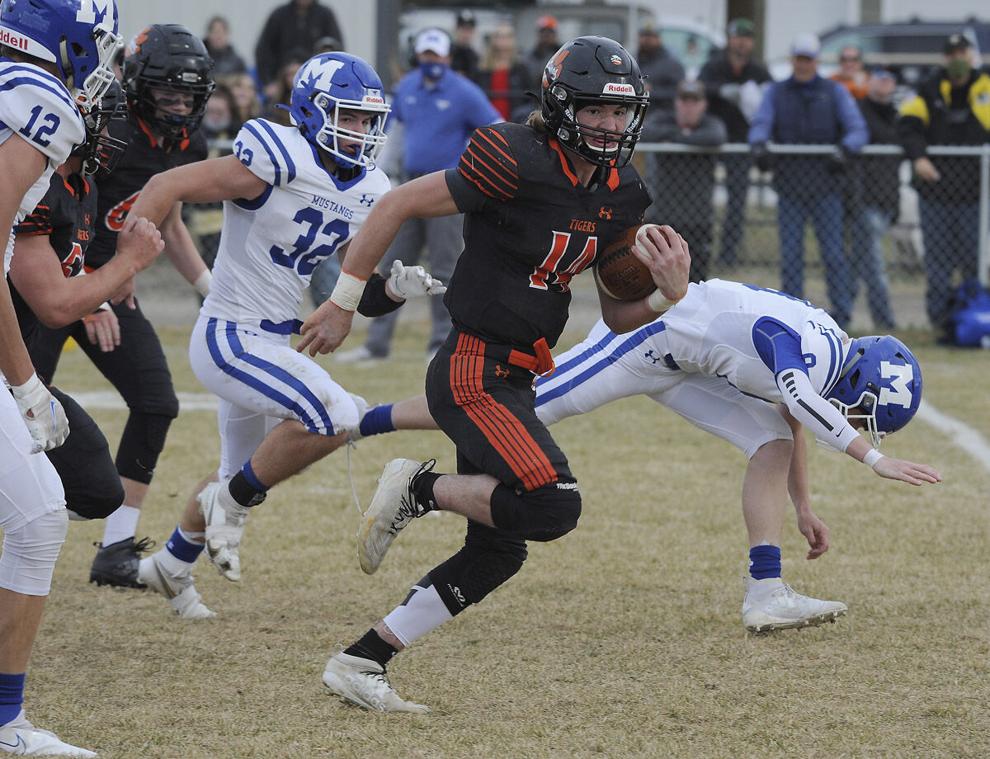 After Malta had rushed for more than 300 yards in a first round victory against Bigfork, Grabowska knew containing the ground game would be key to Manhattan's success. That got a lot easier on the third play of the game when the Mustangs' Cash Salsbery injured his right knee after picking up a first down on a seven-yard run.
Quarterback Kooper Oxarart also left the game for a series late in the first quarter after being injured on defense. While the senior returned, Salsbery did not, and Malta was unable to generate the success it had against Bigfork.
"They're a great running team. They have a big offensive line, a couple good backs, a good quarterback that commands the offense, and we just had to key on their run," said Grabowska. "And we had a great week of just reading our keys, getting good reads, and shutting that run game down."
After Salsbery had gained that first down, the Tigers forced a punt three plays later. The offense then marched 67 yards in 15 plays to take the lead on a 6-yard run by Holgate. Gabriel Delgatty caught the two-point conversion to make it 8-0.
Malta fumbled on its ensuing possession and the Tigers recovered inside the 25. Two plays later, Tate Bowler caught a 20-yard touchdown pass, and then Johnson hauled in the two-point conversion to make it 16-0.
Manhattan scored 28 points in the second quarter, including a 3-yard run by Holgate and touchdown receptions by Wyatt Jones and Delgatty. Holgate's score was set up on a botched snap by Malta on a punt, while Jones' followed a fumble recovery inside Malta's five.
Despite missing a couple of starters in the trenches due to Covid quarantine, the Tigers controlled both sides of the line of scrimmage.
"Once again we had guys step up big," said Holgate. "Our D-line, we had like two or three guys that don't usually play there making huge plays and giving us great field position. Helped out a lot."
Manhattan turned the ball over on downs on its first possession of the second half. But on the first play of the fourth quarter, Holgate connected with Johnson on the longest pass play of the game to stretch the lead to 43-0.
Isaac Richardson capped the scoring on Malta's next offensive play when he picked off Oxarart and returned it 40 yards for a score. That cemented the team's fifth shutout of the season and second in the playoffs.
It was also the second consecutive game that Manhattan scored 50 or more points, and the fourth time this season.
"I think it was just a good game plan, taking what the defense gives us," Johnson said of the offensive attack. "Our O-line just really playing hard up front and giving Caden lots of time and he makes great decisions."
Malta                            0    0  0    0  -   0
Manhattan                   8  28  0  14  -  50
Man - Caden Holgate 6 run (Gabriel Delgattty pass from Holgate)
Man - Tate Bowler 20 pass from Holgate (Corban Johnson pass from Holgate)
Man - Holgate 3 run (run failed)
Man - Wyatt Jones 5 pass from Holgate (Drew Deming kick)
Man - Delgattty 5 pass from Holgate (Deming kick)
Man - Johnson 52 pass from Holgate (Deming kick)
Man - Isaac Richardson 40 interception return (Deming kick)