BOZEMAN — For the third consecutive year Manhattan Christian will be taking home a trophy from the state tournament. Now it's just a matter of which one.
The Eagles posted a pair of victories Thursday at the state Class C tournament to advance to the undefeated semifinal. They'll play Plentywood at 6 p.m. Friday with the winner advancing to the championship match.
"It's going to be tough. They're a very good team. They work really hard and they're smart hitters and we've seen that," Christian head coach Hannah Van Dyk said. "White Sulphur Springs is a smart team (too), but this is going to be a battle I think tomorrow."
Christian (23-2), which extended its win streak to 21, began the day with a 25-14, 25-12, 21-25, 25-17 first round victory against Simms, and then swept Froid-Medicine Lake in the quarterfinals 25-16, 25-7, 25-13.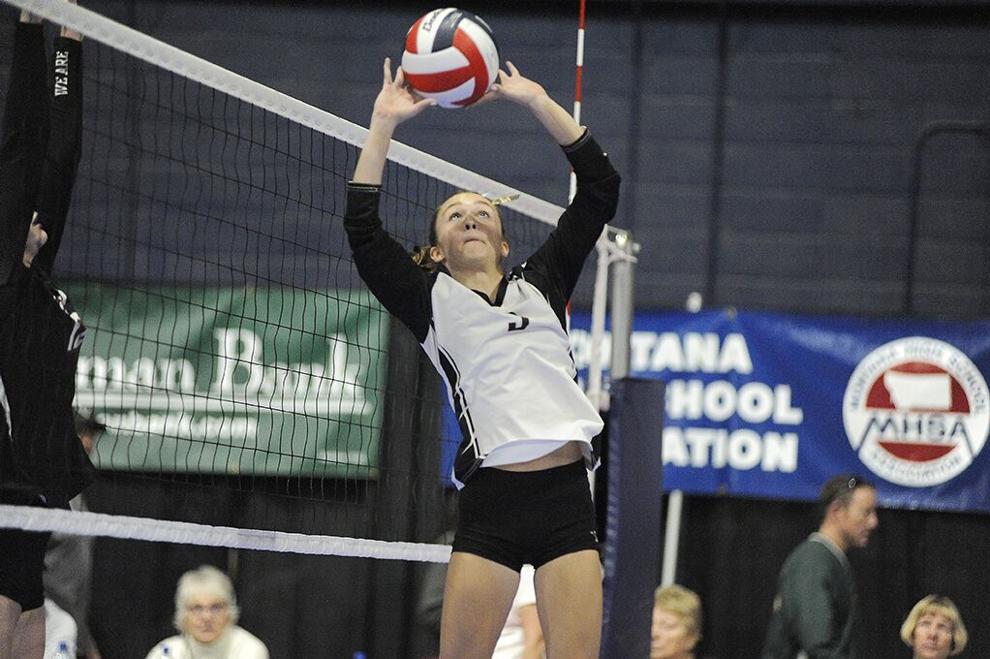 With the wins the Eagles are guaranteed a top three finish. They won the championship in 2019 and finished as the state runner up a year ago.
"We feel pretty good," sophomore outside hitter Katelyn Van Kirk said of where the team is positioned. "We just want to keep it controlled and play our best game."
The quarterfinal opponent was a bit of a surprise as Froid-Medicine Lake upset defending state champion Bridger in the first round. Bridger defeated the Eagles in last year's state championship after losing to Christian in 2019 finale.
"We definitely wanted to play them again just to see how we matched up with them again," said Van Kirk. "We wanted to beat them again since we didn't last year."
The Eagles scored the first seven points of the match against Froid-Medicine Lake and never looked back. Katelyn Van Kirk sparked it with a six-point service run, while sister Kiersten added a long run in the second set.
Christian finished with nine aces in the match and never allowed the Redhawks to get anything going offensively. Froid-Medicine Lake mustered just five kills.
Kiersten Van Kirk tallied a match-high 13 kills, 13 assists and five aces, while Jadyn VanDyken dished out 17 assists and had 10 digs.
Manhattan Christian 3, Simms 1
Christian began the tournament with what appeared would be a quick three-set sweep after cruising to victory in the first two sets. The Eagles only trailed briefly early in the second, but pulled away thanks to an eight-point service run by Kiersten Van Kirk to turn a one-point deficit into a 12-5 lead.
"First two sets we played very well," said Van Dyk. "We executed the game plan very well, we served very tough and that is something that this team … when we serve well we are hard to beat because they serve very well."
Kiersten Van Kirk finished with four of the team's six aces, and the Eagles' serving kept Simms out of system early in the match.
But Christian became mistake-prone in the third set and trailed by as much as much as eight, 18-10. While the Eagles managed to get within 23-21 the set came to an end on a service error followed by a hitting error.
"We did not start that set serving well and then we just had to play defense, and then we're not ready mentally to have the ball hit at us," said Van Dyk. "Simms is a great team, they're at the state tournament. I think my girls were just a little bit, 'Well, we got the first two (sets) out of the way,' and they relaxed a little bit."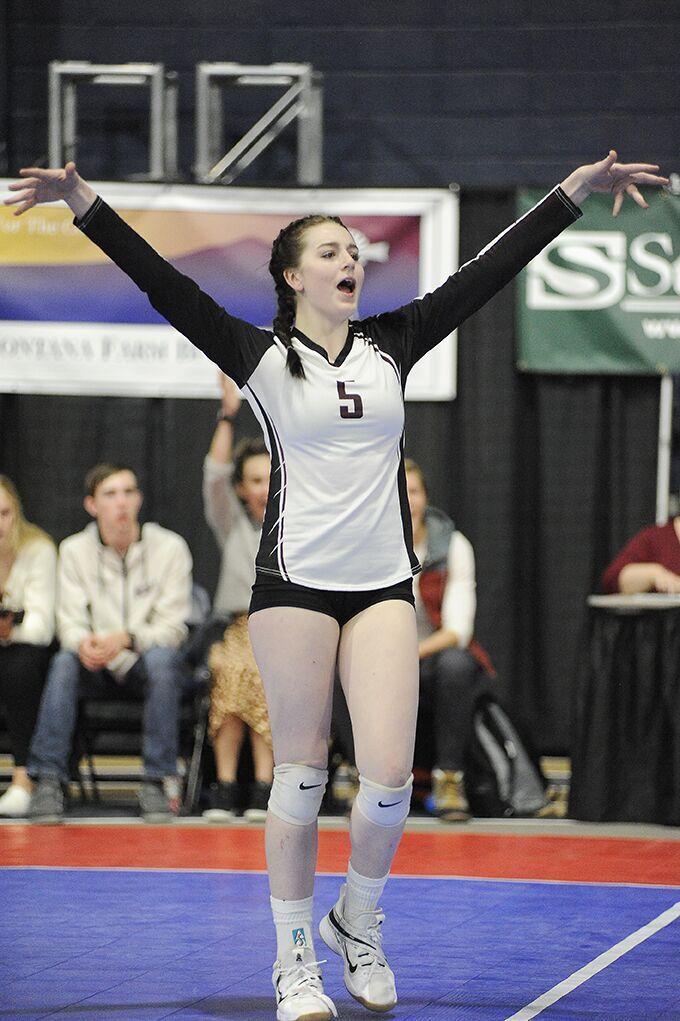 Christian bounced back in the fourth set and overcame an early deficit to build a five-point lead, 9-4. The Eagles pulled away midway through the set and Katelyn Van Kirk eventually capped the match with three straight kills.
"That fourth set was much more what I expected the whole match to be is more of a battle," said Van Dyk. "My seniors really stepped up. I thought that Hope Kenney and Kiersten Van Kirk both had really good matches. They're the only two that have been here at this all-class state tournament."
Last year's State C tournament was held in Malta, thus it was the first time for the majority of the team to experience playing in Brick Breeden Fieldhouse.
Kiersten Van Kirk finished with a match-high 21 kills to go along with 17 assists and three blocks. Katelyn Van Kirk tallied a team-high 12 digs.
(at Brick Breeden Fieldhouse, MSU)
Plentywood def. Roy-Winifred 25-19, 25-18, 25-21.
White Sulphur Springs def. Fort Benton 25-14, 25-20, 28-26.
Manhattan Christian def. Simms 25-14, 25-12, 21-25, 25-17.
Froid-Medicine Lake def. Bridger 18-25, 19-25, 25-20, 25-17, 17-15.
Plentywood def. White Sulphur Springs 25-16, 25-22, 25-19.
Manhattan Christian def. Froid-Medicine Lake 25-16, 25-7, 25-13. 
Manhattan Christian def. Simms 25-14, 25-12, 21-25, 25-17.
SIMMS – Kills: 35 (Taylee Sawyer 12). Digs: 40 (Kodiann Lynn 13). Blocks: 5 (Lynn 5). Aces: 4 (Grace Johnson 3). Assists: 29 (Sawyer 15, Kenzie Allen 12).
MANHATTAN CHRISTIAN (22-2) - Kills: 46 (Kiersten Van Kirk 21). Digs: 46 (Katelyn Van Kirk 12). Blocks: 7 (Ki. Van Kirk 3). Aces: 6 (Ki. Van Kirk 4). Assists: 42 (Jadyn VanDyken 21, Ki. Van Kirk 17).
Manhattan Christian def. Froid-Medicine Lake 25-16, 25-7, 25-13.
FROID-MEDICINE LAKE – Kills: 5 (Dasani Nesbit 4). Digs: 19 (Aleah Johnson 6). Blocks: 2 (Baylee Davidson 1, Nesbit 1). Aces: 3 (Mara Salvenold 2). Asssits: 5 (Meg Ator 3).
MANHATTAN CHRISTIAN (23-2) - Kills: 35 (Kiersten Van Kirk 13, Ava Bellach 7). Digs: 44 (Jadyn VanDyken 10, Hope Kenney 10). Blocks: 4.5 (Van Kirk 2). Aces: 9 (Van Kirk 5, Bellach 2). Asssits: 31 (VanDyken 17, Van Kirk 13).