Manhattan Christian firmly retained its perch atop Class C Saturday at the 58th Annual MHSA Cross Country Championships.
The boys cruised to a sixth straight state championship, while the girls successfully defended last year's unexpected title. Thus, there was plenty to celebrate afterwards at the University of Montana Golf Course.
"It feels great. It's great to have the culmination end with a state championship," Eagles head coach Nate TeSlaa said. "I'm just super proud of the boys and all that they've accomplished."
Christian's boys had three of the top four finishers en route to finishing with an impressive eight points. The girls won with a score of 47 after just one runner placed in the top 15.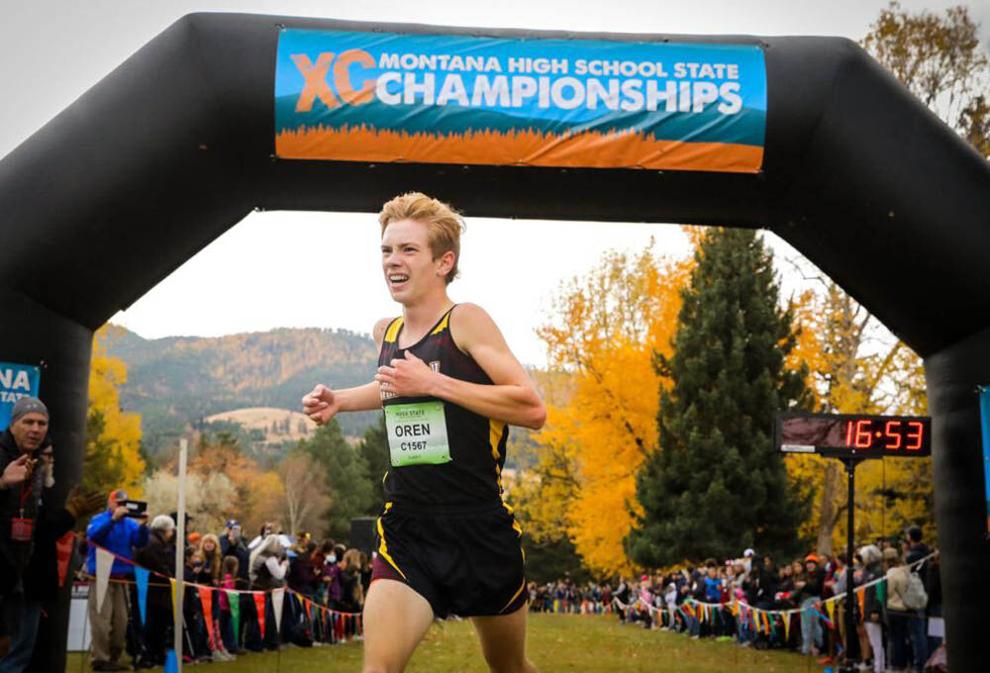 "We just had a goal and we knew what we had to do," TeSlaa said. "We knew who we had to beat, we knew that we had to run a good race, and they came in focused and came in prepared."
For the third time in four years Christian boasted the individual champion after Oren Arthun won the title. The sophomore, who finished third a year ago, maintained a 5:27 pace en route to winning in 16:52.55. In the process he set a new Class C record (previously held by the Eagles' Ben Morrison at 16:52.99).
"It feels pretty surreal, but the team aspect of it is the best thing because you get to see them improve and run their hardest, which is what I thought was a great thing," said Arthun. "The individual aspect, I'm happy. Because being a state champ is pretty cool."
Christian's Riley Schott won the title as a sophomore in 2018 and then Morrison claimed the title as a senior a year later. While Arthun didn't have an opportunity to run with Morrison, he noted Schott's influence.
"Riley was a good friend. He impacted me to just run hard and just do my best. Honestly just go with what I got," said Arthun. "Just give it your all. That's the biggest thing he gave me."
Nathan Adams placed third with a time of 17:50.40, while Shaphan Hubner was third in 18:02.87. In Class C the top three finishers for each team count toward the team score.
"Nathan and Shaphan with their performances just elevated us to that (championship) level, and getting second and third, I think those two really performed well today," said TeSlaa. "And honestly everyone on the team stepped up and did something. We had six in the top 15 and they did just such an amazing job."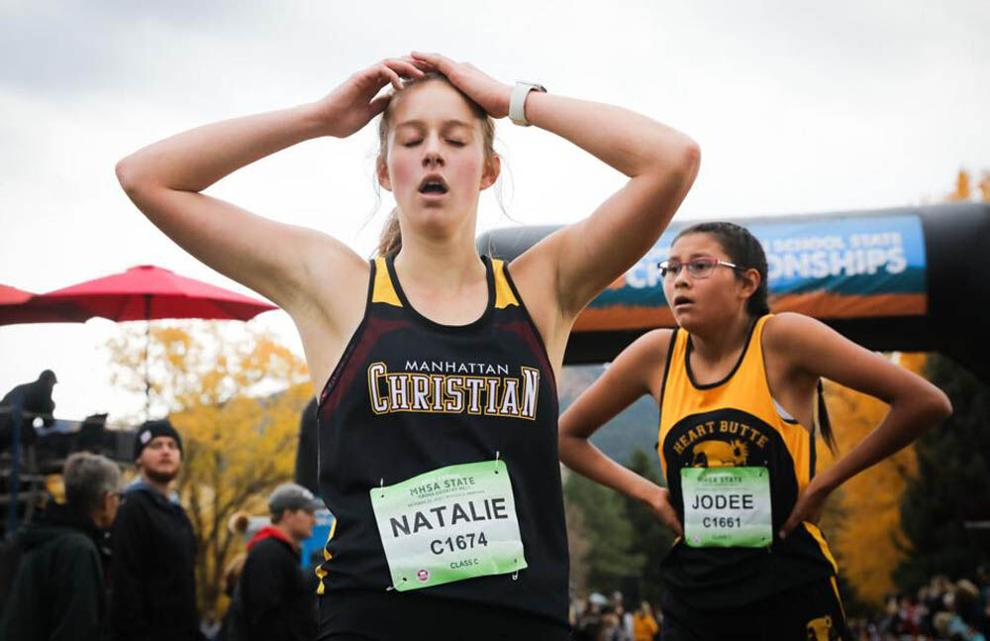 The Eagles other runners were Austin Kriebel (9th, 18:32.01), Carter VanDyken (10th, 18:38.40), Cavan Visser (11th, 18:38.84), and Cody Hager (29th, 20:07.99).
"I think that's pretty crazy, I'm not gonna lie," Arthun said of the team placing six in the top 15. "I know that we've done it for so many years … It's just crazy, it's a blessing from God. I think our team is pretty amazing."
Christian becomes the fifth boys program to win six consecutive championships. Only Bozeman (2008-19) and Browning (1974-84) have won more in a row with 12 and 11, respectively.
"We built a program that focuses a lot on the team aspect of it and the community aspect where the kids want to help the team more than it is just the individual accolades," said TeSlaa. "And I think that's a big part of it."
Belt/Centerville placed second with a score of 24, while Richey-Lambert was third with 43.
After edging Seeley-Swan by a point to win the girls title a year ago, there was no such drama this year. The Eagles' top three runners placed in the top 25 to secure a repeat championship.
Newcomers Jadyn VanDyken and Natalie Walhof led the charge. VanDyken placed fourth with a time of 20:05.28, while Natalie Walhof was 21st in 23:08.87.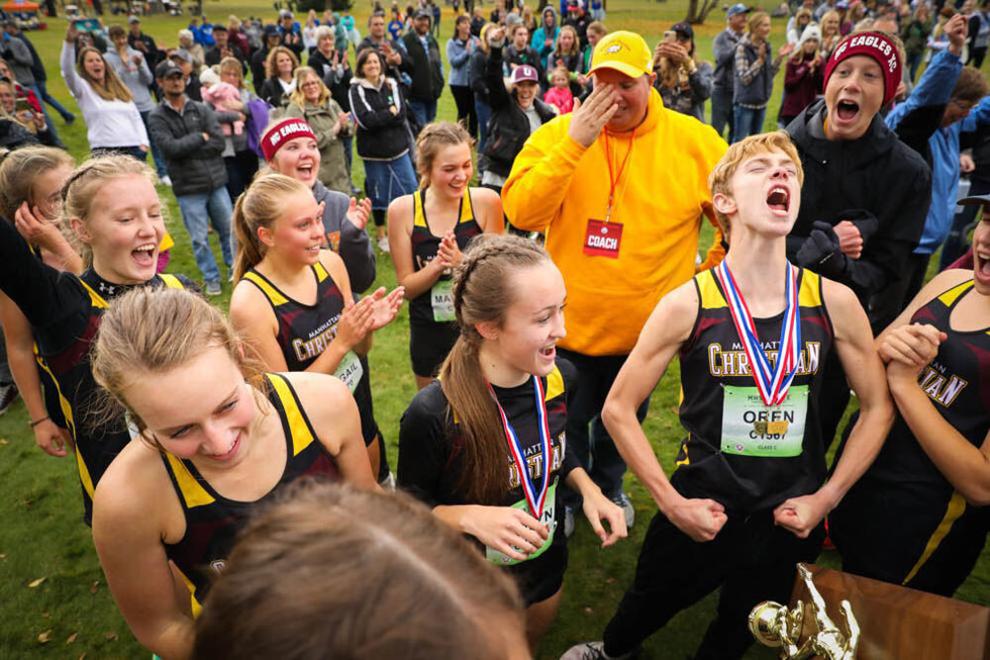 "They're just competitors, and I think when you add people who just like to compete to your team you're always going to be successful," said TeSlaa. "Both of them are hard workers. Jadyn doing both volleyball and cross country and then Natalie just focusing 100 percent on cross country and giving it her all, they both came in and they wanted success. And through their training they showed that they wanted success."
VanDyken, a sophomore, is the volleyball team's starting setter and a standout sprinter on the track team. She had never run cross country before, but decided to give it a try this fall.
"I think just the track season had a lot to do with it," VanDyken said. "I realized how much I like to run and that's something I might want to do in my future, so I decided why not try out cross country."
VanDyken quickly emerged as the team's top runner and broke the school record for a 5K earlier in the season. But she admitted it was a little surprising to place so high at state.
"Coming into the season I didn't really know what to expect," VanDyken said. "But after looking at my rankings and everything I was excited to go into the (state) meet."
Walhof competed in volleyball the past three years before switching to cross country as a senior, and had been the team's No. 3 runner. But she placed ahead of teammate Ava Bellach, who was 22nd in 23:25.45. Bellach finished third at state in 2020.
The Eagles were rounded out by Mali Kamerman (26th, 24:00.92), Isabella Triemstra (36th, 24:40.27), Malaya Kamerman (51st, 25:26.27), and Abigail Leep (82nd, 28:19.43).
Belt/Centerville's Lindsay Paulson successfully defended her individual title en route to winning in 19:00.88, while Culbertson and Park City placed second and third in the team standings with 59 and 66 points, respectively.
"It's really exciting," VanDyken said of winning the team title. "I'm really proud of how our whole team performed. It's been a fun season."
(at University of Montana Golf Course)
Team scores: 1. Manhattan Christian 8, 2. Belt/Centerville 24, 3. Richey-Lambert 43, 4. Ennis 72, 5. Fort Benton 77, 6. Scobey 78, 7. Plentywood 89, 8. West Yellowstone 106, Culbertson 129, 10. Plenty Coups 130, 11. Darby 135, 12. Heart Butte 140, 13. Drummond 145, 14. Dodson 183, 15. Charlo 228, 16. Two Eagle River 237, 17. Lincoln 238, 18. Seeley-Swan 246.
Top 15 individuals (all-state): 1. Oren Arthun, Manhattan Christian, 16:52.55; 2. Asa Jassen, Belt/Centerville, 17:36.08; 3. Nathan Adams, Manhattan Christian, 17:50.40; 4. Shaphan Hubner, Manhattan Christian, 18:02.87; 5. Morgan Hendrickson, Twin Bridges, 18:04.32; 6. Scott Parke, Drummond, 18:15.37; 7. Matthew Ellerton, Richey-Lambert, 18:21.56; 8. Clayton Jassen, Belt/Centerville, 18:26.29; 9. Austin Kriebel, Manhattan Christian, 18:32.01; 10. Carter VanDyken, Manhattan Christian, 18:38.40; 11. Cavan Visser, Manhattan Christian, 18:38.84; 12. Robin James, Richey-Lambert, 18:40.18; 13. Eli Beardsley, Ennis, 18:40.34; 14. Bridger Vogl, Belt/Centerville, 18:46.27; 15. Taylor Hayes, West Yellowstone, 18:49.40.
Team scores: 1. Manhattan Christian 47, 2. Culbertson 59, 3. Park City 66, 4. Scobey and Whitewater 68; 6. Plentywood 69, 7. Westby-Grenora 86; Belt/Centerville 94; 9. Circle 98, 10. Sunburst 108, 11. Ennis 141, 12. Broadus 146; 13. Hearr Butte 147, 14. Richey-Lambert 156, 15. Box Elder 160, 16. Frazer 164, 17. Fairview 192, 18. Fort Benton 208, 19. Two Eagle River 261.
Top 15 individuals (all-state): 1. Lindsey Paulson, Belt/Centerville, 19:00.88; 2. Annie Kaul, Plentywood, 19:56.70; 3. Mya Green, Scobey, 19:59.61; 4. Jadyn VanDyken, Manhattan Christian, 20:05.28; 5. Allie Dale, Twin Bridges, 20:39.53; 6. Emma Poser, Culbertson, 21:33.32; 7. Shelbi Labrie, Whitewater, 21:37.74; 8. Mia Handran, Scobey, 21:37.78; 9. Nikka Nau, Sunburst, 21:44.27; 10. Claire Bucklin, Sunburst, 22:09.30; 11. Elizabeth Field, Westby-Grenora, 22:17.04; 12. Abby Frank, Park City, 22:17.62; 13. Sayler Stewart, Westby-Grenora, 22:19.22; 14. Rachel Rasmussen, Broadus, 22:20.30; 15. Natalie Barta, West Yellowstone, 22:31.64.