MANHATTAN — After Wyatt Jones picked off a pass inside the Three Forks 30 with 5.7 seconds remaining in the first half Friday night, Manhattan head coach Chris Grabowska had two things in mind.
Only one of those would be necessary.
On the next play, and as time expired in the first half, quarterback Austin Devers threw a 25-yard touchdown pass to Jones. That stretched the Tigers' lead to 20-0 at halftime en route to a 26-7 District 5B victory against the Wolves.
"We just saw they were in a certain coverage against the formation that we were in and why not just take a shot here and see what happens," Grabowska said. "Actually we were hopefully going to get the play off before time ran out and if we didn't complete the pass we were going to kick the field goal."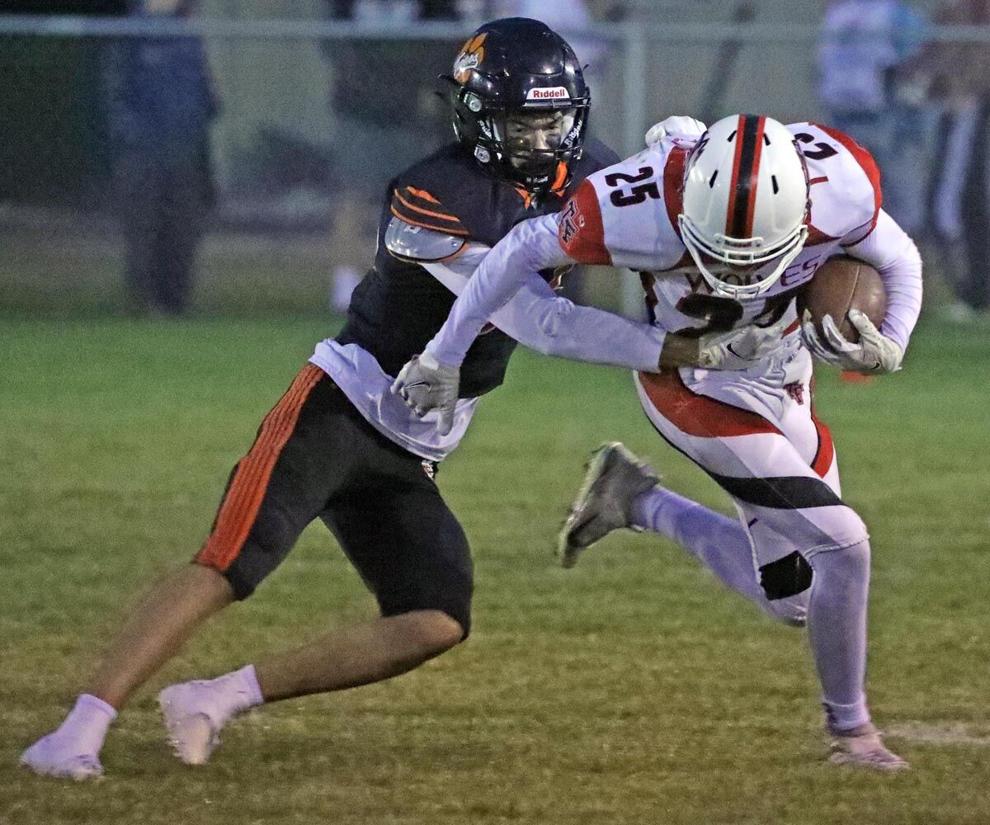 It was a crushing score allowed by Three Forks, which was held out of the end zone until Owen Long threw a 64-yard touchdown pass to Austin Allen with just 60 seconds remaining in the game.
"The one right before half that was a killer. We just didn't play our deep zone in that," Three Forks head coach Connor Sullivan said. "And then I just think we didn't keep our contain on the edge very well in that second quarter. But second half I thought we played a lot better. That's just stuff we got to learn from and carry it into next week."
Manhattan (2-2, 1-2 District 5B) scored 20 points in the second quarter beginning with a 7-yard run by Logan Vasarella on the first play of the frame. The biggest play, however, came from the legs of Michael Swan, who ran for a 44-yard score to stretch the lead to 14-0 midway through the quarter.
"I really, intentionally tried to get him the ball tonight," Grabowska said. "He's got some speed and once he can get loose he's able to break some plays and he was able to do that tonight."
Swan averaged 16 yards per carry en route to rushing for 112 yards on just seven attempts. With the Wolves focused on All-State receiver Corban Johnson, Swan and Vasarella often produced long runs.
"We knew they were going to focus on Corban a little bit, so we wanted to open the ball up to some other guys on the field and we were able to do that," said Grabowska.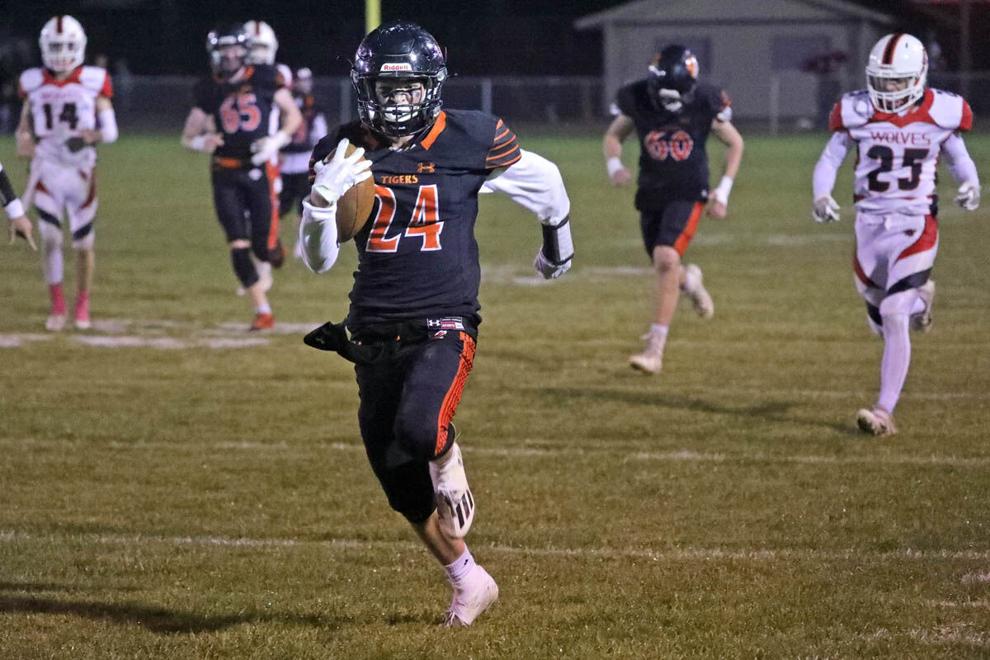 Following Swan's touchdown, the Wolves got a big kickoff return by Jacob Buchignani to set up the offense at Manhattan's 36. But seven plays later Long fumbled on a quarterback sneak at the 1-yard line and the Tigers recovered in the end zone.
It was unclear whether the ball was punched loose or if Long simply lost the handle, but it killed Three Forks' momentum.
"I'd have to look at the film. I didn't see what happened," said Sullivan. "But yeah, that was a big play and one that we needed."
The teams traded interceptions late in the first half with Allen picking off Devers with 53 seconds remaining. But three plays later Jones stepped in front of a pass by Long to set up the last second touchdown.
Manhattan stretched its lead to 26-0 on a 6-yard run by Vasarella early in the fourth quarter. The nine-play drive was aided by a pair of penalties on the Wolves, including a facemask.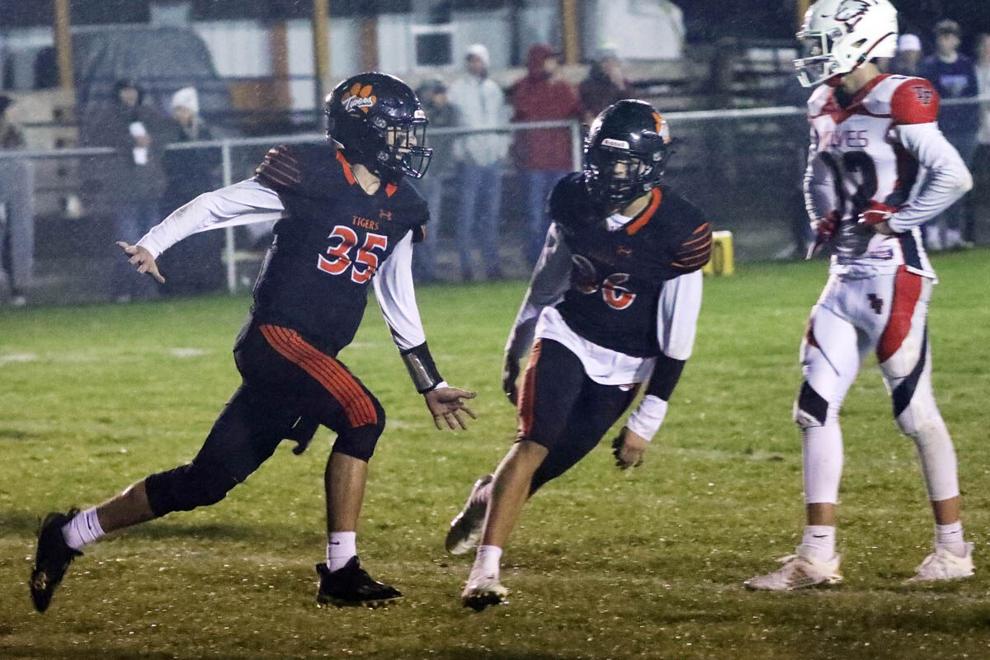 Three Forks (3-4, 0-3 District 5B) was plagued with penalties throughout the contest, including three unsportsmanlike conduct fouls. A holding call also wiped out a short touchdown run by Long in the fourth quarter and that drive eventually ended with a missed field goal.
"Penalties killed us," said Sullivan. "We had to keep our head, that's one of the things we talked about and unfortunately it just didn't go our way tonight."
Three Forks, which lost its 13th consecutive game to the Tigers, is back in action at Columbus Oct. 15. Manhattan travels to Jefferson.
"Definitely in the hunt still," said Grabowska. "We got to take care of business next week and have a great week of practice. Jefferson's a tough team. It's going to be a great challenge for us."
Manhattan 26, Three Forks 7
Three Forks                     0   0  0  7  -   7
Manhattan                      0  20 0  6  -  26
Man - Logan Vasarella 7 run (pass failed)
Man - Michael Swan 44 run (Corban Johnson pass from Austin Devers)
Man - Wyatt Jones 23 pass from Devers (kick blocked)
Man - Vasarella 6 run (pass failed)
TF - Austin Allen 64 pass from Owen Long (Chase Moore kick)