Manhattan has produced some of the best distance runners in the state over the past decade, and another will be continuing her career at the next level.
Hallie Hemenway signed with Dickinson State University Monday to compete in both cross country and track for the Bluehawks. The senior won the Class B individual cross country championship this past fall and is among the top distance runners in the state this spring in track.
Hemenway said she already knows a few people within the athletic program, including a competitor from another school that she has run against the past three years. She also likes the hometown feel of the campus.
"It was small, so it didn't feel too big, and the team seemed really nice when I visited," Hemenway said. "When I went to visit I visited with team and got to meet some of the teammates. They seemed really nice and it seemed like a place I'd really fit in."
Hemenway transferred to Manhattan as a sophomore and quickly became a varsity runner for the cross country team. She just missed earning All-State honors after placing 17th and then moved up to seventh as a junior.
This past season, Hemenway became the first female from Manhattan to win the individual state championship and led the team to a runner up finish for a second consecutive year.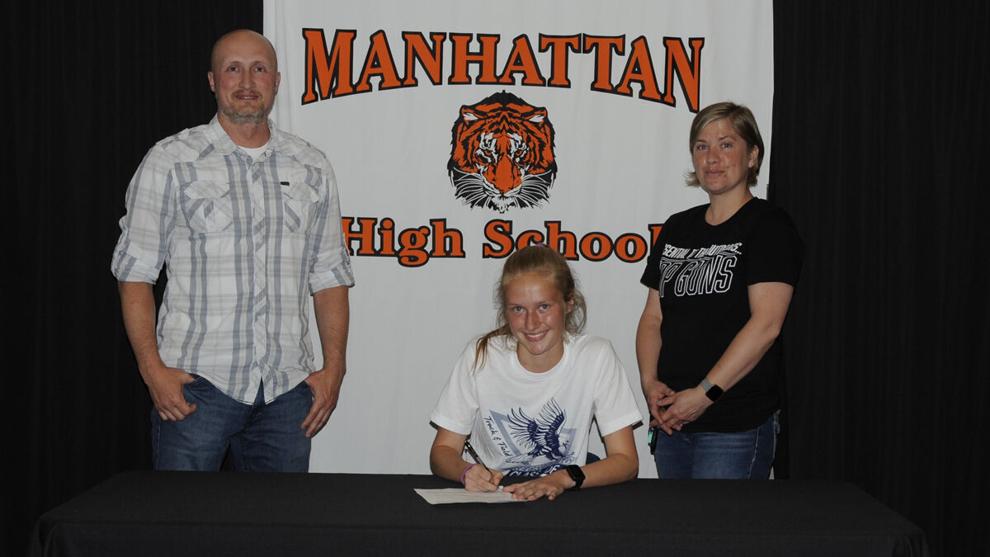 The 2020 track season was canceled due to the worldwide pandemic, but Hemenway has shined in the mile and two-mile and is among the top contenders heading into this weekend's state meet in Laurel.
"It's been exciting, it's been eventful," Hemenway said of her senior campaign. "With Covid and everything making it kind of questionable, it's been really exciting. I've had some success this year, but my teammates have had some success as well. Just this last Thursday at divisional we had some crazy good PRs from teammates. It's been amazing, but kind of bittersweet leaving."
Manhattan has won four state cross country championships over the past seven years, including in 2018 when Hemenway was new to the program. Dickinson has also had a lot of success recently, which played into Hemenway's decision to sign with the Bluehawks.
"They have goals and they've done really well in the past," she said. "It's a lot of young people that are going to be on the team these next few years, and it just seemed like they have somewhere where they are headed."
The Bluehawks will be a rebuilding a bit after graduating several key runners, Hemenway said. But she's excited about helping the team maintain a high standard.
"It's similar to the situation that I came into the cross country team here at Manhattan," Hemenway said. "They lost a lot of really good runners and it was like a rebuilding year, so it's something that I'm used to and something that I would be proud of."
Dickinson State University, an NAIA school, placed second at the North Star Athletic Association Cross Country Championships in November, while the track team won its fourth consecutive title at the NSAA Conference Championships earlier this month.