As the leaders created some distance from the rest of the pack during the first mile, Hallie Hemenway remained patient as the snow began to intensify Saturday afternoon. The last thing she wanted to do was expend too much energy in the early going.
So the Manhattan senior let Big Timber's Natalie Wood and Columbus' Kelsey Plymale set the pace and waited to make her move. That came near the end of the second mile when she moved from third to second, and then she passed Wood with about a half mile remaining.
"My goal, which is something I struggle with, is to come out controlled so I'd have something left in the end," said Hemenway. "So I reached about halfway through the second mile and I felt good, so I put in a little more effort and a little more energy into that mile."
With a sprint over the final half-mile at Rebecca Farm, Hemenway won the Class B title with a time of 20:10.99 at the 57th Annual MHSA State Cross Country Championships. Hemenway is believed to be the first-ever female from Manhattan to win the individual title.
"When she came through her first mile she was off of the leaders, but her pace was perfect about what we talked about," Manhattan coach John Sillitti said. "And then (she) just ran a real strong race in the middle. When she made moves they were definitive moves."
Wood placed second with a time of 20:24.11, while Townsend's Emma Stolte was third in 20:31.41 and Plymale fourth in 20:40.08.
After finishing seventh at state a year ago, Hemenway had hoped to move into the top five. But did she envision winning the championship?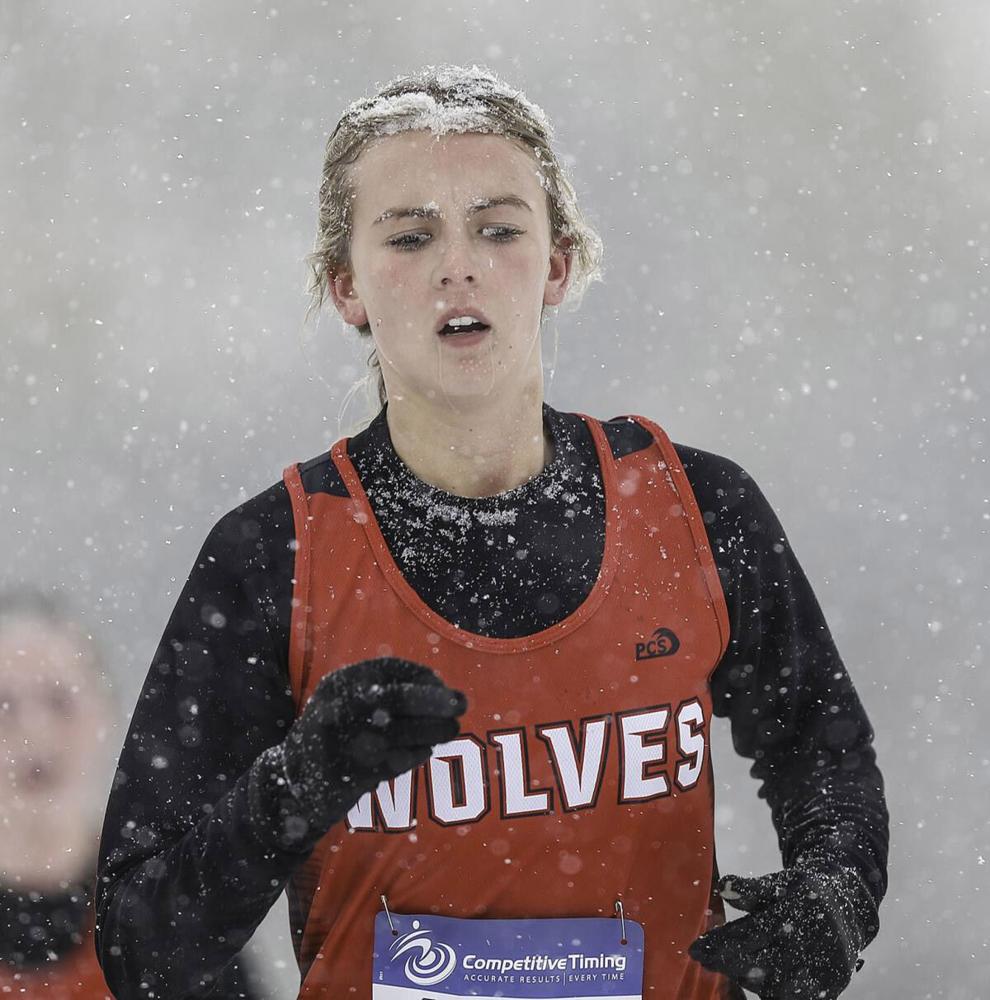 "To be honest, no, I didn't really think I could do it. There's a lot of really fast girls in Class B and my goal was just to go out and do what I could," she said. "I guess my positive drive led me to have a state title."
Hemenway's performance highlighted an outstanding day for the Tigers, who boasted seven runners in the top 25. But, it wasn't enough to dethrone defending state champion Townsend. The Bulldogs, powered by four finishers in the top 15, won the team title 59-60.
"I think going in we knew it was going to be very close. We knew it going to come down to us and them, and we knew it was going to be a matter of points — a matter of one or two points," said Hemenway. "And that's what it came down to."
It's the second consecutive season in which Manhattan finished as the state runner up. But the team boasted three All-State runners after Madeline Severson (11th, 21:57.01) and Saige Duffin (15th, 22:15.69) placed in the top 15, and Rylee Cameron (22:21.59) and Miah Fenno (22:28.91) just missed the honors after finishing 16th and 17th, respectively.
"It's easier to lose by a lot than a little I guess," Sillitti said. "So I think that was tough because it was so close, but all seven finished in the top 22, which is pretty remarkable for how well they ran as a team."
Three Forks also had a strong performance led by Jayden Woodland. The first-year runner earned All-State honors after placing 13th with a time of 21:59.95.
"Jayden did awesome and our girls came in fifth which we hoped to come in fifth or above," Three Forks coach Tara Forsberg said.
The Wolves finished with 192 points, and Kodee Kolberg earned a top 25 finish after placing 23rd with a time of 22:54.09.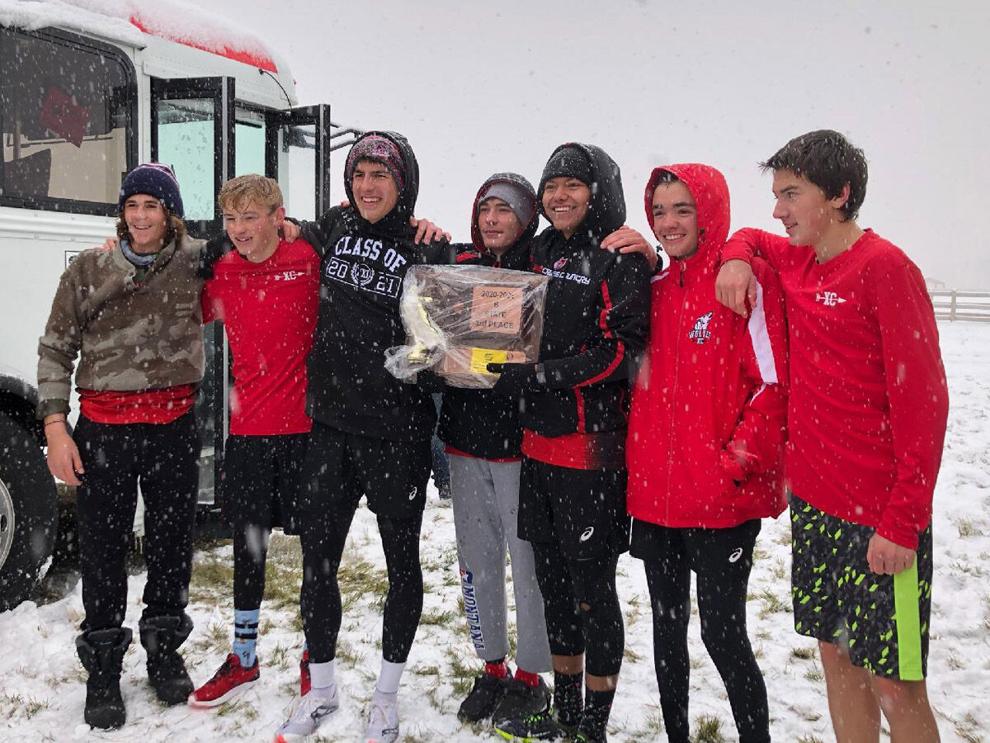 As expected, Eureka's boys won the team championship with 63 points after three runners placed in the top 15 and four in the top 20. But what was a little unexpected was the performance of Manhattan and Three Forks, which placed second and third, respectively, with scores of 85 and 154.
Manhattan was projected to place either third or fourth heading into the meet, but earned a runner up finish for the second consecutive season.
"It was fun because our boys just believed they could go make a race of it with Eureka and they really did in a lot of spots," said Sillitti. "They executed their race plan as well, and then in a lot of spots they were moving and working up toward Eureka's runners."
Wyatt Barney led the Tigers with a seventh place finish after recording a time of 18:05.85. He earned All-State honors along with Layne Vanderby (12th, 18:27.30) and Luke Meeker (13th, 18:28.67). Five of the team's runners placed in the top 30 and all seven in the top 45.
"I was really happy with the boys," said Sillitti. "And then three of them, three seniors, going out being All-State in their last race, that was pretty awesome. Just proud of those guys."
While Three Forks did not boast an All-State placer, three runners finished in the top 25 to power the third place finish. Garrett Golding was 20th in 18:46.42 followed by Byron Fanning (21st, 18:52.14) and Beau Johnston (24th, 18:56.23).
"We were shooting for third," said Forsberg. "The race was great and we are all so proud of the team. Our boys ran strong despite the weather and kept together during the race."
(at Rebecca Farm, Kalispell)
Team scores: Eureka 63; Manhattan 85; Three Forks 154; Wolf Point 179; Huntley Project 199; Glasgow 209; Townsend 213; St. Ignatius 265; Thompson Falls 316; Bigfork 322; Jefferson 333; Red Lodge 334; Cut Bank 365; Harlem 396; Poplar 439; Deer Lodge 458; Shepherd 478; Colstrip 487; Missoula Loyola 502; Whitehall 537; Anaconda 545; Rocky Boy 617.
Top 15 Individuals: Zander Ackerman, WP, 17:16.85; Justin Morgan, TFalls, 17:17.69; Chaidh Lochridge, Eurkea, 17:43.43; Aidan Thompson, DL, 18:00.24; Brandon Emineth, RL, 18:02.74; Gavin Bates, Eureka, 18:02.89; Wyatt Barney, Man, 18:05.85; Elijah Quick, RL, 18:08.68; Thomas Nuila, St. Ignatius, 18:15.62; Isaac Reynolds, Eureka, 18:19.99; Kevin Graves, HP, 18:21.09; Layne Vanderby, Man, 18:27.30; Luke Meeker, Man, 18:28.67; Carl Zabrocki, Glas, 18:28.95; Andrew Rush, St. Ignatius, 18:36.83.
Team scores: Townsend 59, Manhattan 60, Red Lodge 99, Huntley Project 159, Three Forks 192; Shepherd 260; Big Timber 284; Glasgow 285; Thompson Falls 310; Eureka 313; St. Ignatius 330; Deer Lodge 365; Anaconda 496; Poplar 503; Malta 503.
Top 15 Individuals: Hallie Hemenway, Man, 20:10.99; Natalie Wood, BT, 20:24.11; Emma Stolte, Tow, 20:31.41; Kelsey Plymale, Col, 20:40.08; Braylie Reimer, RL, 20:44.95; Natalie Lile, HP, 21:36.02; Emily See, Glas, 21:37.89; Bailey Taves, Tow, 21:37.90; Sarah Christensen, Tow, 21:38.77; Irish McKean, Glas, 21:53.37; Madeline Severson, Man, 21:57.01; Justene Santi, Tow, 21:59.14; Jayden Woodland, TForks, 21:59.95; Bailey Binando, RL, 22:04.20; Saig Duffin, Man, 22:15.69.