BILLINGS — After Caden Holgate sank a pair of free throws midway through the third quarter to trim the deficit to six, it appeared as if Manhattan was back in the game.
But following a missed 3-point attempt on their next possession, and a sequence of bad breaks that followed, the Tigers' dreams of a state championship were quickly dashed. Lodge Grass buried a 3 at the other end to spark a 7-0 run and was never threatened again in First Interstate Bank in MetraPark.
"We had a wide open three to cut it to three points," Manhattan coach Wes Kragt said. "We missed it, they get a fast break, we turn it over twice — boom, boom, we go down 41-30 and then right there, we were done."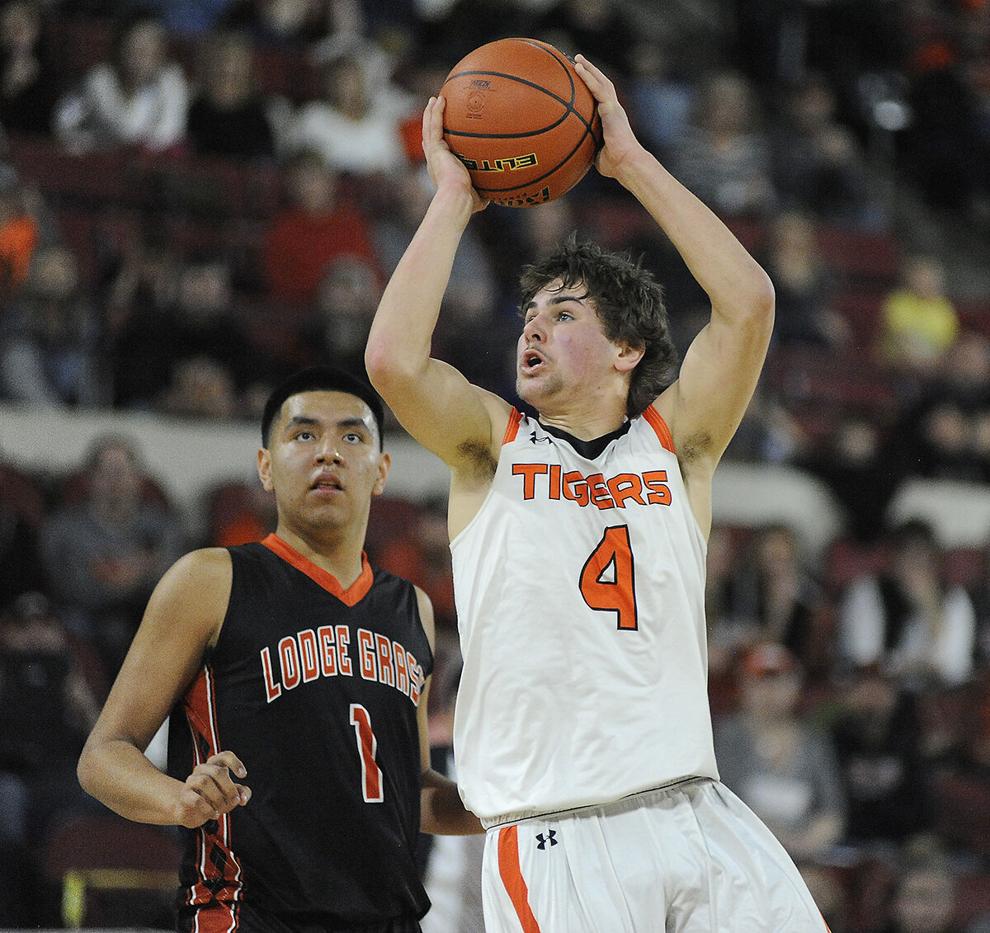 Lodge Grass (19-4) took a 13-point lead into the fourth quarter and then stretched it to as many as 20 en route to winning the state Class B championship game 64-47. The Indians won the title outright after being forced to share the crown a year ago with Fairfield.
"We played solid defense, we had chances, we just shot 3 for 21 from three-point range," noted Kragt. "I'm super proud of our kids and that's by far the best team that we've played this year."
Manhattan (19-3) fell to 0-4 in state championship games having also lost in 1965, 2003 and 2012. But making it to the final was huge accomplishment for the team, which won just three games two years ago.
"It was a great season, I'm very proud and it was a well deserved second place for our kids," said Kragt. "We beat Huntley, we beat Thompson Falls, there was only one team left to beat in Lodge Grass, and we just didn't play our best tonight."
Manhattan got off to a hot start scoring the first five points of the contest and building leads of 7-2 and 9-4. But the Indians heated up midway through the frame and took a 14-11 lead into the second quarter following a 3 by Malachai Little Nest.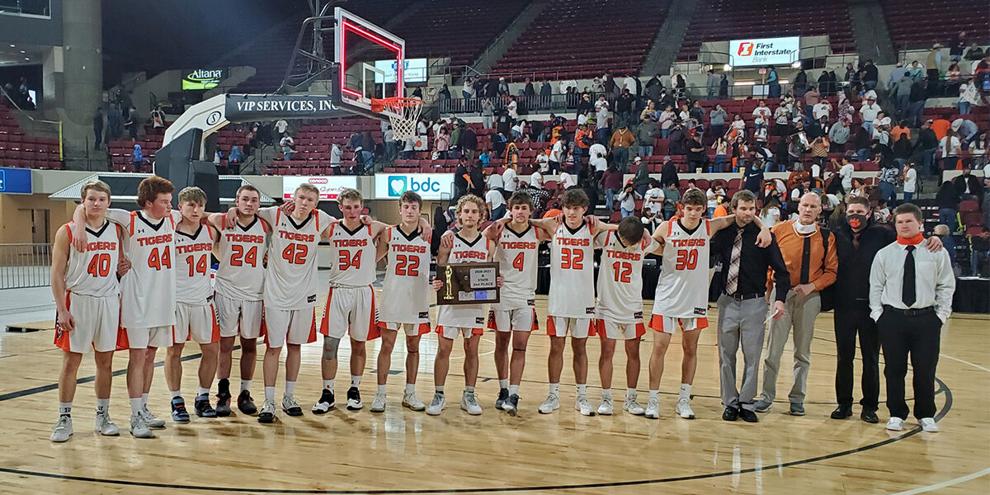 Finn Tesoro buried a 3 to start the second quarter for the Tigers to tie the game, but Lodge Grass led the rest of the contest after Little Nest made a free throw at the 6:47 mark.
While Manhattan shot 52.9 percent from the field in the first half, the Indians took a 32-24 lead into halftime after shooting 53.3. The Tigers never found a rhythm from behind the arc, making just three of nearly two-dozen attempts.
"I think we were hurrying ourselves a little bit. We weren't just stepping right into them," said Kragt. "Sometimes that happens, and unfortunately that happened tonight for us."
Caden Holgate tallied a game-high 20 points for the Tigers, including six in the third quarter to keep the score close early on. But the senior was 0 for 7 from behind the arc, while Tesoro was just 2 for 7.
While Manhattan's shooters were under duress throughout the contest, Kragt felt the team got solid opportunities and handled the pressure well.
"We really didn't turn it over too much in the press and we got the looks that we wanted to once we broke it," said Kragt. "We just didn't knock down shots."
Tate Bowler was the only other Tigers in double figures with 10 points, while Little Nest led Lodge Grass with 17 and Ty Moccasin had 12.
Lodge Grass 64, Manhattan 47
Lodge Grass 14  18  13 19  - 64
Manhattan 11  13  8  15  -  47
LODGE GRASS (19-4) – Kendall Russell 3 0-0 9, Damon Gros Ventre 7 0-0 17, Malachai Little Nest 4 1-3 10, DC Stewart 3 1-2 7, Ty Moccasin 6 0-1 12, Daivyon White 0 0-0 0, James Brown 0 0-0 0, Lance Little Nest 0 0-0 0, Gabe Kelly 3 0-0 7, Jadence Archita 1 0-2 2, Stephen Matt 0 0-0 0, Myron Little Light 0 0-0 0. Totals: 27 2-8 64.
MANHATTAN (19-3) – Caden Holgate 7 6-6 20, Colter Barta 3 0-0 6, Finn Tesoro 3 0-0 8, Jadon Pierce 0 0-0 0, Tate Bowler 4 1-2 10, Evan Douma 0 0-0 0, Corban Johnson 1 1-2 3, Wyatt Jones 0 0-0 0, Sven Stenberg 0 0-0 0, Markus Fenno 0 0-0 0. Totals: 18 8-10 47.
3-point goals: LG 8 (Russell 3, Gros Ventre 3, D. Little Nest, Kelley), Man 3 (Tesoro 2, Bowler).