BOZEMAN — Manhattan Christian hasn't dealt with much adversity on the court this season, and when faced with some Friday night head coach Hanna Van Dyk wasn't pleased with how her team responded.
The mistake-prone Eagles struggled in nearly every facet in a four-set defeat to Plentywood in the undefeated semifinal of the State C tournament at Brick Breeden Fieldhouse. It was the team's first defeat to a Class C opponent this season and snapped a 21-match win streak.
"We played poorly today," Van Dyk said. "Offensively we just couldn't get it going. We didn't come with a lot of mental toughness today I didn't feel like, so when things got tough they got really rough and we kind of wallowed in our frustration."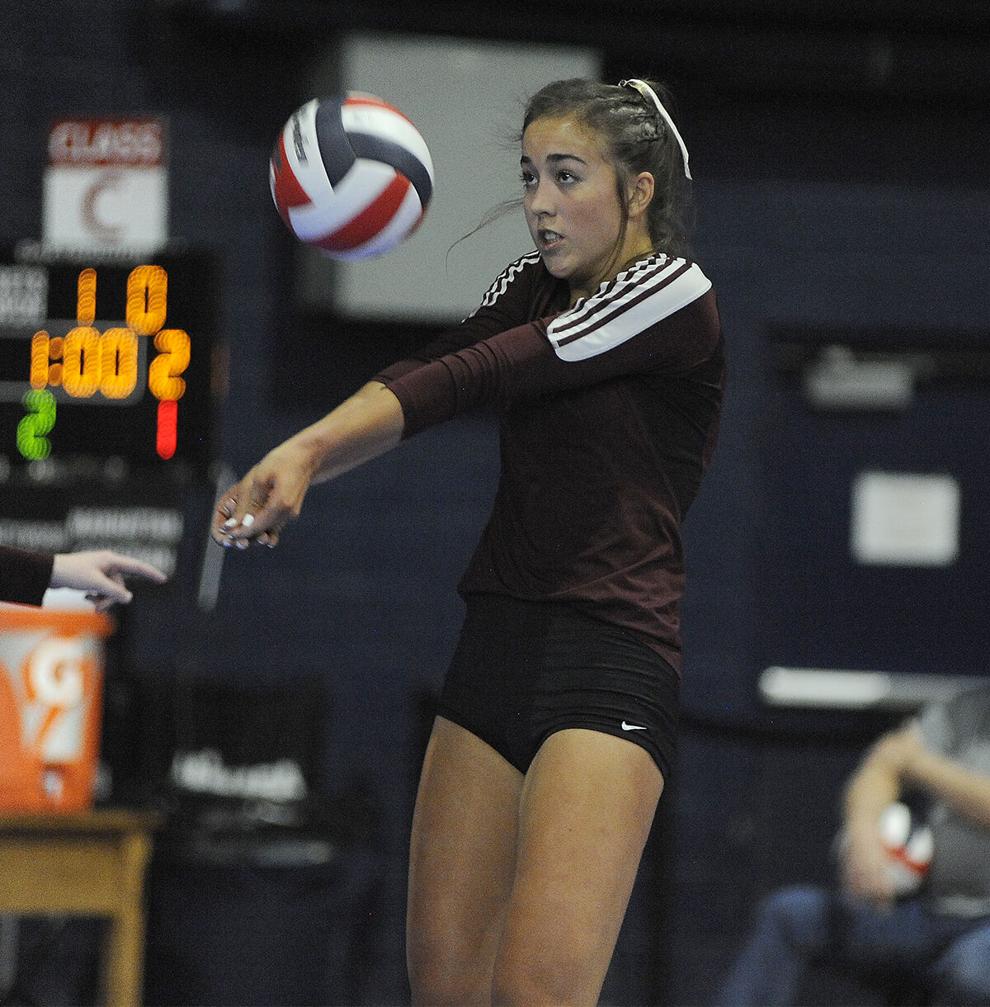 While the Eagles (23-3) showed plenty of fight in the third and fourth sets, Plentywood advanced to the championship match with a 25-22, 25-16, 16-25, 25-20 victory. Liv Wangerin led the charge for the Wildcats with 13 kills, nine digs, six aces and a pair of blocks.
"She's good and I thought Hope (Kenney) did a really good job with that (defensively)," said Van Dyk. "Again we just weren't there mentally for every play. I felt like we'd do a good job and adjust and then the next play we weren't there."
Christian will play White Sulphur Springs at 10 a.m. Saturday in the consolation match with the winner advancing to the championship. It will be the sixth meeting between the teams and the Eagles have won the previous five.
Kiersten Van Kirk finished with a match-high 18 kills for the Eagles, but the senior struggled from the service line and often had to do the best she could with sets that were off target. Plentywood tallied 10 aces and kept Christian out of rhythm offensively.
"They were good servers," said Van Dyk. "My setters, we just weren't sharp. I felt just like all around we just weren't able to execute our offense well."
Christian never led in the first set, but did get within 24-22 after trailing by as many seven. The second set featured seven ties, but after Kiersten Van Kirk scored on a kill to draw the Eagles within a point, 15-14, Wangerin scored on three consecutive aces as Plentywood closed out the set on a 10-2 run.
Christian led the entire third set as the passing improved on serve-receive. Van Kirk eventually capped the game on a block and then a kill.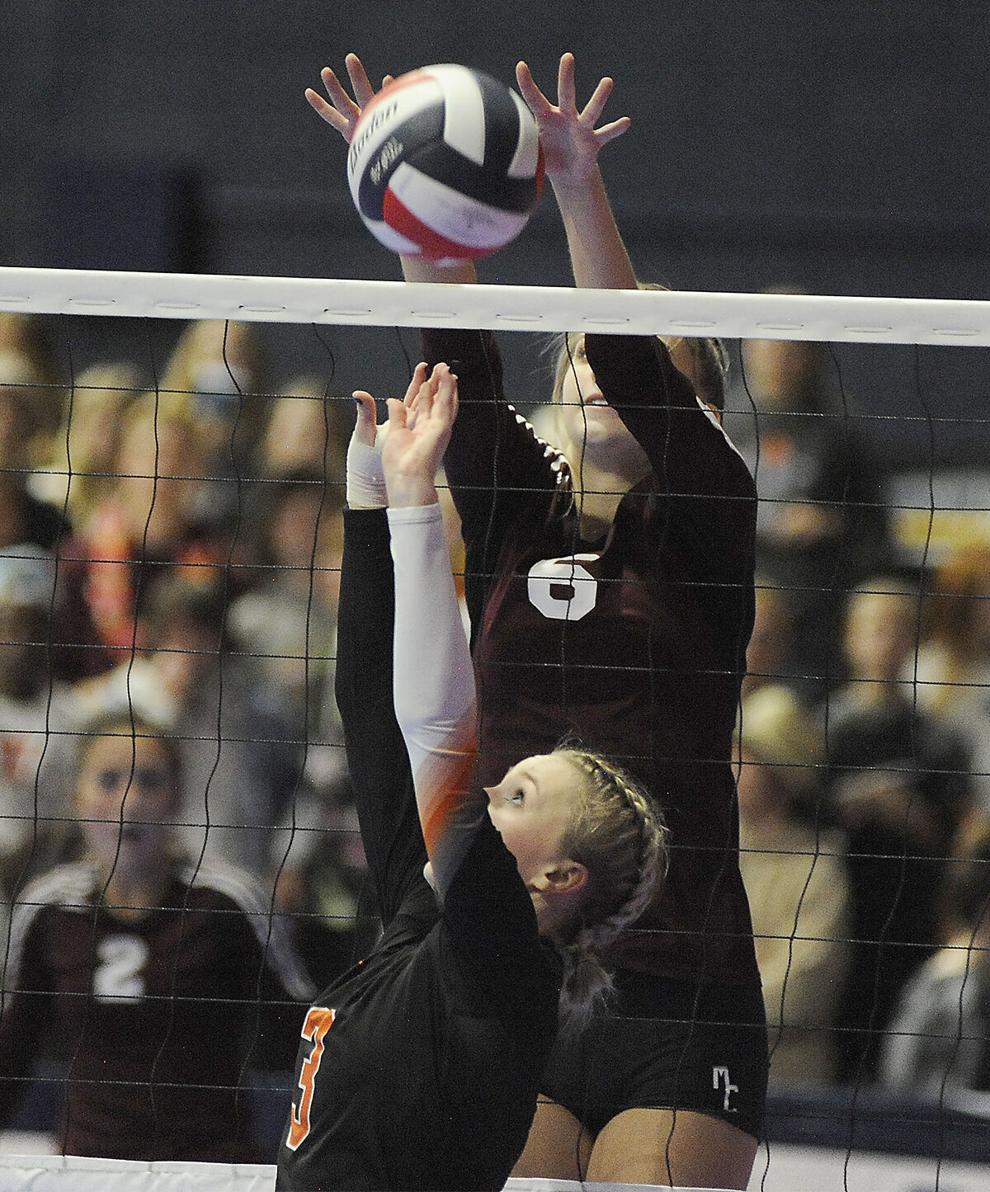 But frustration began to boil over in the fourth set after Wangerin again scored on three consecutive aces for a 19-16 lead. While Van Kirk later tied the set at 20 on a tip, Plentywood closed out the match on a 5-0 run.
"We finished so well yesterday," said Van Dyk. "But when our best servers can't serve and when we can't put the ball down and they get frustrated and start picking at each other, then we don't succeed."
While a frustrating loss, the Eagles find themselves in a familiar position. They lost in the semifinal in 2019 and then won three matches on Saturday en route to winning the championship.
That scenario played out again last year when Christian beat Plentywood in the consolation match. The Eagles then won the first championship match against Bridger before losing the second.
"I feel like they do it all the time," Van Dyk said. "Whenever Manhattan Christian goes to the finals it's never easy."
(at Brick Breeden Fieldhouse, MSU)
Roy-Winifred def. Fort Benton 18-25, 25-18, 25-16, 25-16, loser-out.
Bridger def. Simms 18-25, 21-25, 25-10, 25-22, 15-10, loser-out.
Roy-Winifred def. Froid-Medicine Lake
20-25, 25-19, 25-21, 25-16, loser-out.
White Sulphur Springs def. Bridger 25-22, 22-25, 25-19, 27-25, loser-out.
Plentywood def. Manhattan Christian 25-22, 25-16, 16-25, 25-20, semifinal.
White Sulphur Springs def. Roy-Winifred 25-22, 25-23, 202-25, 25-23, loser-out.
Plentywood def. Manhattan Christian 25-22, 25-16, 16-25, 25-20.
PLENTYWOOD – Kills: 35 (Liv Wangerin 13, Emma Brensdal 8). Digs: 38 (Wangerin 9). Blocks: 5 (Kate Simonson 2, Wangerin 2). Aces: 10 (Wangerin 6 (Brensdal 2). Assists: 28 (Ashtyn Curtiss 26).
MANHATTAN CHRISTIAN (23-3) - Kills: 45 (Kiersten Van Kirk 18). Digs: 69 (Jadyn VanDyken 14, Ava Bellach 14). Blocks: 10 (Reece Nieuwenhuis 4). Aces: 3 (Katelyn Van Kirk 3). Assists: 40 (Jadyn VanDyken 23).