BOZEMAN — As a player sprinted well beyond the endline and managed to keep the ball in play, Tim Jensen could barely contain his excitement. His voice bellowed through the main gymnasium at Gallatin High School while dolling out praise.
Jensen, a former assistant coach at Pepperdine University, was helping conduct the Montana Showcase. The elite camp, which culminated July 28, consisted of nearly 80 high school volleyball players from more than 40 schools around the state.
It served as a recruiting event for players as coaches and representatives from Montana State University and every Frontier Conference program in the state attended.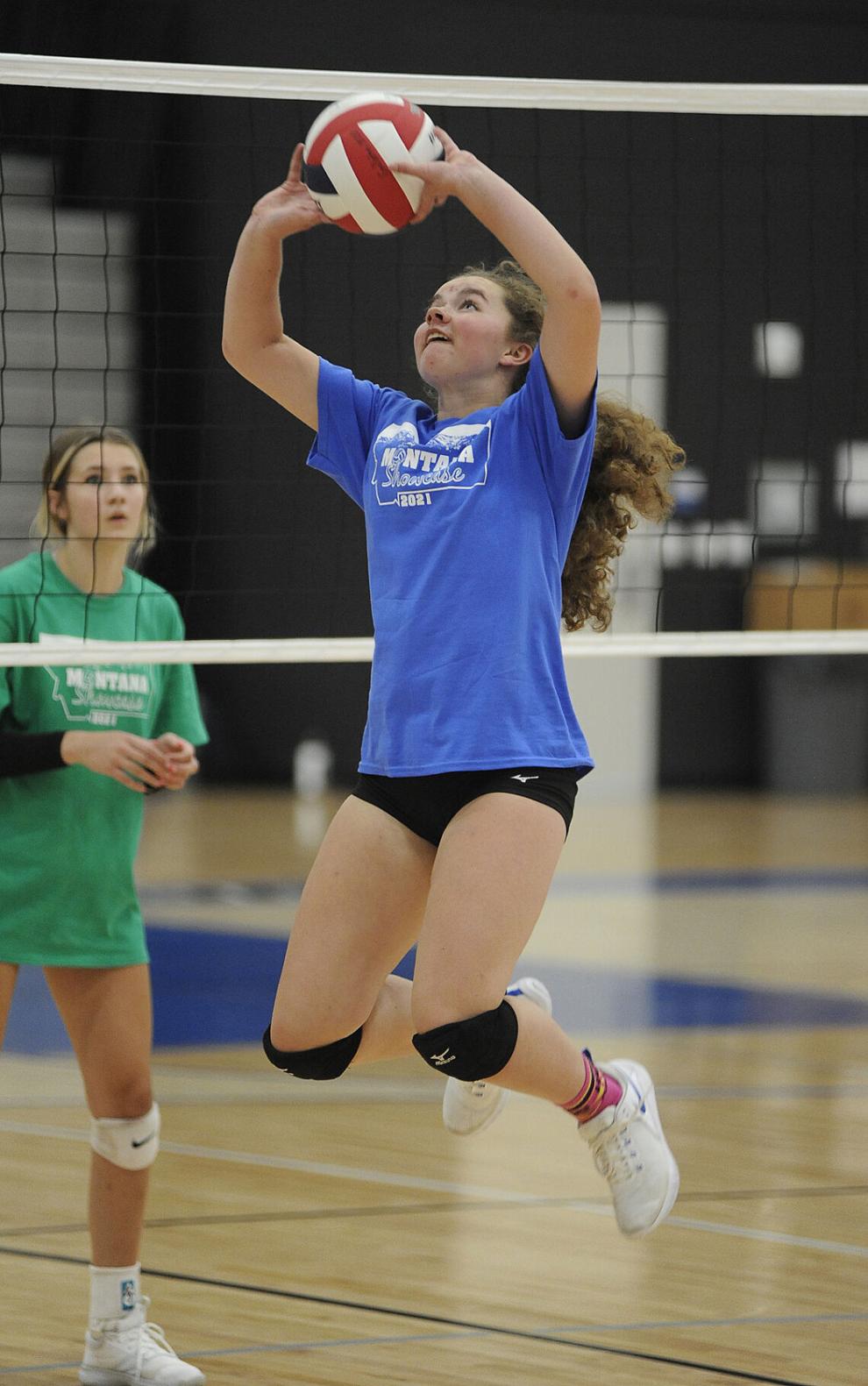 "We just want to get these kids really seen, especially our small school kids. They don't often get an opportunity," Jade Schmidt, who helped organize the camp along with Jessica Rahn, said. "Last year was a bit of a unique situation with the seasons where college and high school were flipped and so there could have been a little bit more recruiting, but with COVID you're watching through MHSA (Montana High School Association) videos.
"So (we're) getting these kids an opportunity to play a lot live and against high level competition, and giving the coaches an opportunity to see these kids live all in one setting. We have a lot of the state's top prospects here that are unsigned."
While the teaching portion of the elite camp was held the previous two days, it was the showcase on Wednesday in which representatives from in-state colleges attended. Athletes were given the opportunity to display their ability with plenty of playing time on the court.
"There are other high level camps. MSU runs an elite camp, but it's not specific to Montana kids," Schmidt said. "But this is the only recruiting event like this."
Schmidt was the head coach at Belgrade for seven years and guided the program to seven state tournaments, a state title, a pair of runner up finishes and a third place finish. Rahn served as an assistant coach on several of those teams.
The duo connected with Jensen a few years ago when he was conducting a camp at Bozeman High. Afterwards, Jensen was asked if he'd be interested in presiding over a camp for players throughout the state.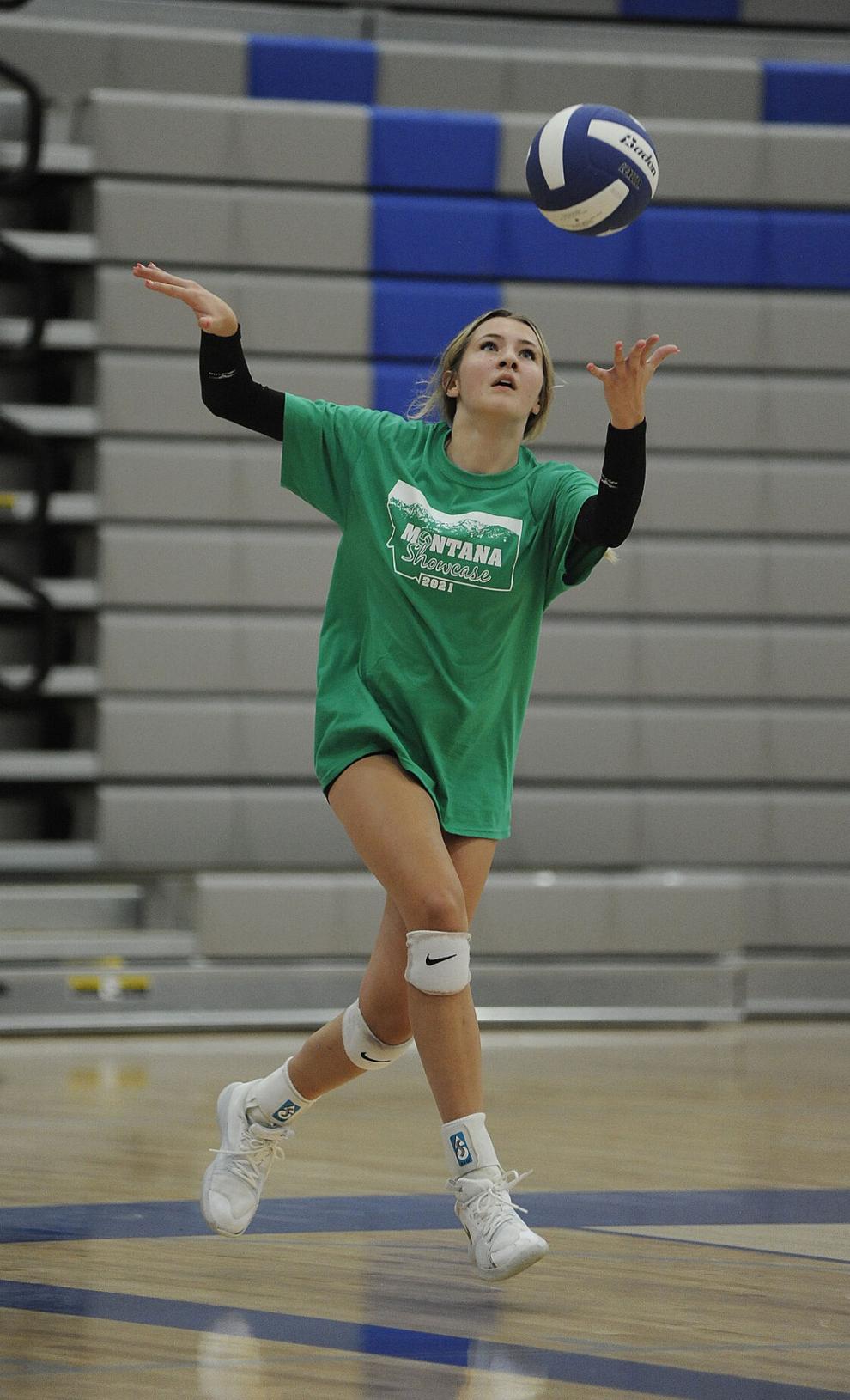 "I said, 'Sure, I'd love to'. Because this has been my sport my whole life. I've done it in college and still do it now, and I love it," he said. "I wanted to grow the game, and that's the key to this, and I was like, 'Sure, I'll do it.'"
Jensen, who lives in California, has been annually traveling to Bozeman in the summer to visit a friend, and has been more than happy to helm the camp while in town. He worked in college athletics for more than 15 years and has been coaching pro-beach volleyball players Casey Patterson and Chase Budinger for the past two.
But Jensen doesn't do it alone. He brought Salima Rockwell, a former All-American player from Penn State, to help at the first camp. And this year Tim Nollan, who is the head coach at Grand Canyon University, was also on hand.
Nollan guided the Lopes to the fifth-best turnaround in the nation in 2019. GCU finished with a 24-6 record, which was a 13-win improvement over the previous season.
With current Frontier Conference players also helping out, athletes had the opportunity to gain valuable guidance from experienced instructors. But Jensen noted there is not an excessive amount of coaching. His goal is to help players improve their skills while also introducing new techniques.
"These are great kids who want to learn volleyball and it's our job to make them better," he said. "So maybe this kid doesn't move well without the ball, so I'm going to teach her new footwork to make it easier. Or this kid, maybe her arm swing is a little funky, so I'll work with her to make that arm a little smoother.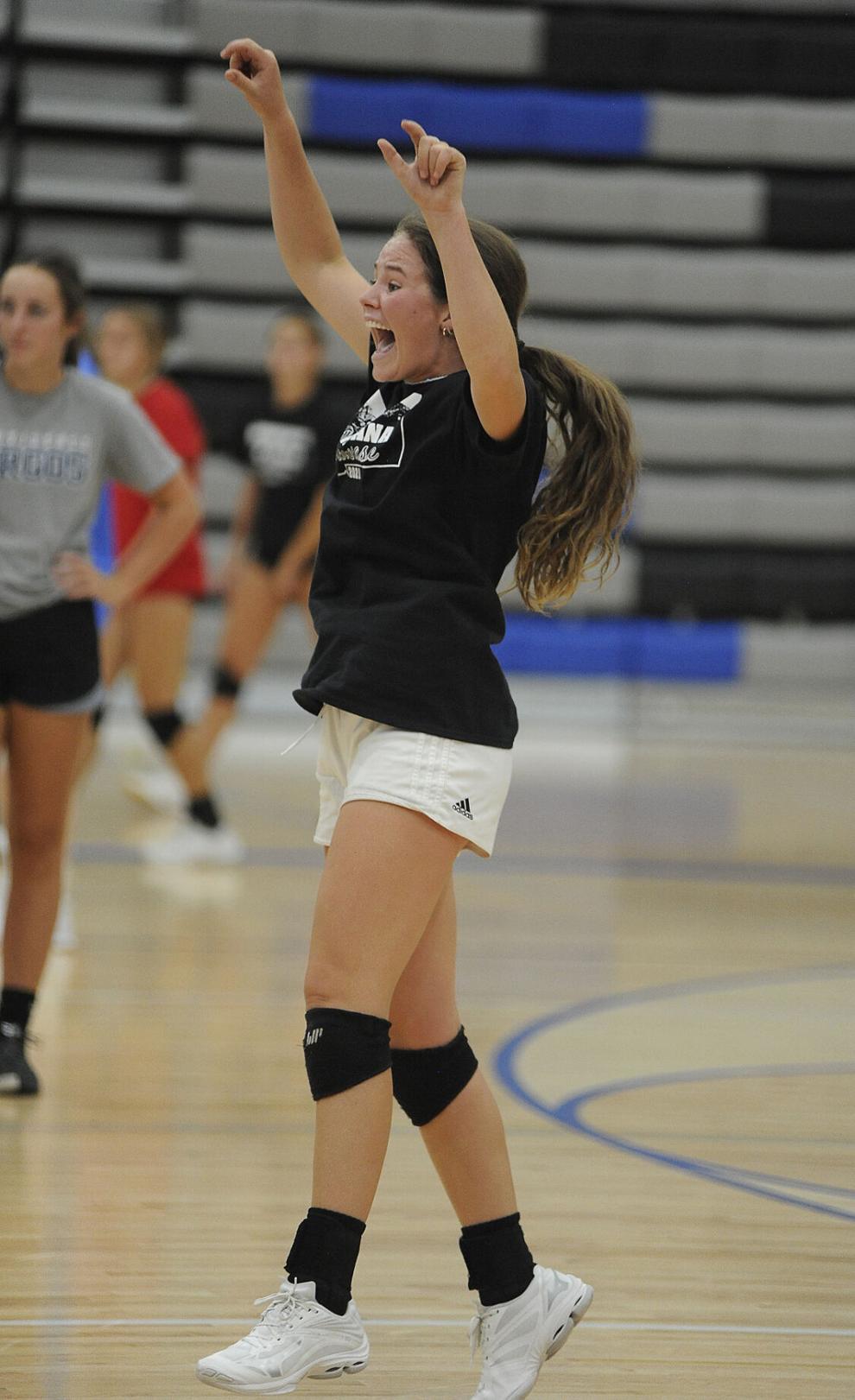 "As a whole for the camp, we just want to get them to better, so we want to teach them more efficient techniques on what they're doing compared to what they're doing right now."
Jensen often demonstrated a technique with athletes during a pause in action, and praised the level of play and positive strides he'd seen from players during the camp.
"What I've seen is improvement, I mean massive improvement. These kids learn really, really well and that doesn't always happen," he said. "I've run camps all around the country and been invited to other people's camps, and it doesn't (always) happen where they learn. Sometimes they fight you, and these kids are open, they learn and they get better."
During the showcase athletes wore different colored shirts — black for seniors, blue for juniors, red or green for sophomores, and gray for freshmen — with numbers on the back for identification. Schmidt noted the majority were returning All-State or all-conference selections a year ago.
The first camp consisted of about 30 athletes, but it has grown rapidly with the exception of 2020 due to COVID. With nearly 80 athletes participating this year, Schmidt noted registration might have to be capped in 2022.
"We will hopefully do this every year and we'll see if July works," she said. "But yeah, we'd like to keep it consistent year in and year out."