For the second consecutive season Sam Nash earned All-State honors.
The senior ran to a top 10 finish Saturday to lead Belgrade to a 9th place finish at the 58th Annual MHSA State Cross Country Championships in Missoula.
Nash posted a time of 16:34.36 to place 10th and was the lone Panther in the top 40 at the University of Missoula Golf Course.
"He really got after it today. He was aggressive from the get-go," Belgrade head coach Matt Hommel said. "He knew where he needed to be and put himself where he needed to be."
Nash, who placed 8th a year ago on a snowy and frigid course in Kalispell, ran a 5:03.75 first mile and was in sixth with about 200 meters remaining. But a handful of hard-charging runners overtook him down stretch.
Still, Hommel was impressed with Nash's effort.
"He fought hard and just comparing it to what he ran here a couple weeks ago is way better. He's been able to put together a really good season," Hommel said. "The race today was just all guts. He really got after it and really took a swing for winning the whole thing. It was a good day for him."
It was a satisfying end for Nash, who battled injuries during track season and over the summer. He gradually got healthy and steadily improved over the course of the season, which included setting a personal best a week ago.
"State's all about placement and who you beat and he beat some guys that he was struggling to beat at the beginning of the season," said Hommel. "He's now beating them handily."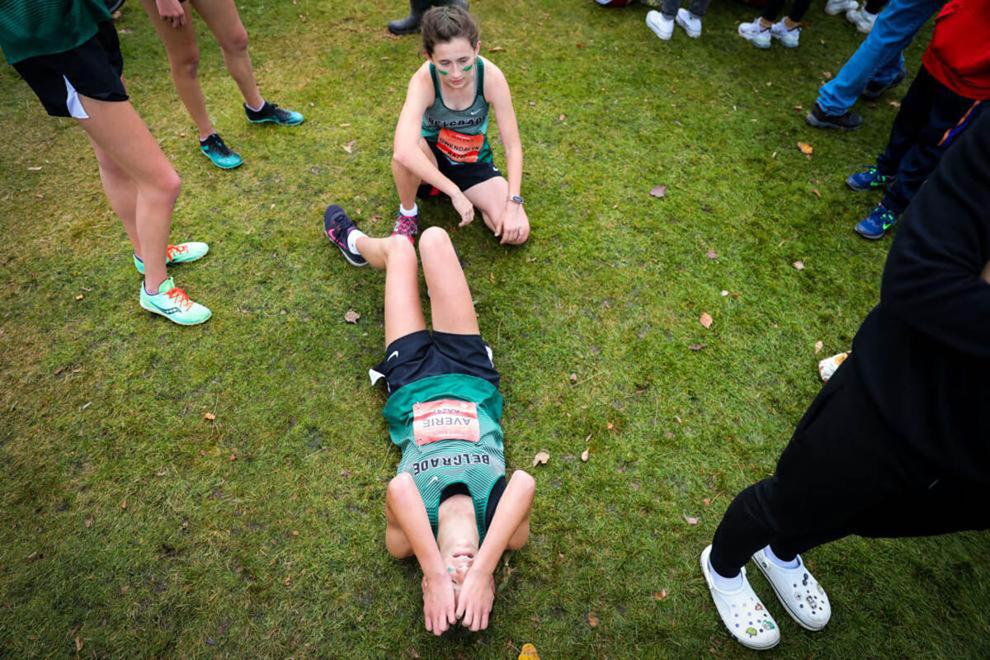 Led by Nash, Belgrade finished with 237 points. Missoula Hellgate won the championship with a score of 62, while defending state champion Missoula Sentinel and Great Falls rounded out the top three with 66 and 91 points, respectively.
Brodie Tirrell was the second Panther across the finish line with a time of 17:40.04 to place 45th, while the rest of the team formed a tight pack. Kaden Lookhart was 52nd (17:54.80), Aidan Brown 63rdnd (18:15.32), Brandon Clingan 67th (18:20.05), John Nash 69th (18:22.38), and Charles Brown 104th (19:46.25).
"Across the board we were really running together. We really pack raced today and on the guys side it showed," said Hommel. "Our entire guys side was under 20 minutes, which we haven't really had all year."
Belgrade's girls were led by the effort of Hannah Giese. The sophomore placed 39th with a time of 21:02.64 to help the team finish 11th overall.
The next six runners formed a tight pack with all but one finishing under 23 minutes led by Grace Stewart, who was 72nd in 22:19.65. She was followed by Averie Gates (73rd, 22:21.10), Justine Pommerville (76th, 22:22.16), Gwendalyn Clingan (81st, 22:26.77), Lily Stewart (82nd, 22:33.96), and Kathleen Iverson (92nd, 23:42.57).
"They're pack racing, but they're doing it much faster. Averie Gates is over a minute faster than her time on this course last time. And they were all super close together," said Hommel. "After Hannah I think our next five or six girls were all within less than a minute of each other. It was a really good day for those girls."
Bozeman won the team title — its 15th in the past 16 years — with 53 points. Missoula Hellgate and Gallatin rounded out the top three with scores of 68 and 95, respectively.
(at University of Montana Golf Course)
Team scores: 1. Missoula Hellgate 62, 2. Missoula Sentinel 66, 3. Great Falls 91, 4. Bozeman 96, 5. Billings West 134, 6. Bozeman Gallatin 157, 7. Helena Capital 191, 8. Kalispell Flathead 197, 9. Belgrade 237, 10. Billings Senior 322, 11. Billings Skyview 236, 12. Missoula Big Sky 340, 13. Helena 348, 14. Kalispell Glacier 358, Butte 383, Great Falls CMR 405.
Top 15 individuals (all-state): 1. Tanner Klumph, Sentinel, 15:56.21; 2. Finneas Colescott, Hellgate, 16:07.09; 3. Carson Steckelberg, Gallatin, 16:17.34; 4. Ryan Harrington, Great Falls, 16:22.93; 5. Jackson Triepke, Hellgate, 16:26.35; 6. Gavin Budge, Skyview, 16:27.73; 7. Chase Green, Sentinel, 16:27.76; 8. Keagen Crosby, Sentinel, 16:29.29; 9. Macgwyer Palmer, Great Falls, 16:30.94; 10. Samuel Nash, Belgrade, 16:34.36; 11. KJ Popiel, Bozeman, 16:36.94; 12. Joe Johns, Bozeman, 16:41.20; 13. Jaxon Straus, West, 16:42.00; 14. Colten Graham, Hellgate, 16:42.34; 15. Connor Neil, Bozeman, 16:44.61.
Team scores: 1. Bozeman 53, 2. Missoula Hellgate 68, 3. Bozeman Gallatin 95, 4. Helena 106, 5. Billings West 114, 6. Kalispell Flathead 155, 7. Helena Capital 177, 8. Billings Skyview 195, 9. Great Falls CMR 223, 10. Missoula Sentinel 245, 11. Belgrade 341, 12. Kalispell Glacier 347, 13. Great Falls 363, 14. Butte 407, 15. Billings Senior 415, 16. Missoula Big Sky 424.
Top 15 individuals (all-state): 1. Kensey May, Hellgate, 18:16.14; 2. Kylie Hartnett, Helena, 18:25.65; 3. Hayley Burns, Bozeman, 18:30.59; 4. Lilli Rumsey Eash, Flathead, 18:31.65; 5. Ali Keith, West, 19:13.52; 6. Natalie Nicholas, Bozeman, 19:26.81; 7. Alexis Holton, Gallatin, 19:45.85; 8. Odessa Zentz, Helena, 19:52.64; 9. Lucia McCormick, Bozeman, 19:54.68; 10. Malia Bradford, Sentinel, 19:56.99; 11. Lilyann MacFarlane, Gallatin, 20:01.41; 12. Taylee Chirrick, West, 20:08.56; 13. Izzy Munro, Hellgate, 20:11.60; 14. Madelaine Jellison, Flathead, 20:12.26; 15. Serena Sproles, Bozeman, 20:14.82.