Less than an hour before boarding the bus to Kalispell Wednesday morning, Belgrade head coach Joey Roberts noted it had been a frantic couple of days.
Tuesday was the last day of school for Belgrade's seven seniors, graduation is Sunday, and then there is State AA tournament, which begins Thursday.
"Great group of girls," Roberts said of his seniors. "Focus up for a few more days and then they got a fun summer ahead of them."
The majority of the senior class has been a part of two state championships when the Panthers won three consecutive Class A titles from 2017-19. The school moved up to AA in 2020, but the season was canceled in response to the worldwide pandemic.
In the program's first season in AA, Belgrade picked up where it left off in A. The Panthers have won 17 games, finished as the Eastern AA Divisional runner up and qualified for the state tournament.
But, Roberts said, they're not done yet.
"That's something we've kind of been stressing, that we're not finished," he said. "We still have four more days of softball ahead of us and we can't get complacent, we can't be satisfied. This is a program that's had success in the past and that's the expectation."
Belgrade (17-6) put together a strong divisional tournament and upset top-seeded Billings Senior in the semifinals. Then the team rallied from a seven-run deficit in the championship game — powered by a pair of home runs each from Tayler Thomas and Shaylis Osler — to nearly knock off No. 2 Billings West.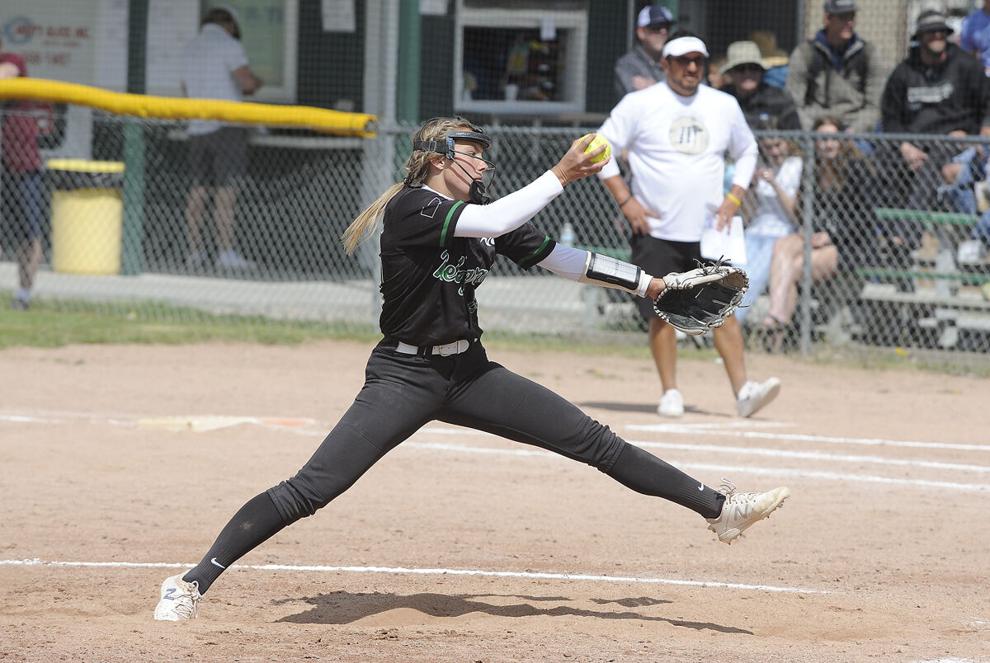 The Panthers had the tying run at third in the seventh, but were unable to score in 13-12 defeat. Still, Roberts was thrilled with the effort of his team.
"That divisional tournament I thought was one of the best things for our program even though we didn't come out on top," he said. "There's good teams and we know that we're going to get runs scored against us, but the ability to battle back and come back from a deficit … even though it didn't go our way, it was just great experience for our girls to be in those pressure situations."
Belgrade is seeded on the top half of the bracket and will play Helena Capital (15-9) in a first round game at 2 p.m. Thursday. The winner plays either Western AA Divisional champion Missoula Sentinel (20-3) or two-time defending state champion Great Falls (18-6) in the second round Friday.
"I don't know a ton (about Capital)," said Roberts. "I do know that they have a lot of talented freshmen. They're young and have a lot of young talent."
The bottom half of the bracket consists of Billings West (19-4) and Helena (12-12), and Glacier (17-3) and Billings Senior (18-6).
"It is definitely a loaded bracket and you have to bring your best game every game," said Roberts. "I don't think you can get too far ahead of yourself. You have to just focus on one game at a time, one pitch at a time, and just kind of cross those bridges as you get there."
Manhattan to face Cut Bank in first round
For the second time since the program begin in 2018, Manhattan has qualified for state. The Tigers earned a third place finish at the Western B-C Divisional and brought home the team's first-ever postseason trophy.
The majority of players where on the team two years when Manhattan reached state, thus a veteran squad will take the field Thursday in Florence.
"Everybody that's been there I think they may not be so awestruck being there," Tigers head coach Randy Cygan said. "And they're pretty relaxed and feeling good about themselves."
Manhattan (14-10) will play Cut Bank in a first round game at the State B-C tournament at 4 p.m. Thursday. It will be the first-ever meeting between the programs.
"I've heard they got a pretty good young pitcher," said Cygan. "That's the biggest thing I've heard is that they've got a pretty good pitcher. I don't know much about anybody else."
The Tigers are seeded on the bottom half of the bracket along with Western B-C Divisional champion Florence-Carlton and Shepherd. Florence-Carlton shut out Manhattan 10-0 at divisional in what could be a potential second round match up.
"The other side's tough too," said Cygan. "If we'd be on the other side and win we'd play MAC (St. Ignatius-Arlee-Charlo). It's a tough flip of the coin either way."
St. Ignatius-Arlee-Charlo will play defending state champion Huntley Project in the first round, while Columbus-Absarokee-Park City and Ennis are the other first round game in the top half of the bracket.
Manhattan went 0-2 in its 2019 state appearance, but Cygan expects more from his team this weekend.
"It just depends on which team shows up to play the game," he said. "Any given day I think we can beat anybody. But you got to play a perfect game, take advantage of the other team, what they don't do right. We're going to get good pitching, but a lot can happen in softball."