Heading into the Montana High School Association's inaugural girls state wrestling championships, Belgrade head coach Bryce Weatherston wasn't sure what to expect.
With just four wrestlers who saw limited action against other girls during the season, it could have been a tough weekend for the Panthers at Lockwood High School. But the quartet exceeded expectations.
Three of the wrestlers placed in the tournament, led by a runner up finish from Norah Larson, and Belgrade tied with Gallatin to place sixth in the team standings with 54 points.
"They all wrestled awesome. We didn't know what to expect," said Weatherston. "That's the thing with double A in our division, we maybe wrestled three or four girls the whole year, whereas these other girls from all across the state were getting 14 matches with girls."
Belgrade's lack of competition leading into the tournament was not detrimental as all four wrestlers notched at least one victory and Chi Gushi and Maya Amundson placed fifth and sixth, respectively.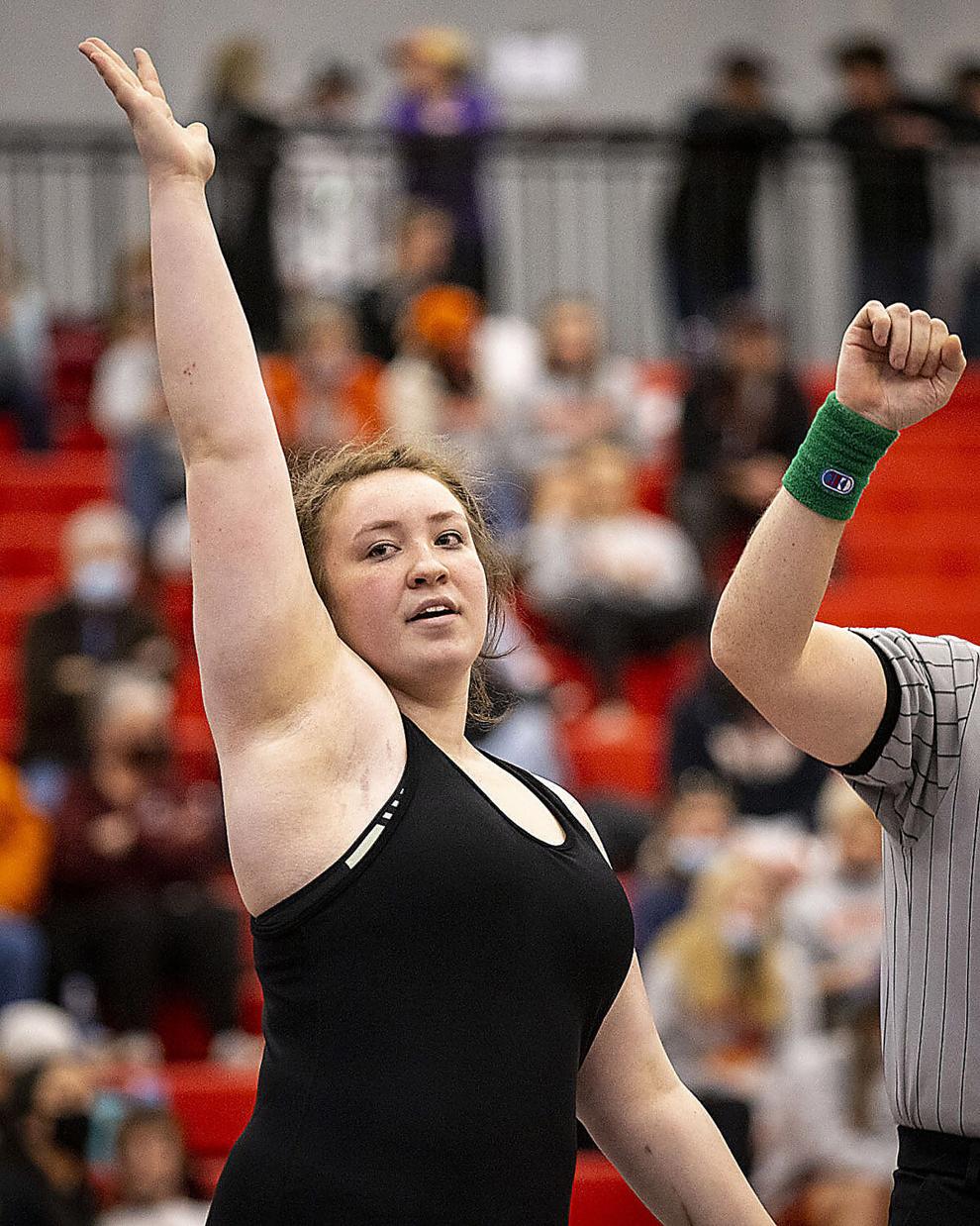 Larson led the way for the Panthers, pinning two opponents en route to reaching the finals at 205 pounds. Both victories were first round pins beginning with Cut Bank's Haylee Fetters in 45 seconds and then Cascade's Skye Smith in 38 seconds in the semifinals.
But Larson was pinned by Billings Skyview's Kassidee Savaria in 32 seconds in the finals. Savaria finished unbeaten on the season at 11-0.
"Norah wrestled awesome. She was going after girls," said Weatherston. "The first girl she beat was super tough and she just kind of took it to her. Even in the semifinals match, she just really came after these girls, took them down and pinned them pretty quick."
Gushi won her first round match at 170 and then lost in the quarterfinals to Flathead's Boston Howell. She battled back to win a pair of consolation matches before losing in the consolation semifinals to White Sulphur Springs' Cabry Taylor.
That set up a rematch against Howell in the fifth place match and Gushi notched a pin in 55 seconds. She finished 4-2 at the tournament with all four wins by fall.
"She wrestled awesome. She ended up beating the girl that she lost to in the quarterfinals for fifth and sixth," Weatherston noted. "So that was a good redemption win too."
Amundson, the team's lone senior, was pinned in the first round at 138. But the first-year wrestler bounced back with three consecutive victories to reach the consolation semifinals.
Amundson was pinned in the third period by Frenchtown's Maria Miotke, and then lost by fall to Whitehall's Kenzy Best in the fifth place match. She finished 3-3 on the weekend with all three victories via a pin.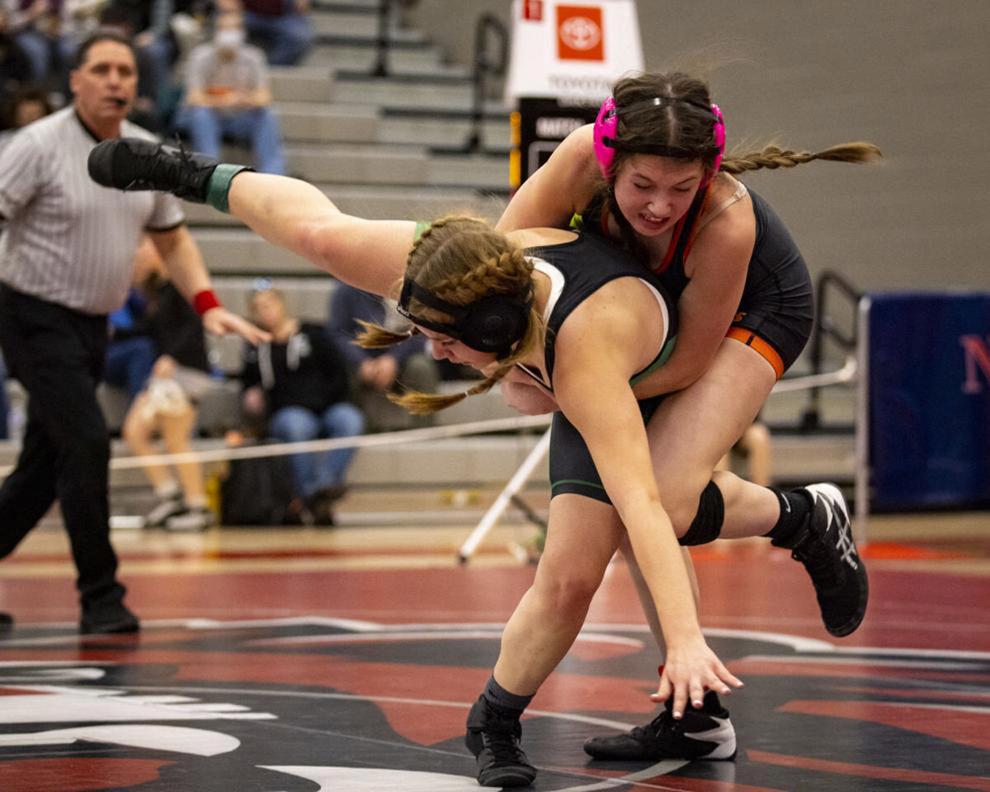 "For someone so unfamiliar with the sport to come in and practice as hard as she did — her work ethic is pretty unmatched as far as girls go," said Weatherston. "She's always going 100 percent trying to get better, trying to learn. We're definitely going to miss her."
Belgrade's other competitor at state was Allie Murphy, who finished 1-2 at 126. The freshman lost to Cascade's Lily Grismer in the first round and to Havre's Brooke Nelson in the second round of the consolation bracket.
But, between those defeats, Murphy notched her first victory of the season against Billings Senior's Liviya Atwood in a 7-5 decision.
"She had a little bit of a tougher season. Came to state without a win under her belt and came home with a win. Even the ones that she lost she was right there," said Weatherston. "He first match was tough, she wrestled the number one seed, which is really rough. But next match she won. Match after that she was in it the entire time. She wrestled really tough."
Flathead won the team title — there were 42 teams and 148 competitors — with 142 points, while Billings Senior (135) and Cascade (68) rounded out the top three.
"We're super excited," said Weatherston. "(Assistant coach) Kale (Evenson) and I are already planning what kind of summer training we need to do and things we need to do within the school to just get more girls out.
"We're just excited to see what the future holds. And see how much better can we improve the following year."
State Girls Wrestling Tournament
(at Lockwood High School, Billings)
Team scores: Kalispell Flathead 142, Billings Senior 135, Cascade 68, Butte 61, Billings Skyview 60, Belgrade 54, Bozeman Gallatin 54, Frenchtown 48, Plains-Hot Springs 48, Sidney 48, Baker 47, Miles City 46, Chinook 44, Whitehall 43, Kalispell Glacier 42, Cut Bank 41, Anaconda 35, Hamilton 33, Havre 33, Wolf Point 33, Livingston-Big Timber 32, Poplar 31.5, Valier 30, Great Falls 28, Choteau 24, Shepherd 24, East Helena 22, Lockwood 22, Columbus-Absarokee-Park City 20, Florence-Carlton 20, Harlem 18, Huntley Project 18, White Sulphur Springs 18, Corvallis 17, Bozeman 15, Missoula Hellgate 9, Red Lodge 7, Chester-Joplin-Inverness 5, Helena 4, Missoula Big Sky 4, Circle 3, Billings West 0, Colstrip 0, Helena Capital 0, Deer Lodge 0, Shelby 0, Simms 0.
103: Championship: Kaylin Taylor, Great Falls, p. LeeAnn Hoch, Shepherd, 3:29. Third-place: Alyssa Poe-Hatten, Flathead, p. Rylinn Mullaney, Butte, 1:44. Fifth-place: Kiera Davis, Corvallis, p. Cali Pesanti, Anaconda, :30.
113: Championship: Jazmin Gorder, Poplar, p. Rebecca Stroh, Chinook, 3:08. Third-place: Taylor Angle, Plains-Hot Springs, p. Hania Halverson, Flathead, 2:29. Fifth-place: Rustie Torres, Skyview, p. Mayse Fox, Miles City, :31.
120: Championship: Jessica Gubler, Livingston-Big Timber, p. Hannah Hurst, Hamilton, :30. Third-place: Alley Antonsen, Whitehall, p. Bella Hernandez, Lockwood, 2:22. Fifth-place: Keela Kary, Sidney, p. Trinity Boivin, Flathead, 2:32.
126: Championship: Amaiya Kirn, Sidney, d. Lily Grismer, Cascade, 5-3. Third-place: Jacey Gorder, Baker, m.d. Gretchen Donally, Huntley Project, 8-0. Fifth-place: Cheyenne D'aigneau, Billings Senior, p. Evija Cagle, Billings Skyview, 2:06.
132: Championship: Skylar Connelly, Valier, p. Joli Beston, Wolf Point, 2:13. Third-place: Paige Gershmel, Billings Senior, p. Ryley Hofeldt, Chinook, :26. Fifth-place: Payton Kale, Billings Senior, m.d. Ryleigh Warner, Anaconda, 12-2.
138: Championship: Mariah Wahl, Cut Bank, p. Maria Matosich, Bozeman Gallatin, :56. Third-place: Kyla Gilmore, Miles City, p. Shelby Miotke, Frenchtown, :31. Fifth-place: Kenzy Best, Whitehall, p. Maya Amundson, Belgrade, 1:38.
145: Championship: Lily Schultz, Bozeman Gallatin, p. Aleeyah Derlatka, Kalispell Flathead, 1:20. Third-place: Gracy Jones, Billings Senior, d. Amilia Blackcrow, Harlem, 13-10. Fifth-place: McKenna McCarty, Kalispell Glacier, p. Sadie Grove, Choteau, 4:09.
152: Championship: Kendal Tucker, Senior, p. Lillian MacDonald, Plains-Hot Springs, 1:07. Third-place: Dakota Peterson, East Helena, d. Lindsey Faldzinski, Cascade, 8-6 OT. Fifth-place: Anna Stutz, Choteau, p. JJ Carter, Cut Bank, 1:47.
170: Championship: Sophia Dulin, Baker, d. Hayla Hoffman, Butte, 11-10. Third-place: Cabry Taylor, White Sulphur Springs, d. Juna Ashby, Frenchtown, 6-2. Fifth-place: Chi Gushi, Belgrade, p. Boston Howell, Kalispell Flathead, :55.
205: Championship: Kassidee Savaria, Billings Skyview, p. Norah Larson, Belgrade, :32. Third-place: Aaliyah Stiffarm, Havre, p. Skye Smith, Cascade, 1:52. Fifth-place: Jenavieve Lynch, Bozeman, d. Lucille Libby, Kalispell Flathead, 13-9.
285: Championship: O'Maste Foster, Florence-Carlton, d. Kali Hood, Columbus-Absarokee-Park City, 5-3.Third-place: Ashlee Wilcox, Butte, received a bye.