Heading into the state meet Belgrade's runners knew they weren't in contention for hardware at the 57th Annual MHSA State Cross Country Championships. Still, they put together a strong performance in brutally cold and windy conditions Saturday at Rebecca Farm in Kalispell.
Sam Nash capped a strong season by placing eighth in Class AA as the Panthers' boys finished 10th in the team standings with 248 points. The girls were 13th with 376.
Nash was the lone Belgrade runner to earn All-State honors after posting a time of 17:18.78. Bozeman's Stirling Marshall-Pryde won the championship with a time of 16:35.40, while Missoula Sentinel's Tanner Klumph was second in 16:46.95.
"I think the start was tough for him. He wasn't happy with how that went, but he rallied and ended up picking off other runners," Belgrade coach Rachel White said. "He ran really smart, pretty much according to his plan, but really just a fierce performance."
Cooper McCormack was the second Panther across the finish line with a time of 18:13.70 to place 38th.
"Cooper kind of got stuck in a pack, but he still ran a really solid race for him," said White. "Slippery snow and you get kind of bottle necked on some of those spots on that course."
Belgrade was rounded out by Brodie Tirrell (53rd, 18:47.74), Brandon Clingan (65th, 18:58.16), Kaden Lookhart (84th, 19:20.36), Aidan Brown (95th, 19:53.78), and Jayden Horner (104th, 20:11.92).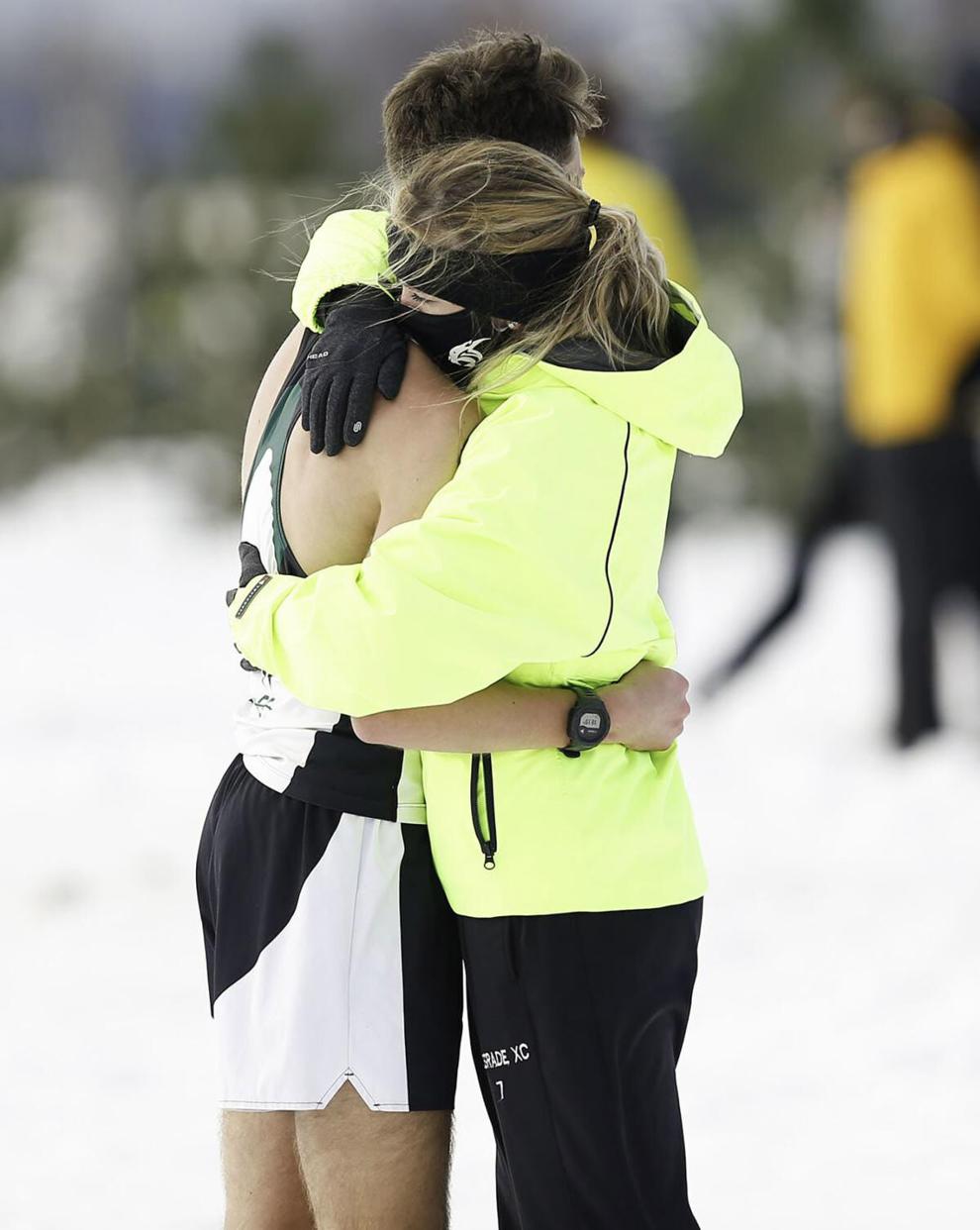 "I was super impressed with Brodie just digging in up that last hill. Passed two kids going up in the last 500 meters. It was awesome," said White. "But really hard fast finishes for all of them."
For the girls, Belgrade's top finisher was Hannah Giese, who placed 35th with a time of 21:45.86. The freshman was the lone Panther in the top 50.
"She was pretty frustrated," noted White. "She got elbowed and got put in a couple bad positions."
While the course was plowed prior to Saturday's races following a night of heavy snow, White noted it was tough running conditions.
"There was really like these lanes of grass that if you weren't in that you were in the deeper loose snow," White explained. "It's a lot of snow, so it was more than just your fitness. It was like where you were and how you dealt with being in the loose snow."
Alexa Dryer was 74th with a time of 23:35.17, while Justine Pommerville placed 87th in 24;10.74. Belgrade was rounded out by Charlize Glasgow (89th, 24:18.20), Kyra Giese (89th, 24:22.38), Savannah Waller (93rd, 24:29.06), and Destiny Taylor (99th, 24:55.04).
Missoula Hellgate's Kensey May won the meet with a time of 19:21.03, while defending state champion Kylie Hartnett, of Helena, was second in 19:26.88.
(at Rebecca Farm, Kalispell)
Team scores: Missoula Sentinel 59, Missoula Hellgate 67, Bozeman 69, Billings West 128, Great Falls 191, Gallatin 200, Glacier 206, Helena Capital 213, Helena 236, Belgrade 248, Billings Skyview 302, Flathead 309, Billings Senior 349, Great Falls CMR 369, Butte 380, Missoula Big Sky.
Top 15 Individuals: Stirling Marshall-Pryde, Boz, 16:35.40; Tanner Klumph, MS, 16:46.95; Ignatius Fitzgerald, MH, 16:53.22; Miles Colescott, MH, 17:00.09; Carson Steckelberg, Gal, 17:05.5; Caleb Hornung, BW, 17:13.00; Wyatt Mortenson, MS, 17:16.48; Samuel Nash, Bel, 17:18.78; Finneas Colescott, MH, 17:19.63; Xander Danenhauer, Boz, 17:19.83; Connor Neil, Boz, 17:19.84; Chase Green, MS, 17:29.00; Corbin Johnson, MS, 17:30.68; Robert Wagner, Hel, 17:31.93; Jaxon Straus, BW, 17:33.44.
Team scores: Bozeman 43, Missoula Hellgate 47, Helena 98, Flathead 148, Billings West 153, Missoula Sentinel 160, Gallatin 165, Helena Capital 205, Billings Skyview 224, Glacier 277, Great Falls CMR 332, Butte 343, Belgrade 376, Missoula Big Sky 377, Billings Senior 464.
Top 15 Individuals: Kensey May, MH, 19:21.03; Kylie Hartnett, Hel, 19:26.88; Abby Kendrick, MH, 19:34.66; Sage Brooks, MH, 19:43.62; Natalie Nicholas, Boz, 19:51.41; Hayley Burns, Boz, 19:55.37; Lilli Rumsey Eash, Flathead, 19:57.03; Ali Keith, BW, 20:04.07; Grace Gilbreth, Boz, 20:06.40; Emberlyn Hoffman-Gaschk, BS, 20:10.62; Molly Sherman, Boz, 20:31.52; Polly Meshew, Boz, 20:31.83; Natalie McCormick, Boz, 20:35.71; Odessa Zentz, Hel, 20:38.27; Emma Nelson, MS, 20:42.40.